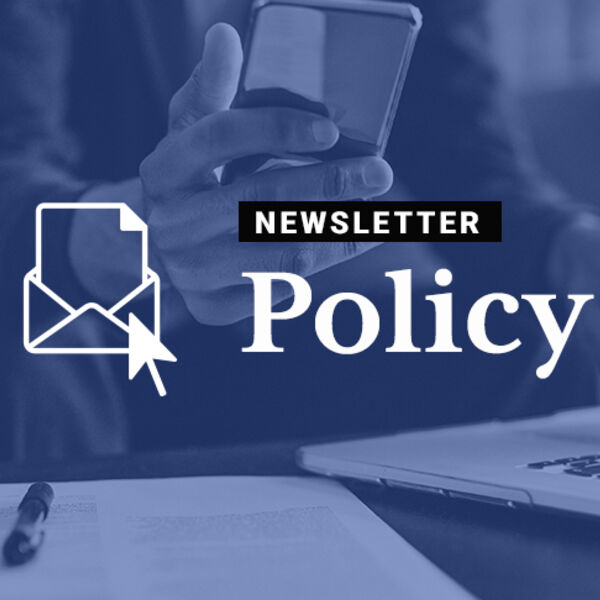 Policy Updates: Hill Happenings and Administration Activities
---
Hill Happenings 
Fiscal Year 2022 Appropriations  
Top appropriators and party leaders are working to resolve a budget impasse on the Fiscal Year 2022 (FY2022) appropriations package ahead of the upcoming spending deadline on February 18. Appropriators seek to finalize a FY2022 spending omnibus by the federal funding deadline afforded by the current continuing resolution (CR), but protracted negotiations indicate that lawmakers will need to advance another months-long to full-year CR in order to avoid a government shutdown and buy appropriators more time to strike an agreement.  
Although appropriators have engaged in spending negotiations in the new year and anticipate passing a bona fide Fiscal Year 2022 (FY2022) omnibus bill, an agreement on overall spending caps and key policy provisions remains elusive. Republicans may attempt to force a full-year CR by demanding an appropriations package that is clear of controversial policy riders, including proposed language that would lift the ban on the use of federal funds to purchase syringes and sterile injection equipment, despite bipartisan support for the language. NASTAD will continue to monitor the FY2022 appropriations process to advocate for the highest funding levels on behalf of HIV and hepatitis programs. 
---
Administration Activities 
NASTAD Joins ONAP Listening Session on HIV Criminalization 
On January 25, NASTAD joined a virtual listening session hosted by the White House Office of National AIDS Policy (ONAP) on HIV criminalization laws. ONAP convened a table of legal, academic, and public health experts, including people living with HIV, who shared their thoughts on ways to eliminate or reform outdated HIV criminalization laws. Combatting HIV stigma and criminalization is a key component of the National HIV/AIDS Strategy (NHAS), which calls for repeal and reform of state HIV criminalization laws as a strategy to reduce HIV-related stigma and discrimination and the complex barriers they pose for people with or who experience risk for HIV. 
NASTAD Comments on NIH Strategic Plan for HBV Research  
On January 31, NASTAD signed onto comments submitted by the Hepatitis B Foundation and Hep B United on the National Institutes of Health (NIH) Strategic Plan for Trans-NIH Research to Cure Hepatitis B. The strategic plan, originally published in 2019, details three strategic priorities for boosting the agency's capacity to conduct innovative research in search of a cure for hepatitis B (HBV). The updated plan will also align with the cross-divisional Department of Health and Human Services (HHS) Viral Hepatitis National Strategic Plan. 
UNAIDS Executive Director Appoints New Director for U.S. Liaison Office  
On February 3, UNAIDS Executive Director Winnie Byanyima appointed Vinay Saldanha to lead the agency's U.S. Liaison Office in Washington, D.C. In the new role, Saldanha will advance the relationship between UNAIDS, PEPFAR, and the U.S. Government in order to strengthen the HIV response in global health. Saldanha has worked at UNAIDS since 2004, where he served as Special Adviser to the Executive Director for Strategy and Transition and led the development and adoption of the Global AIDS Strategy. 
---
Resources 
National Black HIV/AIDS Awareness Day (NBHAAD) 
National Black HIV/AIDS Awareness Day (NBHAAD), observed on February 7, is a day to spark conversations and address the impact of HIV on Black communities. As part of the HHS Ending the HIV Epidemic: A Plan for America (EHE) initiative, CDC is working with health departments and community-based organizations to promote HIV testing, prevention, and treatment and reduce HIV stigma in Black communities. On February 4, CDC released reports detailing the prevalent disparities in HIV care by race.  
NASTAD Resource: Navigating the Harm Reduction Funding Landscape: A Guide for State, Federal, and Private Funding 
This guidance document was designed to assist a variety of harm reduction programs — ranging from small-scale grassroots organizations to larger harm reduction programs — with navigating the funding landscape and fulfilling the requirements laid out in grant proposals and their application process. 
NASTAD Minority Leadership Program (MLP) 
NASTAD is pleased to announce the opening of the application cycle for the 2022 Minority Leadership Program (MLP). In its eighth cycle, MLP serves as a space, rooted in social justice, for health department staff of color to engage in critical conversations and has created a launchpad for dozens of public health professionals of color to visualize and own their leadership roles in ending health inequities. MLP participation empowers fellows to engage in successful salary negotiations, gain promotions, influence culturally relevant public health strategies, and create professional connections that last a lifetime. Applications for the Minority Leadership Program 2022 Cohort are due Thursday, February 10, 2022.
AIDS United NOFO: iFORWARD: Equipping Organizations in the South through Technology to End the HIV Epidemic 
Applications Due: February 17, 2022 
AIDS United has launched iFORWARD: Equipping Organizations in the South through Technology to End the HIV Epidemic, a special project designed to address barriers southern organizations face in accessing appropriate technology to carry out their services and achieve their mission. iFORWARD will provide cash grants up to $10,000 along with professional development and technical assistance.  
---
Job Postings 
Public Health Educator Advanced (Drug User Health Coordinator) – Madison, WI 
This position will lead a statewide Public Health Drug User Health initiative focused on efforts to reduce harm and improve healthcare access for people who use drugs, and reduce the harms associated with drug use including fatal overdoses and infectious diseases (e.g. viral hepatitis, HIV, COVID19, etc.).  This position acts as the subject matter expert for Drug User Health programming across the Bureau of Communicable Disease (BCD) and Division of Public Health (DPH). Applications close February 14. 
Human Services Program Consultant (EP215) – Richmond, VA 
This position with the Virginia Department of Health – Office of Epidemiology, Division of Disease Prevention, analyzes and interprets complex statistical data related to HIV service and medication delivery, clinical performance indicators and health services-related epidemiological trends associated with Virginia's Ryan White (RW) and Medication Access (VA MAP) programs. Applications close February 8.  
Director, HIV/AIDS – Atlanta, GA 
The Georgia Department of Public Health seeks a highly qualified candidate for the position of Director for the HIV/AIDS Unit under the Division of Medical and Clinical Services- Infectious Disease in Atlanta, Georgia. The candidate will direct a comprehensive statewide HIV/AIDS program for the state of Georgia, including planning, organizing, developing, and directing the implementation of day-to-day activities for a multifaceted statewide public health program. Applications close February 13. 
Program Manager, HIV Campaigns – Advocates for Youth 
The Program Manager, HIV Campaigns will oversee the implementation of Advocates' project with CDC's Prevention Communication Branch. The Program Manager will lead Advocates' efforts to implement Partnering and Communicating Together, an initiative to support the dissemination of CDC's Let's Stop HIV Together (Together) campaign among Black/Latinx young people, 18-24 with a focus on: male; female; trans male; trans female; and genderqueer/gender non-conforming via the use of digital and social media platforms.  
Senior Public Health Investigator -- Houston, TX 
The Houston Health Department seeks 12 Senior Public Health Investigators in the Bureau of HIV/STD and Viral Hepatitis Prevention to serve as Disease Intervention Specialists, Service Linkage Workers, and Patient Navigators. These full-time positions will report to various units including HIV Field Services, STI Field Services, Congenital Syphilis Field Services, Service Linkage Field Services, and PrEP Services. Applications close March 8. 
Washington State Department of Health – Tumwater, WA 
Drug User Health Program Epidemiologist

This Epidemiologist contributes to the organization by assuring that the fundamental activity of public health assessment is conducted in a timely and accurate way.  It contributes specifically to the mission of the Infectious Disease Assessment Unit by developing data reporting and management systems, proposing and conducting epidemiologic investigations and corrective action, preparing datasets, conducting data analyses, and disseminating data for the Drug User Health program.  Applications close February 22.

Syringe Service Program Coordinator, Washington State DOH

Reporting to the Integration, Hepatitis C & Drug User Health Programs Manager, the Syringe Service Program (SSP) Coordinator provides leadership and is responsible and accountable for stakeholder engagement and mobilization efforts that increase access to and utilization of syringe service programs (SSPs) and related efforts to address health disparities and health inequities in communities disproportionately impacted by infectious disease and overdose. This recruitment is open and continuous.  
Department of State Health Services – Austin, TX 
Wyoming Department of Health, Public Health Division, Communicable Disease Unit 
Communicable Disease Unit Surveillance Program Manager – Cheyenne, Wyoming 

The Wyoming Department of Health, Public Health Division, Communicable Disease Unit is seeking a Communicable Disease Surveillance Program Manager for Cheyenne. This position will serve as the Communicable Disease (CD) Surveillance Program Manager and senior epidemiologist for the Communicable Disease Unit. This position oversees public health surveillance of four disease areas (HIV, STD, TB, and Viral Hepatitis).  This position will monitor disease trends and utilize surveillance data to coordinate public health activities.   

Communicable Disease Epidemiologist – Cheyenne, Wyoming 

This position will serve as the Communicable Disease AIDS Drug Assistance Program (ADAP) Coordinator, Wyoming TB Controller, and Disease Intervention Specialist (DIS) for the Communicable Disease (CD) Treatment Program.  Assist in outbreak response to ensure the safety of Wyoming residents; by interviewing cases for exposure information, updating news outlets on the progress of outbreak control, analyzing exposure data utilizing epidemiological and statistical methods. 
Hepatitis Surveillance Data Analyst – New Orleans, Louisiana 
This position is responsible for the data analysis activities for the Louisiana Office of Public Health STD/HIV/Hepatitis Program (SHHP), in the Hepatitis Surveillance unit. Data utilized for Hepatitis Surveillance activities include Hepatitis laboratory data, Case Report Forms, Provider Report Forms, Linkage to Cure data, investigation data, Medicaid data, and data from related sources and programs. This position will implement and coordinate data analysis activities to monitor and evaluate progress toward meeting hepatitis elimination within the state. All activities must be completed in accordance with the security and confidentiality guidelines required by the Centers for Disease Control and Prevention (CDC) and SHHP. 
Assistant Commissioner - Health Department – Baltimore, Maryland 
The Baltimore City Health Department (BCHD) is seeking an Assistant Commissioner to lead the Bureau of Communicable Disease and Outbreak Control. This senior management position will lead a talented team responsible for communicable disease investigation, outbreak control and emergency preparedness programming. The incumbent will also be responsible for developing and implementing agency wide policies related to health department readiness to respond to public health emergencies. The incumbent will report directly to the Deputy Commissioner for BCHD's Division of Population Health & Disease Prevention.    
Open Positions – New York State 
The New York State Department of Health, in partnership with Health Research, Inc, has various job openings, including some within the AIDS Institute. Please visit this link to learn about their current opportunities.
---
News Bulletin 
Pandemic Era Tests May Speed Hepatitis-C Detection 
"Automated molecular tests could compress this process. From a small sample of blood or saliva, the tests amplify any trace of viral genetic material in a process akin to the older laboratory-based method of polymerase chain reaction (or P.C.R.), but have been miniaturized to run on small machines. The technologies have been around for years but gained greater visibility during the pandemic, when the F.D.A. allowed many test developers to leapfrog what is traditionally a lengthy approval process…A similar molecular test for hepatitis C could allow clinicians to deliver a diagnosis immediately and perhaps start many patients on medications the same day, an approach known as "test and treat." Patients may then be less likely to transmit the disease to others, and more likely to complete treatment and be cured." 
How Supervised Drug Consumption Sites Could Help Solve The Opioid Crisis 
"…New York City opened the United States' first overdose prevention centers. They're sites where people can safely use drugs under the supervision of people trained to spot and reverse overdoses. These centers are part of a broader strategy of harm reduction, a set of strategies designed to minimize the negative effects of drug use. While the harm reduction model has been embraced by the Biden Administration, they haven't endorsed supervised consumption sites. But is this something the Biden Administration is watching as a possible approach to help reduce the growing number of overdose deaths? "Absolutely," Dr. Rahul Gupta, director of the White House Office of National Drug Control Policy, told 1A." 
HIV PrEP Access May Be Limited by States' Prescriber Laws 
"A recent study, published in the Journal of the Association of Nurses in AIDS Care (JANAC), found that stricter state laws that require medical doctors (MDs) to decide NP and PA autonomy may hinder the number of patients using HIV pre-exposure prophylaxis (PrEP)." 
'The White House isn't supporting him': Biden's FDA pick left in limbo 
"President Joe Biden's nominee to lead the Food and Drug Administration does not yet have the votes in the Senate needed to give the agency its first political leader in more than a year. More than two months after picking Robert Califf to be FDA commissioner, the confirmation is stymied by Democratic skepticism of the longtime cardiologist's regulatory track record and a new GOP push to kill his nomination."