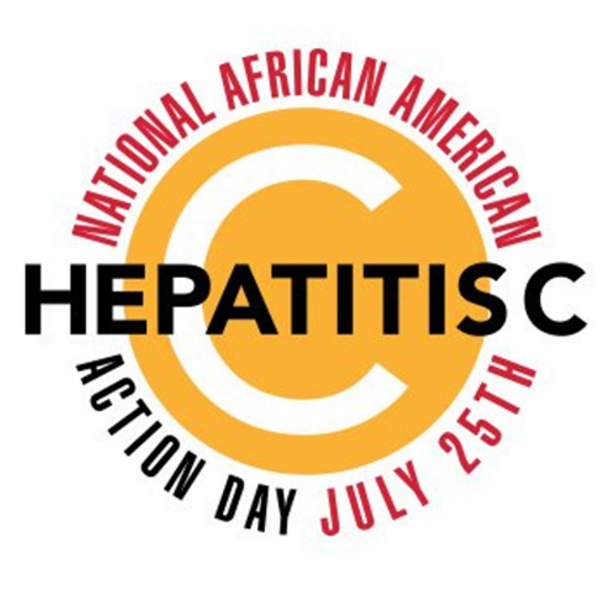 2022 National African American Hepatitis C Action Day (NAAHCAD)
July 25, 2022 marks ten years since the National Black Leadership Commission on AIDS (NBLCA) partnered with the Harm Reduction Coalition and the Coalition on Positive Health Empowerment to recognize the first National African American Hepatitis C Action Day (NAAHCAD). In 2013, these groups designated this annual initiative to recognize the disproportionate impact of the hepatitis C virus (HCV) on Black communities and to draw attention to education, testing, and treatment efforts. 
Health equity requires an acknowledgment of systemic inequities that create disparate health outcomes. Though African Americans are 12% of the U.S. population, they account for 23% of people living with HCV. Black men over 50 are at the highest risk within the community for HCV infection. Black Americans over 60 are also ten times more likely to have chronic hepatitis C. Equally as pressing are stark differences in mortality rates: in 2018, African Americans were nearly twice as likely to die from hepatitis C. Contributing factors to these disparities include inadequate collection of race and ethnicity data within surveillance reporting, as well as sparse sexual orientation and gender identity data for African Americans as a whole. Race/ethnicity information was missing for 66.8% of treated persons; for those with information on race/ethnicity available (n = 279,985), 68.2% were White, 19.3% were Black, 10.3% were Hispanic, and 2.2% were Asian. Inadequate testing for HCV-exposed infants is also an issue of great concern: according to the Vanderbilt Center for Child Health Policy, just 23% of HCV-exposed infants on Medicaid in Tennessee were tested from 2005-2014, and only 1 in 10 African American infants were tested compared to 1 in 4 infants overall. 
A key priority in NASTAD's Strategic Plan is the advancement of health equity, racial equity, and stigma elimination with a focus on communities that are disparately impacted. NASTAD's Hepatitis Team is leading several initiatives that prioritize these goals by centering the voices of people who have lived experience with HCV. The Hepatitis Network for Education and Testing (HepNET) is a partnership between NASTAD, the National Viral Hepatitis Roundtable (NVHR), and the National Association of County and City Health Officials (NACCHO) focused on improving the health of people who inject drugs (PWID). This network of health departments, community-based organizations, tribal health organizations, healthcare providers, and people with lived experience is committed to identifying and addressing the unmet needs of PWID by improving access to education, prevention, testing, linkage to care, and treatment through an equity-focused framework guided by the perspectives and expertise of people who inject drugs. 
The Hepatitis Technical Assistance Center (HepTAC) is an online technical assistance (TA) and capacity-building center for health department hepatitis programs. HepTAC provides on-demand technical assistance to health departments on a variety of viral hepatitis topics including health equity and stigma. Housed within HepTAC is the Virtual Learning Collaborative (VLC), which launched in September 2021. The VLC is a learning community and training series designed to support the implementation of prevention and surveillance activities set forth in the CDC's Integrated Viral Hepatitis Surveillance and Prevention Funding for Health Departments. It is open to all state, territorial, and local health departments, and does not require receipt of CDC's PS21-2103 funding. During Year 2 of the VLC, more health equity topics will be highlighted, including improving data collection and reporting of demographics and implementing anti-racist practices in viral hepatitis elimination planning. 
NBLCA's call to action emphasizes the importance of prevention through education, outreach, testing. It is our responsibility as public health leaders to face health inequities head-on. As stated by Executive Director, Stephen Lee, the core of NASTAD's mission is an unwavering commitment to social justice, and the latest priorities of NASTAD's  Anti-Racism Workgroup show actionable steps toward operationalizing DEI work throughout the organization.  NASTAD's training and technical assistance resources provide equity-focused tools that health departments and prevention partners can use to further this message and strengthen their capacity to bring an end to the syndemics of HIV and viral hepatitis. Spread the word and join the conversation using the hashtag #NAAHCAD and follow NBLCA on social media for actions you can take. 
Resources: