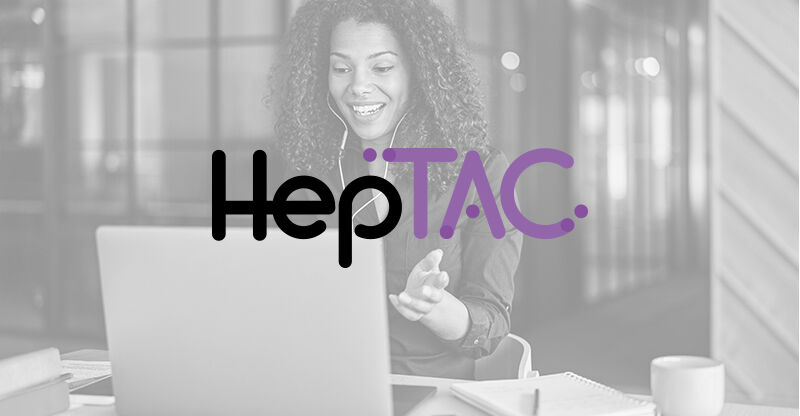 About HepTAC
In 2019, NASTAD launched HepTAC, an online technical assistance (TA) and capacity building center for health department hepatitis programs. The primary goal of HepTAC is to build state and local technical expertise and enhance health department capacity to eliminate viral hepatitis. Direct technical assistance is provided primarily via the online platform using video conference technology to connect NASTAD Hepatitis team staff and its consultants to health department hepatitis staff across the county. Group learning opportunities will occur through calls, webinars, workgroups, a bi-monthly newsletter, a discussion board, an online resource bank, office hours, success stories, mentorship, and courses in the following tracks:
Hepatitis Program Infrastructure and Workforce;
Community Engagement and Strategic Planning;
Harm Reduction and Prevention;
Epidemiology and Surveillance;
Testing and Linkage to Care;
Care and Treatment
Stigma and Health Equity; and
Elimination.
Please email hepatitis@nastad.org if you have questions or would like to learn more about HepTAC.
Viral Hepatitis Elimination Plans
Download or view the Viral Hepatitis Elimination Plans below. 
Table
Viral Hepatitis Elimination Plans
| Jurisdiction  | Plan Type | Hepatitis Type | Website  | Plan  |
| --- | --- | --- | --- | --- |
| American Samoa  | Elimination/Strategic | HBV, HCV  | | |
| California  | Elimination/Strategic, Integrated/Syndemic | HCV  | | Ending the Epidemics: Addressing HIV, HCV and STIs in California Integrated Statewide Strategic Plan 2022-2026 |
| Connecticut  | Integrated/Syndemic | HAV, HBV, HCV  | | |
| Florida  | Elimination/Strategic  | HAV, HBV, HCV  | | |
| Hawaii  | Elimination/Strategic  | HAV, HBV, HCV  | | Hep Free 2030: Hawai'i Hepatitis Elimination Strategy 2020-2030 |
| Indiana  | Elimination/Strategic, Integrated  | HCV  | | |
| Iowa  | Elimination/Strategic  | HCV  | | |
| Los Angeles County  | Elimination/Strategic  | HAV, HBV, HCV  | | County of Los Angeles Adult Viral Hepatitis Prevention Plan 2010-2015 |
| Louisiana  | Elimination/Strategic  | HCV  | | |
| Marshall Islands  | Elimination/Strategic  | HBV, HCV  | | |
| Maryland  | Elimination/Strategic  | HCV  | | |
| Michigan  | Elimination/Strategic  | HCV  | | |
| Micronesia  | Elimination/Strategic  | HBV, HCV  | | |
| Missouri  | Elimination/Strategic  | HCV  | | Missouri Hepatitis C Elimination Plan 2022-26: Show Me the Cure |
| New Jersey  | Elimination/Strategic | HCV  | | New Jersey Strategic Plan for Hepatitis C Prevention and Control |
| New Mexico  | Elimination/Strategic | HCV  | | Hepatitis C Virus (HCV) in New Mexico: Statewide Comprehensive Plan and Profile of the Epidemic |
| New York State  | Elimination/Strategic | HCV  | | |
| New York City  | Elimination/Strategic | HBV, HCV  | | Plan to Eliminate Viral Hepatitis as a Major Public Health Threat in New York City by 2030 |
| North Carolina  | Elimination/Strategic | HAV, HBV, HCV  | | Viral Hepatitis in North Carolina: Comprehensive Response Recommendations |
| Oklahoma  | Integrated/Syndemic | | | |
| Palau  | Elimination/Strategic | HBV, HCV  | | |
| Pennsylvania  | Elimination/Strategic | HAV, HBV, HCV  | | |
| Puerto Rico  | Elimination/Strategic | HBV, HCV  | | |
| Rhode Island  | Elimination/Strategic | HCV  | | |
| San Francisco  | Elimination/Strategic | HCV  | | |
| Texas  | Elimination/Strategic | HCV  | | |
| Washington  | Elimination/Strategic | HCV  | | Hep C Free Washington: Plan to Eliminate Hepatitis C in Washington State by 2030 |
Definitions
Elimination/Strategic plans take a targeted approach to eliminating hepatitis within a set time frame and/or have specific strategies, objectives, and activities to reduce the burden of hepatitis in the jurisdiction. 

Integrated/Syndemic plans encompass hepatitis as well as HIV, STIs, other infectious diseases and/or substance use disorders, with the understanding that these conditions and affected populations are interconnected. 

Hepatitis A (HAV)

Hepatitis B (HBV)

Hepatitis C (HCV)