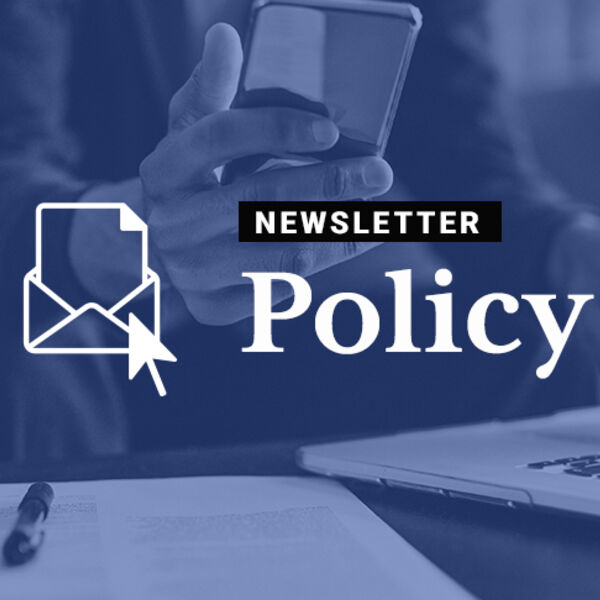 Policy Updates: Hill Happenings and Administration Activities
---
Hill Happenings 
Fiscal Year 2022 Appropriations and the Build Back Better Act 
Democrats on the Hill are calling on Republican appropriators to engage in appropriations negotiations in good faith as the federal funding deadline approaches. On January 13, top Democrat and Republican appropriators met to discuss the ground rules for negotiating a spending omnibus by the February 18 federal funding deadline afforded by the current continuing resolution (CR). The meeting marks the end of a months-long pause in spending discussions that resulted from a busy legislative agenda, like the Build Back Better Act (BBB) (H.R. 5376) which was indefinitely put on hold. 
Republicans are threatening to oppose any spending package and force a full-year CR to fund the government unless Democrats agree to advance a spending omnibus that is clear of controversial policy riders. Democrats rebuke those ultimatums, calling for a robust spending negotiation and pushing Republicans to provide a topline spending number. NASTAD will continue to monitor the FY2022 appropriations and budget reconciliation process to advocate for the highest funding levels on behalf of HIV and hepatitis programs. 
Senate HELP Committee Advances FDA Commissioner Nominee  
On January 13, the Senate Committee on Health, Education, Labor and Pensions (HELP) advanced the nomination of Robert Califf to serve as FDA commissioner. The HELP committee approved the nomination by a vote of 13-8, advancing the nomination to the full Senate floor for a final confirmation vote. Califf attended a confirmation hearing on December 14, 2021, where he appeared to garner enough bipartisan support to advance his nomination. President Biden announced Califf's nomination on November 12 after a months-long delay in filling the FDA Commissioner role. 
---
Administration Activities 
USPSTF Posts PrEP Final Research Plan 
On January 13, the United States Preventive Services Task Force (USPSTF) posted a final research plan for an updated PrEP for HIV Prevention recommendation. The research plan will guide the USPSTF's updated analysis of PrEP as a preventive measure for HIV, which received a Grade A recommendation in 2019. The research plan is expected to incorporate the latest biomedical advances in PrEP, such as the availability of new long-acting injectable PrEP. The finalized research plan incorporates public comments that were submitted in response to the draft research plan.
---
Resources 
NASTAD Minority Leadership Program (MLP) 
NASTAD is pleased to announce the opening of the application cycle for the 2022 Minority Leadership Program (MLP). In its eighth cycle, MLP serves as a space, rooted in social justice, for health department staff of color to engage in critical conversations and has created a launchpad for dozens of public health professionals of color to visualize and own their leadership roles in ending health inequities. MLP participation empowers fellows to engage in successful salary negotiations, gain promotions, influence culturally relevant public health strategies, and create professional connections that last a lifetime. Applications for the Minority Leadership Program 2022 Cohort are due Thursday, February 10, 2022.  
CDC MMWR: Notes from the Field: HIV Outbreak During the COVID-19 Pandemic Among Persons Who Inject Drugs — Kanawha County, West Virginia 
AIDS United NOFO: Conexiones Positivas: Positive Connections 
AIDS United, with funding from ViiV Healthcare, is pleased to announce the opportunity for grant support through the Conexiones Positivas: Positive Connections Initiative. For this initiative, AIDS United will provide $100,000 in low barrier grant funds to organizations supporting Hispanic/Latinx gay, bisexual and transgender men who are from communities most affected by and vulnerable to HIV. Completed RFPs must be submitted in the AIDS United grantee portal by 3 p.m. EST on Feb. 4, 2022. 
Hep ElimiNATION 
The O'Neill Institute for National and Global Health Law at Georgetown University Law Center (O'Neill Institute), the National Viral Hepatitis Roundtable (NVHR), and the Center for Health Law and Policy Innovation at Harvard Law School (CHLPI) launched Hep ElimiNATION, a partnership to study viral hepatitis elimination efforts across the United States. Hep ElimiNATION is the country's first comprehensive analysis of the policy landscape and programmatic strategies aimed at viral hepatitis elimination in the 50 states, Washington, DC, and Puerto Rico. 
---
Job Postings 
Deputy Chief, Program Development – Baltimore, MD 
This position administers the implementation in Maryland of the activities funded by the Health Resources and Services Administration (HRSA)'s Ryan White HIV/AIDS Program (RWHAP), United States Department of Housing and Urban Developments (HUD) Housing Opportunity for Persons with AIDS (HOPWA), and the prevention component of the Centers for Disease Prevention and Control (CDC) Integrated Human Immunodeficiency Virus (HIV) Surveillance and Prevention Program. Applications are due January 13.  
Program Manager, HIV Campaigns – Advocates for Youth 
The Program Manager, HIV Campaigns will oversee the implementation of Advocates' project with CDC's Prevention Communication Branch. The Program Manager will lead Advocates' efforts to implement Partnering and Communicating Together, an initiative to support the dissemination of CDC's Let's Stop HIV Together (Together) campaign among Black/Latinx young people, 18-24 with a focus on: male; female; trans male; trans female; and genderqueer/gender non-conforming via the use of digital and social media platforms.  
Houston Health Department, Bureau of HIV/STD and Viral Hepatitis Prevention – Houston, TX 
Staff Analyst, Ending the HIV Epidemic Coordinator

This full-time position will report to the Bureau Chief and will involve the EHE planning related to funding opportunity PS20-2010: Integrated HIV Programs for Health Departments to Support Ending the HIV Epidemic in the United States. Applications close January 10. 

Staff Analyst, Policy Analyst

This full-time position will report to the Manager of the Policy and Evaluation Unit and will perform comprehensive planning and legislative policy analysis for the Bureau of HIV/STD and Viral Hepatitis Prevention. Applications close January 13.

Senior Public Health Investigator

HHD seeks 12 Senior Public Health Investigators in the Bureau of HIV/STD and Viral Hepatitis Prevention to serve as Disease Intervention Specialists, Service Linkage Workers, and Patient Navigators. These full-time positions will report to various units including HIV Field Services, STI Field Services, Congenital Syphilis Field Services, Service Linkage Field Services, and PrEP Services. Applications close March 8. 
Syringe Service Program Coordinator, Washington State DOH – Tumwater, WA 
Reporting to the Integration, Hepatitis C & Drug User Health Programs Manager, the Syringe Service Program (SSP) Coordinator provides leadership and is responsible and accountable for stakeholder engagement and mobilization efforts that increase access to and utilization of syringe service programs (SSPs) and related efforts to address health disparities and health inequities in communities disproportionately impacted by infectious disease and overdose. This recruitment is open and continuous.  
Department of State Health Services – Austin, TX 
Manager, Legal Research (NASTAD) – Remote/Washington, DC 
The Manager, Legal Research provides legal and policy research and analysis as part of NASTAD's technical assistance and capacity building assistance. This position works closely with the Prevention, Policy & Legislative Affairs, and Health Systems Integration teams to support programmatic activities. This role works with the Director of Policy & Legislative Affairs and Senior Manager of Health Systems Integration, to implement key activities under NASTAD's health systems legal and policy portfolio, including conducting public health legal research, synthesizing complex policy material, and supporting development of webinars, peer learning opportunities, and deliverables to support health department efforts to navigate federal, state, and local laws and policies 
Program Analyst: HIV, STI, & Viral Hepatitis Program - Harm Reduction (NACCHO)  
The Program Analyst will support projects and activities across NACCHO's HIV, STI, and Viral Hepatitis program portfolio. In particular, the Program Analyst will support the implementation of projects designed to build local capacity and partnerships for harm reduction and the prevention and elimination of viral hepatitis. The ideal candidate will possess interest and experience in harm reduction and/or the prevention and elimination of viral hepatitis, as well as health department and harm reduction programming, public health policy, the provision of technical and capacity building assistance, monitoring and evaluation, partnership building, and project management. 
Senior Project Manager, HIV, Gender Affirming, and Integrated Care – New York City, New York 
Primary Care Development Corporation (PCDC), a nationally recognized 501(c)(3) community development financial institution (CDFI), catalyzes excellence in primary care through strategic community investment, capacity building, and policy initiatives to achieve health equity. The Senior Project Manager will be a member of the High Impact Prevention (HIP) project team and will work across the broader CQP practice. 
PCDC's CDC-funded High Impact Prevention (HIP) program provides support to communities greatly impacted by HIV. With CDC and other national partners, the HIP Program enhances the expertise of the HIV prevention workforce – including health care providers and staff in local and state health departments and community-based organizations (CBOs) – to achieve the United States' goal of substantially reducing the number of new HIV infections. The PCDC HIP Program serves the Northeast region of the US and the territories of Puerto Rico and US Virgin Islands. 
Wyoming Department of Health, Public Health Division, Communicable Disease Unit 
Communicable Disease Unit Surveillance Program Manager – Cheyenne, Wyoming

The Wyoming Department of Health, Public Health Division, Communicable Disease Unit is seeking a Communicable Disease Surveillance Program Manager for Cheyenne. This position will serve as the Communicable Disease (CD) Surveillance Program Manager and senior epidemiologist for the Communicable Disease Unit. This position oversees public health surveillance of four disease areas (HIV, STD, TB, and Viral Hepatitis).  This position will monitor disease trends and utilize surveillance data to coordinate public health activities.   

Communicable Disease Epidemiologist – Cheyenne, Wyoming

This position will serve as the Communicable Disease AIDS Drug Assistance Program (ADAP) Coordinator, Wyoming TB Controller, and Disease Intervention Specialist (DIS) for the Communicable Disease (CD) Treatment Program.  Assist in outbreak response to ensure the safety of Wyoming residents; by interviewing cases for exposure information, updating news outlets on the progress of outbreak control, analyzing exposure data utilizing epidemiological and statistical methods. 
Hepatitis Surveillance Data Analyst – New Orleans, Louisiana 
This position is responsible for the data analysis activities for the Louisiana Office of Public Health STD/HIV/Hepatitis Program (SHHP), in the Hepatitis Surveillance unit. Data utilized for Hepatitis Surveillance activities include Hepatitis laboratory data, Case Report Forms, Provider Report Forms, Linkage to Cure data, investigation data, Medicaid data, and data from related sources and programs. This position will implement and coordinate data analysis activities to monitor and evaluate progress toward meeting hepatitis elimination within the state. All activities must be completed in accordance with the security and confidentiality guidelines required by the Centers for Disease Control and Prevention (CDC) and SHHP. 
Assistant Commissioner - Health Department – Baltimore, Maryland 
The Baltimore City Health Department (BCHD) is seeking an Assistant Commissioner to lead the Bureau of Communicable Disease and Outbreak Control. This senior management position will lead a talented team responsible for communicable disease investigation, outbreak control and emergency preparedness programming. The incumbent will also be responsible for developing and implementing agency wide policies related to health department readiness to respond to public health emergencies. The incumbent will report directly to the Deputy Commissioner for BCHD's Division of Population Health & Disease Prevention. 
Open Positions – New York State 
The New York State Department of Health, in partnership with Health Research, Inc, has various job openings, including some within the AIDS Institute. Please visit this link to learn about their current opportunities.  
---
News Bulletin 
Injectable PrEP and COVID show we're all in this together 
"Just before Christmas, the US Food and Drug Administration (FDA)  announced that it had approved an injectable formulation of the HIV drug cabotegravir for use as PrEP. The drug, to be given as an injection every two months, will be branded as Apretude in the US. Although FDA approval came earlier than expected, they could have hardly rejected it." 
FQHCs Remain Instrumental in Health Equity, COVID-19 Efforts 
"Federally qualified health centers continue to prove pivotal at supporting health equity, with the latest data from the Boston University School of Public Health showing FQHCs were disproportionately responsible for getting populations of color vaccinated against COVID-19." 
ACA Section 1557 As A Tool For Anti-Racist Health Care 
"The Affordable Care Act (ACA) has undeniably narrowed racial and ethnic health disparities by reducing the uninsured rate and improving access to care for people of color. Yet, significant gaps persist in access to coverage and high-quality, affordable care. As Congress considers important new programs to help bridge the remaining gaps, the Biden administration can use its existing authority under federal civil rights laws to promote anti-racist health care and insurance."