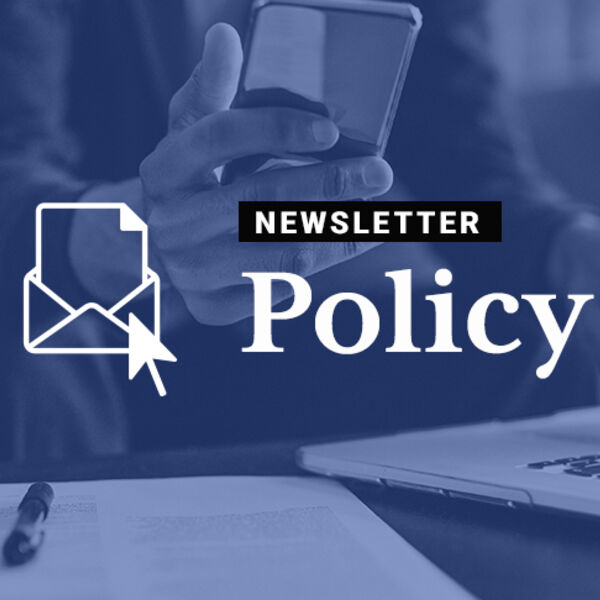 Policy Updates: Hill Happenings and Administration Activities
---
Hill Happenings 
Fiscal Year 2022 Appropriations and the Build Back Better Act 
Democrats on the Hill kicked off the new year on January 3, hoping to build momentum after a gridlocked second half of 2021. Democrats punted negotiations on the Build Back Better Act (BBB) (H.R. 5376), President Biden's broad-reaching social spending package that was being advanced through the budget reconciliation process, due to intransigent opposition from Senator Joe Manchin (D-WV). Without achieving inner-party consensus and receiving no Republican support, Democrats are unable to advance the BBB via a simple majority, and are putting the ambitious legislative package on hold. 
With the BBB on pause, Democrats are pivoting their focus to voting rights and advancing a Fiscal Year 2022 (FY2022) spending package ahead of the February 18 federal funding deadline afforded by the current continuing resolution (CR). Without an agreement on topline numbers, however, spending negotiations have not gone far in the Senate. Republicans are threatening to oppose any spending package and force a full-year CR to fund the government unless Democrats agree to advance a spending omnibus that is clear of controversial policy riders.
On December 22, NASTAD and the AIDS Budget and Appropriations Coalition (ABAC), a workgroup of the Federal AIDS Policy Partnership (FAPP), issued a letter to Democratic leadership requesting an increase in funding for domestic HIV, hepatitis, STI, TB and related programs in the final FY2022 appropriations package. The coalition urged appropriators to adopt the highest funding level proposed in either the House or Senate's appropriations bills. Additionally, the coalition called on Congress to pass a bona fide appropriations omnibus in order to avoid issuing a full-year CR amid gridlocked spending negotiations, highlighting the detrimental programmatic interruptions that result from stopgap spending patches. 
NASTAD will continue to monitor the FY2022 appropriations and budget reconciliation process to advocate for the highest funding levels on behalf of HIV and hepatitis programs. 
NASTAD Urges Congress to Boost Dental Health for State Medicaid Programs 
On December 17, NASTAD joined a coalition of organizations and urged Senate Democrats to include guaranteed comprehensive adult dental coverage as a mandatory benefit for all state Medicaid programs. The coalition seeks to boost oral health coverage for Medicaid beneficiaries by advancing language from the Medicaid Dental Benefit Act (S. 3166) in a social spending vehicle, such as scaled-down social spending proposals that may result from the stalled Build Back Better Act negotiations. The group of advocates highlight the significant disparity in oral health by race, and point to the health system cost savings that result from improved overall health as a result of access to affordable, comprehensive dental care.  
Senate HELP Committee to Vote on FDA Commissioner Nomination  
The Senate Committee on Health, Education, Labor and Pensions (HELP) scheduled a January 12 vote on the nomination of Robert Califf to serve as FDA commissioner. Califf attended a confirmation hearing on December 14, 2021, where he appeared to garner enough bipartisan support to advance his nomination. President Biden announced Califf's nomination on November 12 after a months-long delay in filling the FDA Commissioner role.
---
Administration Activities 
FDA Approves First Long-Acting Injectable PrEP  
On December 20, the U.S. U.S. Food and Drug Administration announced that it approved the first long-acting injectable treatment for HIV prevention. Apretude (cabotegravir extended-release injectable suspension) is approved for use in at-risk adults and adolescents weighing at least 35 kilograms (77 pounds) for pre-exposure prophylaxis (PrEP) to reduce the risk of sexually acquired HIV. Policymakers anticipate that the availability of a long-acting injectable option will increase PrEP uptake and adherence. Apretude was granted a Priority Review and Breakthrough Therapy designation. The FDA granted the approval of Apretude to Viiv. 
HRSA Announces Carole Johnson to Serve as Administrator 
On December 17, the Health Resources and Services Administration (HRSA) announced that Carole Johnson will serve as the agency's new Administrator, replacing Acting Administrator Diana Espinosa. Johnson is currently the White House COVID-19 Response Team Testing Coordinator. Johnson boasts an extensive public health background, including serving as the Commissioner of the New Jersey Department of Human Services and the public health lead for the White House Domestic Policy Council under the Obama administration, where she oversaw HRSA issues.
HRSA HAB Encourages RWHAP Providers to Provide Gender Affirming Care for Trans and Gender-nonconforming PLWIH 
On December 16, the HRSA Associate Administrator of the HIV/AIDS Bureau (HAB) issued a letter encouraging Ryan White HIV/AIDS Program (RWHAP) service providers to leverage existing RWHAP infrastructure to support gender-affirming services within allowable RWHAP parameters. The letter reaffirms the importance of providing culturally-affirming health care and social services to the transgender community as a key component to improving the lives of transgender people with HIV and eliminating health disparities. Additionally, the letter provides guidance for RWHAP programs on the allowable use of funds to support gender affirming care across various core medical and support service categories.  
HRSA HAB Releases Inaugural EHE Data Report 
On December 15, HRSA HAB released the inaugural Ending the HIV Epidemic in the U.S. Initiative (EHE) Data Report, 2020. The report features national-level aggregate data submitted by HAB EHE-funded service providers during the 2020 calendar year, including the number of new and estimated re-engaged clients receiving specific services and those who were prescribed antiretroviral therapy (ART) in 2020. The data collection reporting effort will support HRSA HAB and policymakers to monitor progress toward EHE initiative goals.
CDC Develops Program Guidance for PS18-1802 Grantees to Fund PrEP Ancillary Services 
In December of 2021, the Centers for Disease Control and Prevention (CDC) developed program guidance for PS18-1802 grantees affording greater flexibility to fund PrEP ancillary services as a payer of last resort. The CDC Division of HIV Prevention (DHP) issued a grantee letter and guidance document encouraging grantees to leverage domestic HIV prevention funding to support PrEP ancillary services. Recipients of PS18-1802 may provide no more than 15 percent of the overall award amount to support PrEP ancillary support services.
---
Resources 
Hep ElimiNATION Launch 
Join the O'Neill Institute, the National Viral Hepatitis Roundtable, and the Center for Health Law & Policy Innovation on Tuesday, January 11, 2022 for a webinar on the launch of Hep ElimiNATION. Hep ElimiNATION will be releasing the grades assessing the policy landscape and programmatic strategies impacting viral hepatitis elimination in the 50 states, Washington, DC, and Puerto Rico. Hep ElimiNATION aims to guide states in the development of a comprehensive plan to meet the World Health Organization's (WHO) goal to eliminate viral hepatitis by 2030. Click Here to Register . 
CDC MMWR: Trends in and Characteristics of Overdose Deaths Involving Illicitly Manufactured Fentanyls (IMFs) 
On December 14, the CDC issued a Morbidity and Mortality Weekly Report (MMWR) detailing the sharp increase in IMF-involved deaths. The report shows rising rates of polysubstance overdose deaths, particularly in the Midwestern, Southern, and Western jurisdictions during 2019-2020.
CA PrEP Guidance for Insurers: Preventive Services Coverage for HIV Preexposure Prophylaxis (PrEP) with Provider-Administered Antiretroviral Drug Therapy 
On December 29, the Insurance Commissioner for the state of California issued a bulletin notifying health plans regulated by the by the California Department of Insurance that they are required to cover all PrEP drugs and related clinical services without cost sharing – including injectable PrEP. 
IDSA/HIVMA Fact Sheet: Paxlovid (nirmatrelvir and ritonavir) for the Treatment of COVID-19: Considerations for People with HIV and Hepatitis C 
O'Neill Institute "Big Idea" Issue Brief & Fact Sheet: Supporting Young Black and Latinx Gay and Bisexual Men Is Critical to HIV and STI Prevention 
As the Ending the HIV Epidemic (EHE) Initiative focuses on priority populations within targeted jurisdictions that account for the majority of new HIV transmissions, efforts in EHE jurisdictions should prioritize culturally relevant services for young Black and Latinx gay and bisexual men… EHE jurisdictions can strengthen HIV and STI prevention by acknowledging the value and needs of Black and Latinx gay and bisexual men, unpacking generations of mistrust of the healthcare system, and adapting programs to fit into the lives of young gay and bisexual men.
U of Washington SHaRP Resource: Tips on Finding Data and Writing a Community Description for Harm Reduction Organizations 
The Supporting Harm Reduction Programs (SHaRP) team at the University of Washington put together a short resource for syringe service programs and harm reduction organizations with tips on finding data sources and writing about data in grant applications, which could be particularly useful for folks working on the current SAMHSA harm reduction program grant. 
BLUPrInt  
BLUPrInt (Building, Learning, and Understanding Prevention Interventions for HIV) is an National Institutes of Mental Health (NIMH)-funded implementation science project. The goal of BLUPrInt is to provide resources and materials that can help community-based health centers across the country deliver PrEP in a way that expands HIV prevention coverage and increases health equity. BLUPrInt is designed to synthesize lessons from HIV prevention programs and models and develop data-driven tools and resources that can accelerate equitable diffusion of proven prevention strategies.
AIDS United NOFO: Conexiones Positivas: Positive Connections 
AIDS United, with funding from ViiV Healthcare, is pleased to announce the opportunity for grant support through the Conexiones Positivas: Positive Connections Initiative. For this initiative, AIDS United will provide $100,000 in low barrier grant funds to organizations supporting Hispanic/Latinx gay, bisexual and transgender men who are from communities most affected by and vulnerable to HIV. 
AIDS United NOFO: Using Innovative Intervention Strategies to Improve Health Outcomes among People with HIV (2iS) 
In Fiscal Year 2021, the Health Resources and Services Administration's HIV/AIDS Bureau (HRSA HAB), which administers the Ryan White HIV/AIDS Program (RWHAP), released funding to support a new initiative. The purpose of the 2iS initiative is to identify and pilot test innovative intervention strategies in four (4) focus areas: (1) improving HIV health outcomes for people with substance use disorder (SUD), (2) improving HIV health outcomes for lesbian, gay, bisexual, transgender, or queer (LGBTQ+) youth (13-24 years old), (3) improving HIV health outcomes for people who are justice involved, and (4) improving HIV health outcomes by using telehealth services. Proposals are due January 12, 2022.
---
Job Postings 
Manager, Hepatitis – NASTAD 
The Manager, Hepatitis will play a vital role in expanding and strengthening the capacity of health department viral hepatitis prevention and surveillance programs. The Manager's core activities will be to lead the execution of NASTAD's technical assistance (TA) activities, co-leading projects in close collaboration with consultants and NASTAD colleagues. The ideal candidate will have a background in hepatitis, be a self-starter, able to develop and lead new projects, work independently, and apply a health equity lens.  
Deputy Chief, Program Development – Baltimore, MD 
This position administers the implementation in Maryland of the activities funded by the Health Resources and Services Administration (HRSA)'s Ryan White HIV/AIDS Program (RWHAP), United States Department of Housing and Urban Developments (HUD) Housing Opportunity for Persons with AIDS (HOPWA), and the prevention component of the Centers for Disease Prevention and Control (CDC) Integrated Human Immunodeficiency Virus (HIV) Surveillance and Prevention Program. Applications are due January 13.
Program Manager, HIV Campaigns – Advocates for Youth 
The Program Manager, HIV Campaigns will oversee the implementation of Advocates' project with CDC's Prevention Communication Branch. The Program Manager will lead Advocates' efforts to implement Partnering and Communicating Together, an initiative to support the dissemination of CDC's Let's Stop HIV Together (Together) campaign among Black/Latinx young people, 18-24 with a focus on: male; female; trans male; trans female; and genderqueer/gender non-conforming via the use of digital and social media platforms.
Houston Health Department, Bureau of HIV/STD and Viral Hepatitis Prevention – Houston, TX 
This full-time position will report to the Bureau Chief and will involve the EHE planning related to funding opportunity PS20-2010: Integrated HIV Programs for Health Departments to Support Ending the HIV Epidemic in the United States. Applications close January 10. 
This full-time position will report to the Manager of the Policy and Evaluation Unit and will perform comprehensive planning and legislative policy analysis for the Bureau of HIV/STD and Viral Hepatitis Prevention. Applications close January 13. 
HHD seeks 12 Senior Public Health Investigators in the Bureau of HIV/STD and Viral Hepatitis Prevention to serve as Disease Intervention Specialists, Service Linkage Workers, and Patient Navigators. These full-time positions will report to various units including HIV Field Services, STI Field Services, Congenital Syphilis Field Services, Service Linkage Field Services, and PrEP Services. Applications close March 8.
Syringe Service Program Coordinator, Washington State DOH – Tumwater, WA 
Reporting to the Integration, Hepatitis C & Drug User Health Programs Manager, the Syringe Service Program (SSP) Coordinator provides leadership and is responsible and accountable for stakeholder engagement and mobilization efforts that increase access to and utilization of syringe service programs (SSPs) and related efforts to address health disparities and health inequities in communities disproportionately impacted by infectious disease and overdose. This recruitment is open and continuous.
Department of State Health Services – Austin, TX 
Research Specialist V 

Under the supervision of the Group Manager, the MMP Project Coordinator/Research Specialist V performs advanced research and epidemiological work requiring specialized knowledge of health behaviors related to TB/HIV/STD transmission. Responsible for the coordination of activities involved in the implementation of the Medical Monitoring Project (MMP) in Texas. Coordinates activities related to sampling frame development, healthcare facility, provider, and patient recruitment and data collection. Prepares budget and grant documents, data collection protocols and procedures, annual, interim progress reports, and other reports required by CDC or DSHS.  
Program Specialist IV

Under the direction and supervision of the TB/HIV/STD Surveillance Group manager and Electronic Lab Reporting (ELR) Epidemiology Team Lead, conducts activities related to data management and processing of HIV and STD laboratory reports. This position will provide technical expertise in the interpretation of laboratory data, and will be responsible for monitoring data quality of incoming laboratory reports. This position, along with the ELR Epidemiology Team Lead, will work directly with laboratories to resolve any reporting issues and improve data quality. This position will assist in the design and implementation of new and/or revised methods for receipt and dissemination of electronic data to more effectively meet HIV/STD surveillance needs.   
Public Health & Prevention Specialist II

Public Health and Prevent Specialist II performs a variety of tasks under the direction of the STD/HCV Epidemiology and Surveillance Group Manager related to the management of HIV/STD investigational data, including database maintenance, report tracking, data entry, and quality assurance. This position will aid in development of short-term, mid-term and long-term goals and objectives, and the development of standards for achieving strategic operational goals. Exercises independent judgment and professional discretion with extensive latitude for the use of initiative and independent judgment to administrate, advise, plan, and coordinate duties. 
HIV/STD Director

The HIV/STD Director works under the general direction of the Director of the TB/HIV/STD Section (THSS) of the DSHS. Performs advanced (senior-level) managerial work leading the day-to-day operations of the HIV/STD Prevention and Care Unit. These programs include statewide programs for HIV clinical and social services; the provision of medications for the treatment of HIV and other STDs; and HIV/STD prevention.
Manager, Legal Research (NASTAD) – Remote/Washington, DC 
The Manager, Legal Research provides legal and policy research and analysis as part of NASTAD's technical assistance and capacity building assistance. This position works closely with the Prevention, Policy & Legislative Affairs, and Health Systems Integration teams to support programmatic activities. This role works with the Director of Policy & Legislative Affairs and Senior Manager of Health Systems Integration, to implement key activities under NASTAD's health systems legal and policy portfolio, including conducting public health legal research, synthesizing complex policy material, and supporting development of webinars, peer learning opportunities, and deliverables to support health department efforts to navigate federal, state, and local laws and policies 
Program Analyst: HIV, STI, & Viral Hepatitis Program - Harm Reduction (NACCHO)
The Program Analyst will support projects and activities across NACCHO's HIV, STI, and Viral Hepatitis program portfolio. In particular, the Program Analyst will support the implementation of projects designed to build local capacity and partnerships for harm reduction and the prevention and elimination of viral hepatitis. The ideal candidate will possess interest and experience in harm reduction and/or the prevention and elimination of viral hepatitis, as well as health department and harm reduction programming, public health policy, the provision of technical and capacity building assistance, monitoring and evaluation, partnership building, and project management.
Senior Project Manager, HIV, Gender Affirming, and Integrated Care – New York City, New York 
Primary Care Development Corporation (PCDC), a nationally recognized 501(c)(3) community development financial institution (CDFI), catalyzes excellence in primary care through strategic community investment, capacity building, and policy initiatives to achieve health equity. The Senior Project Manager will be a member of the High Impact Prevention (HIP) project team and will work across the broader CQP practice. 
PCDC's CDC-funded High Impact Prevention (HIP) program provides support to communities greatly impacted by HIV. With CDC and other national partners, the HIP Program enhances the expertise of the HIV prevention workforce – including health care providers and staff in local and state health departments and community-based organizations (CBOs) – to achieve the United States' goal of substantially reducing the number of new HIV infections. The PCDC HIP Program serves the Northeast region of the US and the territories of Puerto Rico and US Virgin Islands.
Wyoming Department of Health, Public Health Division, Communicable Disease Unit 
Communicable Disease Unit Surveillance Program Manager – Cheyenne, Wyoming

The Wyoming Department of Health, Public Health Division, Communicable Disease Unit is seeking a Communicable Disease Surveillance Program Manager for Cheyenne. This position will serve as the Communicable Disease (CD) Surveillance Program Manager and senior epidemiologist for the Communicable Disease Unit. This position oversees public health surveillance of four disease areas (HIV, STD, TB, and Viral Hepatitis).  This position will monitor disease trends and utilize surveillance data to coordinate public health activities.   

Communicable Disease Epidemiologist – Cheyenne, Wyoming

This position will serve as the Communicable Disease AIDS Drug Assistance Program (ADAP) Coordinator, Wyoming TB Controller, and Disease Intervention Specialist (DIS) for the Communicable Disease (CD) Treatment Program.  Assist in outbreak response to ensure the safety of Wyoming residents; by interviewing cases for exposure information, updating news outlets on the progress of outbreak control, analyzing exposure data utilizing epidemiological and statistical methods. 
Hepatitis Surveillance Data Analyst – New Orleans, Louisiana 
This position is responsible for the data analysis activities for the Louisiana Office of Public Health STD/HIV/Hepatitis Program (SHHP), in the Hepatitis Surveillance unit. Data utilized for Hepatitis Surveillance activities include Hepatitis laboratory data, Case Report Forms, Provider Report Forms, Linkage to Cure data, investigation data, Medicaid data, and data from related sources and programs. This position will implement and coordinate data analysis activities to monitor and evaluate progress toward meeting hepatitis elimination within the state. All activities must be completed in accordance with the security and confidentiality guidelines required by the Centers for Disease Control and Prevention (CDC) and SHHP. 
Assistant Commissioner - Health Department – Baltimore, Maryland 
The Baltimore City Health Department (BCHD) is seeking an Assistant Commissioner to lead the Bureau of Communicable Disease and Outbreak Control. This senior management position will lead a talented team responsible for communicable disease investigation, outbreak control and emergency preparedness programming. The incumbent will also be responsible for developing and implementing agency wide policies related to health department readiness to respond to public health emergencies. The incumbent will report directly to the Deputy Commissioner for BCHD's Division of Population Health & Disease Prevention.
Open Positions – New York State 
The New York State Department of Health, in partnership with Health Research, Inc, has various job openings, including some within the AIDS Institute. Please visit this link to learn about their current opportunities.
---
News Bulletin 
With Sexually Transmitted Infections Off the Charts, California Pushes At-Home Tests 
"California has become the first state to require health insurance plans to cover at-home tests for sexually transmitted infections such as HIV, chlamydia and syphilis — which could help quell the STI epidemic that has raged nearly unchecked as public health departments have focused on covid-19. The rule, part of a broader law addressing the STI epidemic, took effect Jan. 1 for people with state-regulated private insurance plans and will kick in sometime later for the millions of low-income Californians enrolled in the state's Medicaid program." 
New Policy Proposal Seeks to Improve Access to Medications that Prevent HIV Infection 
"Johns Hopkins faculty and colleagues released a proposal for a national program to finance and distribute medications that prevent HIV infection, known as pre-exposure prophylaxis, or PrEP. The goal of the proposal is to scale up access to PrEP substantially in order to help end the HIV epidemic…With funding from Arnold Ventures, authors of the proposal consulted with more than 30 experts in HIV, pharmaceutical, and laboratory policy, federal partners, governmental public health leaders, and PrEP consumers. The proposal recommends a national PrEP program guided by these principles: accessibility, equity, simplicity, affordability, sustainability, and adaptability."
2021 Was a Year of HIV Progress; Now Let's Focus on PrEP Access 
"As 2021 comes to a close, it is a good time to take a moment to reflect on the year and think about the challenges ahead. This year, we commemorated the 40th anniversary of the first cases of what would become known as AIDS, welcomed a budget proposal from President Biden that more than doubled the funding for the Ending the HIV Epidemic in the U.S. initiative and was fully supported by both the House and Senate. President Biden gave his full commitment to ending HIV during a White House World AIDS Day event and released an updated National HIV/AIDS Strategy for the U.S. 2022–2025. We in the HIV community have many reasons to be hopeful, and yet our work is far from done. We must come together as a community focused on ending the HIV epidemic in new and different ways."