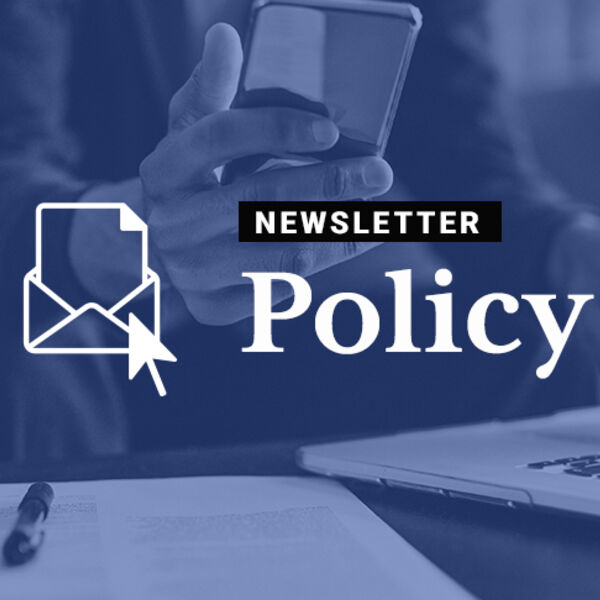 Policy Updates: Hill Happenings and Administration Activities
---
Hill Happenings
Fiscal Year 2024 Appropriations  
Appropriators in both parties are gearing up to resolve major political battles over federal spending in the 118th Congress, including resolving the national debt limit crisis and issuing Fiscal Year 2024 (FY2024) appropriations bills. On February 15, Senate leaders announced appropriations committee assignments, including naming Sen. Baldwin (D-WI) as Chair of the Senate Appropriations Labor, Health and Human Services, Education, and Related Agencies (LHHS) Subcommittee. Sen. Moore-Capito (R-WV) will serve as ranking member. Additionally, on February 13, the House LHHS Subcommittee announced that it will hold public witness hearings for the FY2024 budget on March 23, 2023. 
The progress made by spending committees comes ahead of the President's Executive Budget Request to Congress, which is set to release on March 9. The Executive Budget is a non-binding budget recommendation that anchors spending discussions in Congress by providing a starting point for spending level allocations and highlighting the Administration's policy priorities. Additionally, FY2024 spending talks could drag into the second half of the year as a result of high-stakes debt ceiling negotiations and House Republicans' hard-line approach to spending cuts. NASTAD will continue to monitor the appropriations process and advocate for the highest funding level on behalf of HIV and hepatitis programs.  
---
Administration Activities 
NASTAD Calls on Biden Administration to Fully Fund National PrEP Program in FY2024 
On February 16, NASTAD, the Federal AIDS Policy Partnership, and the PrEP4All coalition called on the Biden Administration to include discretionary funding for a National PrEP Program at CDC in the FY2024 Executive Budget Request to Congress. The advocates urged the Office of Management and Budget (OMB) to include $200 million in funding for the program distributed through the CDC Division of HIV Prevention (DHP). Additionally, the advocates urge the White House to include report language that would help to ensure integration and implementation of a PrEP program that is national in scope. 
NASTAD Submits Comment Urging CMS to Boost Medicare Coverage of PrEP for HIV 
On February 11, NASTAD and the HIV Health Care Access Working Group, the HIV Prevention Access Coalition, and Federal AIDS Policy Partnership submitted comment urging Centers for Medicare and Medicaid Services (CMS) to boost Medicare coverage of PrEP and the ancillary services ancillary services necessary to fill and refill a PrEP prescription. The coalition called on CMS to quickly cover provider-administered injectable PrEP to ensure that Medicare enrollees will have equitable access to the full range of measures available to prevent the spread of HIV and save lives. Additionally, the coalition urged CMS to update its coverage for HIV and sexually transmitted infection (STI) testing and screening to increase coverage frequency to a level that is consistent with the screening and testing protocols for both long-acting and oral PrEP. 
FDA Authorizes First Point-of-Care Mpox Test 
On February 10, the U.S. Food & Drug Administration (FDA) granted emergency authorization for the first mpox point-of-care test. FDA authorized use of Cepheid's Xpert Mpox test, a real-time PCR assay packaged in a single-use cartridge. Although the Biden Administration phased out the mpox public health emergency (PHE) which expired on January 31, 2023, FDA approved emergency use of the test due to the potential for life-threatening illness posed by mpox.
USPSTF Releases Final Recommendation Statement for Genital Herpes Screening 
On February 14, the U.S. Preventive Services Task Force issued a final recommendation statement concerning serologic screening for genital herpes infection. USPSTF designated a "D" grade, recommending against routine serologic screening for genital herpes simplex virus infection in asymptomatic adolescents and adults. The Task Force concluded that the harms outweigh the benefits for population-based screening for genital HSV infection in asymptomatic adolescents and adults, including pregnant persons, due to testing limitations like the significant risk of false positives. 
CDC Releases Youth Risk Behavior Survey Data Summary & Trends Report 
On February 13, CDC released the Youth Risk Behavior Survey Data Summary & Trends Report: 2011-2021, which provides an important snapshot of trends in adolescent health and well-being related to mental health, sexual behavior, substance use, and experiences of violence. The report data show that many teens are experiencing increasingly high levels of violence, sadness, and suicide risk. In particular, LGBQ+ youth were substantially more likely to have experienced all forms of violence and had worse mental health outcomes than their heterosexual peers. 
---
Resources 
Updated Score Cards: 2023 Hepatitis C: State of Medicaid Access 
"While the U.S. as a whole is still far from having received straight A's on our latest round of report cards, CHLPI and NVHR applaud the significant progress state Medicaid programs have made toward ensuring all people living with HCV are able to access treatment." 
CDC Provisional Drug Overdose Death Counts 
A February 15 update to the CDC National Center for Health Statistics National Vital Statistics System Provisional Drug Overdose Death Counts show a slight decline in record-high overdose deaths from September 2021 – September 2022.
NHeLP PHE Unwinding Resources:  
CDC DHP Save-the-Date: Region 9 Community Engagement Town Hall 
Date: February 23, 2023 from 1:00 PM – 2:30 PM EST 
The Division of HIV Prevention (DHP) at the Centers for Disease Control and Prevention will convene its next HIV Prevention and Care Priorities – Regional Virtual Community Engagement Town Hall with HHS Region 9. The Town Hall will provide a venue for discussion and collaboration focused on barriers to and opportunities for improving HIV diagnosis, treatment, prevention, and outbreak response. This Town Hall will focus on activities within HHS Region 9, but it is open to all to attend. Additional Town Halls will be scheduled to cover the other regions of the country. 
Call for Presentations: Hepatitis Community Collaborative (HC2) 
Presentation Proposal Deadline: March 10, 2023 
Event Date: April 25, 2023 
NASTAD and The AIDS Institute (TAI) are pleased to host the third Hepatitis Community Collaborative (HC2)! Following HC2 events in 2020 and 2021, we are excited to re-convene as a group of hepatitis advocates, infectious disease experts and people with lived experience (PWLE) and provide updates on what communities are doing to combat viral hepatitis. The one-day, virtual and free convening will provide advocates with a platform for cross-jurisdiction learnings and innovative approaches via presentations, peer-to-peer information sharing, dialogue and forums. 
2023 Public Health Associate Program (PHAP) - CDC 
On behalf of the Centers for Disease Control and Prevention (CDC), we invite you to partner with us as we launch the 2023 Public Health Associate Program (PHAP) host site recruitment initiative. PHAP is seeking exceptional sites to host an associate from October 2023 to October 2025. Public health organizations have hosted associates working in a variety of public health areas, such as prevention of sexually transmitted diseases, tuberculosis, HIV, and other communicable diseases; chronic disease prevention; environmental health; public health preparedness; immunization; injury and violence prevention; maternal and child health promotion; accreditation; and access to healthcare. PHAP is a paid two-year, on-the-job, training program for early-career public health professionals. PHAP currently has more than 300 associates fulfilling hands-on workforce needs at host sites across 47 states, the District of Columbia, and 4 US territories. Associates are employed by CDC and work in state, tribal, local, and territorial public health departments; nongovernmental organizations; public health institutes and associations; academic institutions; and community-based organizations. If you need more information about PHAP or the application process, please don't hesitate to email phap@cdc.gov or call 404-498-0030.
APHL Conference: ID Lab Con 
Date: March 13 – 15, 2023 
Location: Atlanta, Georgia 
​​​Register today for ID Lab Con, a new APHL conference focused on the latest developments in detection and characterization of infectious diseases of public health concern! Join public health laboratory professionals, clinical laboratorians, epidemiologists, leading researchers and diagnostics manufacturers to share the latest findings, technologies and developments and to generate solutions to infectious disease challenges. 
---
Job Postings 
Sr. Health Program Manager – Mecklenburg County, NC 
The Sr. Health Program Manager supervises a wide variety of public health functions, including the coordination of HIV/STD investigations, surveillance, and enforcement activities. This position also oversees the coordination of the Ryan White HIV case management Program activities.   The Sr. Health Program Manager is also responsible for aligning the strategic goals of the program(s) with those of the Public Health Department and the County, implementing strategies to achieve these goals, assuring compliance with state and federal requirements and for providing professional/technical administrative management and direction for program managers and supervisors. Apply by March 6. 
Section Manager – Quality Evaluation and Epidemiology – Lansing, MI 
This position is responsible for the overall administration of the statewide Quality, Evaluation and Epidemiology Section in the Data and Operations Division within the Bureau of HIV/STI Programs. This section includes 3 units, Quality and Evaluation, Special Studies, and Epidemiology. This position is responsible for overall functions related to Ryan White Quality Management, implementation of the MMP and NHBS projects, grant related and program related evaluation of Bureau-wide activities, and epidemiology for HIV and STI programs. This position uses high level staff to create data products and processes to improve program outcomes for internal staff, external stakeholders, people affected by HIV/STI in collaboration with CDC, HRSA, and all Bureau staff. This staff person also oversees collaborations with important MDHHS programs like Medicaid, Communicable Diseases, Vital Records, the Compliance Office, etc. This position assures the scientific integrity of epidemiology and data products released by the Bureau and assures the use of data and epidemiology for program improvement. Apply by March 1, 2023.  
HIV/STD Prevention Strategic Initiatives Coordinator – Portland, OR 
In this role, you will coordinate cross-programmatic HIV and STD prevention initiatives and activities with local, state, and national partners to meet population-level public health goals to decrease the transmission, prevalence, and impact of HIV and STDs in Oregon. You will develop goals, objectives, policies and actions for HIV and STD prevention in Oregon, which include but is not limited to, statewide HIV/STD testing, PreP access, expanding 340B in carceral settings, and coordinating HST harm reduction activities. Apply by March 15. 
Division of Viral Hepatitis, National Center for HIV, Viral Hepatitis, STD, and TB Prevention, CDC 
Chief, Prevention Branch, DVH  

NCHHSTP/DVH is recruiting for an exceptional candidate for the position of Prevention Branch Chief, Division of Viral Hepatitis (DVH), National Center for HIV, Viral Hepatitis, STD, and TB Prevention (NCHHSTP). The incumbent will serve as Chief in the Prevention Branch, Division of Viral Hepatitis, and will participate in the division's senior management team responsible for directing the development, administration, implementation, and evaluation of national programs to prevent and control viral hepatitis. The incumbent provides advice to the Division Director on medical and scientific policy and practices associated with program, education, and research activities in support of viral hepatitis prevention and control, including harm reduction. 

Epidemiologist, Epidemiology and Surveillance Branch (ESB), DVH 

ESB is responsible for overseeing the national viral hepatitis surveillance system and providing technical assistance to state and local health departments for case surveillance and outbreak detection / response. The Laboratory Branch has been successfully conducting molecular investigation to support outbreak responses utilizing Global Hepatitis Outbreak Surveillance Technology (GHOST). The incumbent is expected to lead new activities in ESB, in collaboration with the Molecular Epidemiology and Bioinformatics Team, Laboratory Branch, to integrate molecular and epidemiological data to identify viral hepatitis transmission clusters for public health action. Apply by February 14. 
Public Health Analyst, DHP – CDC  
The Prevention Communication Branch, Division of HIV Prevention (DHP) at CDC is searching for a Team Lead, National Partnerships Team. We are seeking diverse and qualified candidates for this dynamic position. The team fosters strategic partnerships that amplify campaign messages and support the implementation of national HIV programs and initiatives that reach priority populations and health care professionals in key geographic areas. NPT oversees the Partnering and Communicating Together cooperative agreement and a range of other partnerships to support our Let's Stop HIV Together campaign and the Ending the HIV Epidemic initiative. Apply by January 30.  
Manager, Legal Research – NASTAD 
The Manager, Legal Research provides legal and policy research and analysis as part of NASTAD's technical assistance and capacity building assistance work.  This position will implement key activities under NASTAD's health systems legal and policy portfolio, including conducting public health legal research, synthesizing complex policy material, and supporting development of webinars, peer learning opportunities, and deliverables to support health department efforts to navigate federal, state, and local laws and policies.
Boulder County AIDS Project – Boulder, Colorado 
Prevention Coordinator: The primary duties of this position are to provide HIV/HCV/STI testing, syringe access, and street outreach services, as well as outreach education at community partner locations and events. This position provides these services in collaboration with other Prevention Department staff and key community partners, as well as enters data into databases and completes monthly reports. This position reports directly to the Prevention Director, and attends staff, department, and community partner meetings. 
Bilingual Medical and Housing Case Manager: The focus of this position will be to ensure efficient delivery of quality medical case management services to clients who are living with HIV through assessment, planning, service procurement, delivery, coordination, and monitoring, ensuring all services are offered in an inclusive, respectful and professional manner. The Bilingual Medical and Housing Case Manager reports directly to the Care Services Director and is required to attend All Staff meetings, Care Services team meetings, Clinical Consultations, Finance Committee meetings and to keep all client data up to date for reporting purposes. Because this position manages confidential information for clients, the Bilingual Medical and Housing Case Manager must demonstrate the highest degree of professionalism. 
Florida Department of Health – Palm Beach County 
To apply, please send resumes to Robert Scott, Robert.Scott@flhealth.gov. These are all $20/hr, in-office roles with possible remote flexibility. 
EHE Navigator: This position's work will be actively guided by the Palm Beach County Ending the Epidemic (EHE) Plan, including the four pillars and their goals, objectives, strategies and activities. Incumbent will assist in the planning, coordination, implementation and monitoring of the goals, objectives, strategies and activities set forth in the Palm Beach County Ending the Epidemic (EHE) Plan, in collaboration with other Area 9 EHE funding recipients, to include, but not limited to: Palm Beach County, FoundCare, and Florida Community Health Centers.  
PrEP Navigator: This position's work will be actively guided by the Palm Beach County Ending the Epidemic (EHE) Plan, including the four pillars and their goals, objectives, strategies and activities. Incumbent will link high-risk negative persons to available Pre-Exposure Prophylaxis (PrEP) and non-occupational Post Exposure Prophylaxis (nPEP) services with the goal of significantly reducing the number of new HIV infections among high-risk populations. Incumbent will assess and increase the knowledge, desirability, accessibility, and adherence of PrEP among referred high-risk individuals.  
Digital Media Manager: This position is responsible for developing and coordinating the area HIV digital media presence through multiple platforms. Developing digital marketing strategies, creating social media content, collaborating with community partner organizations, and creating new ad campaigns to advance Ending the HIV Epidemic (EHE) in Palm Beach County.  Tracking data from digital campaigns to assist with EHE goals. 
Executive Director, Hepatitis Education Project (HEP) – Seattle, WA (partially remote) 
Reporting to a Board of Directors and in partnership with a staff of 19, the ED will lead the evolution of HEP as the organization reviews its impact to date and plans for the future in the fields of viral hepatitis and drug user health both locally and nationally.  
Deputy Medical Director, HIV/STI/Viral Hepatitis/Harm Reduction – Nashville, TN 
This position will serve as the Statewide Deputy Medical Director in the HIV/STI/Viral Hepatitis section. The position has cross-cutting responsibility in all program areas with potential for promotion in succession plans. Primary responsibilities include leadership and oversight of cross-cutting programs related to End the Syndemic Tennessee to tackle HIV, sexually transmitted infections, viral hepatitis and substance use disorder in an integrated manner with an outward-facing, community-engaged process.  
Program Content and Training Specialist, Supporting Harm Reduction Programs (SHaRP) – University of Washington 
This position is part of a cooperative agreement award from the Centers for Disease Control and Prevention to provide technical assistance about monitoring and evaluation to syringe services programs (SSPs) as part of the National Harm Reduction Technical Assistance Center. One of the primary projects of this award is to provide technical assistance (TA) to SSPs for monitoring and evaluation activities. The University of Washington is working in collaboration with the CDC, SAMHSA, NASTAD, the National Harm Reduction Coalition, and other TA partners to provide a suite of technical assistance support to individual programs.  
Communicable Disease Epidemiologist – Cheyenne, Wyoming 
This position will serve as the Communicable Disease AIDS Drug Assistance Program (ADAP) Coordinator, Wyoming TB Controller, and Disease Intervention Specialist (DIS) for the Communicable Disease (CD) Treatment Program.  Assist in outbreak response to ensure the safety of Wyoming residents; by interviewing cases for exposure information, updating news outlets on the progress of outbreak control, analyzing exposure data utilizing epidemiological and statistical methods. 
Assistant Commissioner - Health Department – Baltimore, Maryland 
The Baltimore City Health Department (BCHD) is seeking an Assistant Commissioner to lead the Bureau of Communicable Disease and Outbreak Control. This senior management position will lead a talented team responsible for communicable disease investigation, outbreak control and emergency preparedness programming. The incumbent will also be responsible for developing and implementing agency wide policies related to health department readiness to respond to public health emergencies. The incumbent will report directly to the Deputy Commissioner for BCHD's Division of Population Health & Disease Prevention.   
Open Positions – New York State 
The New York State Department of Health, in partnership with Health Research, Inc, has various job openings, including some within the AIDS Institute. Please visit this link to learn about their current opportunities. 
---
News Bulletin 
FDA Inches Closer to OTC Narcan—at the Expense of Generic Naloxone 
"Advisors to the Food and Drug Administration have voted unanimously in support of making a naloxone product available without requiring a prescription, as the pharmaceutical company manufacturing that product doubled down on needle stigma. 
In a February 15 joint meeting of the FDA's Nonprescription Drugs Advisory Committee and the Anesthetic and Analgesic Drug Products Advisory Committee, the committee members voted 19-0 that the FDA should approve a 2022 application for over-the-counter (OTC) naloxone from Emergent BioSolutions—the company that makes Narcan. While the FDA is not legally compelled to act according to the vote, advisory committee members wield substantial influence and historically their recommendation has been a strong predictor of the agency's final decision." 
'Tranq,' a Veterinary Drug, Is Worsening the Fentanyl Crisisv 
"A veterinary tranquilizer that can cause serious wounds for regular users is spreading menace within the illicit drug supply.  Xylazine, authorized only for animals, is one ingredient in an increasingly toxic brew of illicit drugs that killed a record of nearly 107,000 people in the U.S. in 2021. It is typically mixed with fentanyl, a synthetic opioid that itself has broadly infiltrated U.S. drug supply, including in supplies of cocaine and methamphetamine. Taken together, the volatile mixing means drug users often don't know what's in the substances they take." 
One big thing the FDA can do to save Americans from overdoses 
"As early as next month, the Food and Drug Administration is expected to make naloxone, an opioid overdose-reversing drug, available over the counter in nasal-spray form. This would be a crucial step toward making this lifesaving drug more accessible. But there's a problem. The nasal-spray version costs as much as $75 per dose, pricing out a lot of people in need of the medication. There is another solution that federal health officials should consider: Making the lower-cost liquid naloxone, which can cost less than $2 a dose, more readily available."