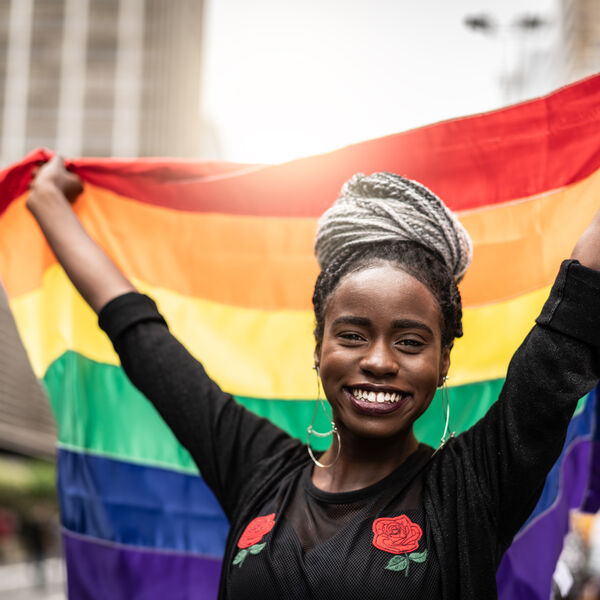 Protecting Black LGBTQ+ Communities this Juneteenth and Pride Month
Juneteenth, short for June 19, marks the day in 1865 when the Civil War Union soldiers arrived in Galveston, Texas and took control of the state to ensure that all the enslaved persons in the area were freed, two and half years after President Abraham Lincoln issued the Emancipation Proclamation. In 2021, President Joseph Biden signed legislation that made Juneteenth a federal holiday that is recognized and observed in all 50 states. Juneteenth highlights achievement and progress in Black communities and is honored with celebrations and events all over the country. June is also Pride Month, a month dedicated to uplifting, celebrating, and honoring LGBTQ+ communities. Pride Month is celebrated annually and is in commemoration of the Stonewall Riots of June 1969. Pride Month is observed with parades, festivals, and celebrations that occur throughout June.  
Juneteenth and Pride Month is a time of celebration and recognition, but it also a time to revisit what more must be done to uplift Black LGBTQ+ communities and fight for equitable legislation and policies. One of NASTAD's guiding principles is to advance the rights and dignity of all people by dismantling oppressive systems and centering those most impacted by interconnected epidemics. Recent anti-trans legislation, HIV criminalization laws, and other legislation and policies that threaten bodily autonomy and privacy directly and disproportionately impact Black LGBTQ+ communities and perpetuate stigma, homophobia, and prejudice against them. 
Recently, we have witnessed a wave of anti-trans legislation across the country. These legislations attack gender-affirming care and the legal recognition of trans people. They also dictate what can be taught in classrooms and limit discussion of LGBTQ+ topics. By May 2023, 541 anti-trans bills were introduced, already more than three times 2022's record. These anti-trans legislative attacks are occurring alongside a significant rise in violence against LGBTQ+ people, especially Black trans woman. There was a 93% increase in violent crimes against trans and gender-nonconforming people in the U.S. and Puerto Rico over the last four years, and while only 13% of the transgender community is estimated to be Black, Black trans women accounted for almost 75% of the known victims. NASTAD believes that racism, homophobia, and transphobia are public health issues, and we must advocate for the protection and rights of Black trans communities by calling on policymakers to eradicate anti-trans legislation.  
HIV criminalization laws also disproportionately impact Black and LGBTQ+ individuals and are present in over 35 states. HIV criminalization laws consist of wrongfully using a person's positive HIV status in a criminal prosecution and heightening charges or punishments simply because the person charged is living with HIV. These laws stigmatize people living with HIV and dissuade individuals from getting tested, seeking treatment, and disclosing their status due to fear of prosecution. In a study published in 2021, HIV criminalization laws were related to higher rates of stigma, specifically towards Black gay, bisexual, and other men who have sex with men. Repealing and eradicating these types of laws is imperative to delegitimize stigma towards Black LGBTQ+ people living with HIV and promote effective HIV prevention strategies.  
This Juneteenth and Pride Month, NASTAD continues to be committed to uplifting Black LGTBQ+ communities and fighting for equitable rights for all. To end HIV, viral hepatitis, and intersecting epidemics, we must work together to prioritize communities that are most impacted by injustice. 
View the following NASTAD resources to learn more about the work that is being done to dismantle racism, homophobia, and stigma in public health.