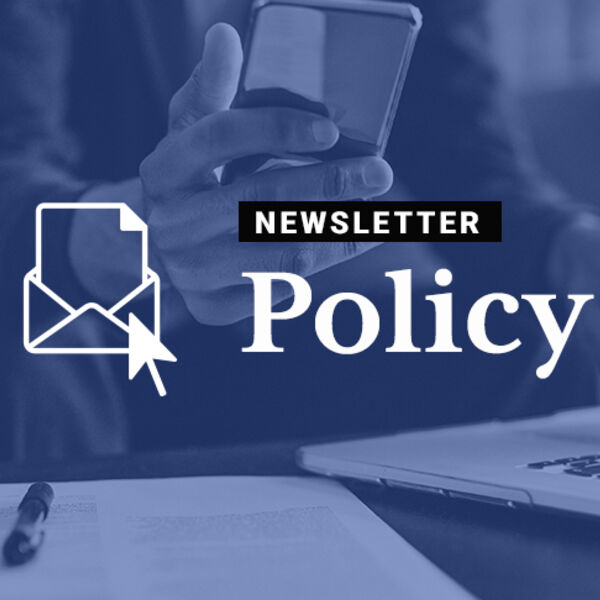 Policy Updates: Hill Happenings and Administration Activities
---
Hill Happenings
FY2024 Appropriations 
Lawmakers must approve a spending package before a quickly approaching September 30 appropriations deadline or face a government shutdown on October 1. In July, the House and Senate issued competing spending proposals that adhere to budgetary caps set by the bipartisan debt limit compromise, but House Republicans are pursuing even steeper cuts in the Fiscal Year 2024 (FY2024) package that threaten funding for critical health programs.  
Amid the budget impasse, House Republicans are preparing a CR package that would extend government funding for 30 days, implement an 8% spending cut on non-defense programs, and includes conservative priorities on border security and funding. However, the House-led CR is likely a non-starter for Democrats, pointing to a difficult negotiation to reach a bipartisan agreement on a temporary spending patch.  
NASTAD will continue to monitor the congressional appropriations process and advocate for the highest possible funding for HIV, hepatitis, and drug user health programs.  
FY2025 Family Planning Coalition letter to OMB 
On September 13, NASTAD joined a coalition of 58 organizations, representative of health care providers, researchers, program administrators, community advocates, to call on the Biden Administration to build on the work of the FY2024 budget and improve access to family planning across the country. The coalition called on the Office of Management and Budget (OMB) to request that Congress strengthen funding for the Title X family planning program, robustly enforce the Medicaid Free Choice of Provider requirement, and expand access to clinical service related to the prevention and treatment of sexually transmitted infections (STIs). The advocates called for $512 million in funding for the Title X program in FY2025 and $200 million for a demonstration project within HRSA for STI clinical services.  
---
Administration Activities
CDC Updates Resources for 2023 National HIV/AIDS and Aging Awareness Day 
Each year on September 18, CDC observes National HIV/AIDS and Aging Awareness Day (NHAAD), an event that calls attention to the increasing number of people living long, full lives with HIV and their unique health and social needs, as well as the challenges of HIV prevention, testing, treatment, and care in older adults. The National HIV/AIDS Strategy (2022-2025) added a new focus on the needs of the growing population of people with HIV who are aging. Click here to access information and resources on NHAAD and HIV prevention, care, and treatment for older adults. 
HHS Reaches Settlement Agreement Resolving HIV Discrimination Complaint 
On September 13, the US Department of Health and Human Services (HHS) and the U.S. Attorney's Office for the District of New Jersey announced that the parties reached a settlement agreement to resolve allegations that Comfort Hands Home Healthcare, LLC (Comfort Hands), a home healthcare provider, discriminated against a person with HIV in violation of the Americans with Disabilities Act (ADA), the Rehabilitation Act, and the Patient Protection and Affordable Care Act. Following an investigation, HHS OCR and the U.S. Attorney's Office found that Comfort Hands, of Marlton, New Jersey, unlawfully discriminated against a potential client by denying home health care services based on her HIV status. Under the settlement agreement, Comfort Hands will, among other things, implement a non-discrimination policy to ensure that individuals with disabilities, including those with HIV or who are perceived to have HIV, are afforded full and equal opportunities to its benefits and services. Comfort Hands will also provide mandatory non-discrimination training to its employees and pay damages to the individual who experienced this act of discrimination.
---
Resources
TAG Webinar: HIV-HCV co-infection and best practices for HCV elimination in high-burden populations 
Date: October 10th, 2:00 pm - 3:30 pm ET 
Following the White House's recent proposal for a National Hepatitis C Elimination Plan as part of its Fiscal Year 2024 budget request to Congress, and the fact that key populations for HIV are also at high risk of HCV, Treatment Action Group is organizing a webinar that will highlight best practices and challenges for HCV elimination with a specific focus on high-burden populations. The webinar will equip policymakers, clinicians, health advocates, civil society and other stakeholders with tools to better address barriers to eliminating HCV among key populations and encourage participants to apply new insights into HCV/HIV comorbidity to their work.  
CDC Mpox Resources:  
"Dear Partners: On September 8th, CDC released an MMWR, Reduced Odds of Mpox-Associated Hospitalization Among Persons Who Received JYNNEOS Vaccine — California, May 2022–May 2023 , reporting that, among persons with and without HIV infection, mpox-associated hospitalization rates were lower among those who had received ≥1 dose of JYNNEOS vaccine compared with those who were unvaccinated. Once again, data confirms that vaccines work!     
This week CDC also updated Mpox Clinical Guidance and Considerations for Reducing Mpox Transmission in Congregate Living Settings.   
Several other MMWR articles were published, including:   
 Finally, CDC released new Max Your Vax videos in both English and Spanish, discussing the importance of getting both doses of the mpox vaccine for maximum protection.  Please amplify these and other communications resources about mpox on your digital and social media channels." 
Together TakeMeHome (TTMH) 
Given the extremely successful launch of Together TakeMeHome (TTMH), CDC has awarded additional funding to Emory to distribute an additional 150,000 free HIV self-tests between now and September 30, for a total of up to 350,000 tests in year one of the program. Together TakeMeHome (TTMH), is a national direct-to-consumer program that offers free HIV self-tests through mail delivery. Through TTMH, people in the United States, including Puerto Rico, can order up to two free HIV self-tests every 90 days. Tests are available to anyone 17 years or older, regardless of health insurance or immigration status. TTMH is supported by CDC, in partnership with Emory University, Building Healthy Online Communities (BHOC), NASTAD, Signal Group, and OraSure Technologies.  
CAI Technical Assistance Provider-innovation network (TAP-in) Webinar: Housing First as A Key Strategy to End the HIV Epidemic 
Date: Tuesday, September 19 from 12 – 1.30 pm ET 
Housing First is an effective, cost-efficient, evidence-based best practice that demonstrates improved health outcomes and care utilization for people experiencing homelessness, including people with HIV (PWH). The U.S. Ending the HIV Epidemic is a unique opportunity for HRSA-funded Jurisdictions to support the uptake and implementation of the Housing First model in their communities to prevent new HIV diagnoses and engage people with HIV who are outside the current system of care. Attendees will learn about the Housing First model and hear from colleagues in two HRSA-funded EHE Jurisdictions on how they have incorporated this approach into EHE efforts and utilization of spending.  
Gilead RFP: Community REseArch To End the HIV Epidemic-U.S. (CREATE U.S. RFP) 
Letter of Intent Due: October 3, 2023 at 11:59 PDT 
Community-based research plays a critical role in helping improve services and quality of care for populations most impacted by HIV. To advance this research, Gilead launched the CREATE U.S. RFP, a new program offering funding to community groups for projects helping to improve long-term care and engagement for people with HIV. We encourage you to share this opportunity with your networks or any eligible parties. 
NACCHO NOFO: Evaluating the Distribution of Smoking Supplies as a Harm Reduction Strategy 
Deadline: Friday, October 13th at 11:59 PM PT 
In partnership with the Centers for Disease Control and Prevention (CDC), NACCHO is pleased to announce a new funding opportunity to support the evaluation of smoking supplies distribution as a harm reduction strategy.  Through this funding opportunity, NACCHO will provide up to $38,000 to approximately four syringe services programs (SSPs) to evaluate the distribution of smoking supplies as a harm reduction strategy. 
2023 RWHAP Clinical Conference 
Dates: December 3-5, 2023 
Location: Portland, Oregon 
Registration for the 2023 RWHAP Clinical Conference is now open. This conference provides state-of-the-art research, care, and treatment updates for experienced clinical decision makers and those integral to medical care provision housed under the Ryan White HIV/AIDS Program (RWHAP) funded sites. Details on covered topics, venue descriptions, information about continuing education credits, and updates on registration and travel will be available on the IAS-USA website and the AETC National Coordinating Resource Center (NCRC) website. 
---
Job Postings
Viral Hepatitis Surveillance Coordinator – Oahu, HI 
The primary purposes of this position are to plan, develop, coordinate, monitor, and evaluate the statewide surveillance system for adult viral hepatitis, particularly hepatitis B and C, to inform efforts to control and prevent the spread of adult viral hepatitis and related sequelae, particularly drug overdose and liver cancer. This position is responsible for the systematic analysis and interpretation of population-based and program-specific health and related data in order to assess the distribution and determinants of the health status and needs of populations at risk for or living with viral hepatitis, for the purpose of implementing effective interventions and promoting policy development. 
Drug Trends and Technology-Based Drug Checking Analyst – New York City, NY 
NYC DOHMH is looking for an analyst to work on our drug checking initiative. Currently operating in four SSPs across the city, including one of the OPCs, drug checking technicians use Bruker Infrared technology to test samples from SSP participants and provide individualized harm reduction education. This is a great opportunity for someone with strong data skills and an interest in drugs and toxicology. Please send out far and wide and feel free to reach out if you have any questions.  
Prevention Coordinator, Boulder County AIDS Project – Boulder, Colorado 
The primary duties of this position are to provide HIV/HCV/STI testing, syringe access, and street outreach services, as well as outreach education at community partner locations and events. This position provides these services in collaboration with other Prevention Department staff and key community partners, as well as enters data into databases and completes monthly reports. This position reports directly to the Prevention Director, and attends staff, department, and community partner meetings. 
Florida Department of Health – Palm Beach County 
To apply, please send resumes to Robert Scott, Robert.Scott@flhealth.gov. These are all $20/hr, in-office roles with possible remote flexibility. 
EHE Navigator: This position's work will be actively guided by the Palm Beach County Ending the Epidemic (EHE) Plan, including the four pillars and their goals, objectives, strategies and activities. Incumbent will assist in the planning, coordination, implementation and monitoring of the goals, objectives, strategies and activities set forth in the Palm Beach County Ending the Epidemic (EHE) Plan, in collaboration with other Area 9 EHE funding recipients, to include, but not limited to: Palm Beach County, FoundCare, and Florida Community Health Centers.  

PrEP Navigator: This position's work will be actively guided by the Palm Beach County Ending the Epidemic (EHE) Plan, including the four pillars and their goals, objectives, strategies and activities. Incumbent will link high-risk negative persons to available Pre-Exposure Prophylaxis (PrEP) and non-occupational Post Exposure Prophylaxis (nPEP) services with the goal of significantly reducing the number of new HIV infections among high-risk populations. Incumbent will assess and increase the knowledge, desirability, accessibility, and adherence of PrEP among referred high-risk individuals.  

Digital Media Manager: This position is responsible for developing and coordinating the area HIV digital media presence through multiple platforms. Developing digital marketing strategies, creating social media content, collaborating with community partner organizations, and creating new ad campaigns to advance Ending the HIV Epidemic (EHE) in Palm Beach County.  Tracking data from digital campaigns to assist with EHE goals. 
Deputy Medical Director, HIV/STI/Viral Hepatitis/Harm Reduction – Nashville, TN 
This position will serve as the Statewide Deputy Medical Director in the HIV/STI/Viral Hepatitis section. The position has cross-cutting responsibility in all program areas with potential for promotion in succession plans. Primary responsibilities include leadership and oversight of cross-cutting programs related to End the Syndemic Tennessee to tackle HIV, sexually transmitted infections, viral hepatitis and substance use disorder in an integrated manner with an outward-facing, community-engaged process.  
Program Content and Training Specialist, Supporting Harm Reduction Programs (SHaRP) – University of Washington 
This position is part of a cooperative agreement award from the Centers for Disease Control and Prevention to provide technical assistance about monitoring and evaluation to syringe services programs (SSPs) as part of the National Harm Reduction Technical Assistance Center. One of the primary projects of this award is to provide technical assistance (TA) to SSPs for monitoring and evaluation activities. The University of Washington is working in collaboration with the CDC, SAMHSA, NASTAD, the National Harm Reduction Coalition, and other TA partners to provide a suite of technical assistance support to individual programs.  
Communicable Disease Epidemiologist – Cheyenne, Wyoming 
This position will serve as the Communicable Disease AIDS Drug Assistance Program (ADAP) Coordinator, Wyoming TB Controller, and Disease Intervention Specialist (DIS) for the Communicable Disease (CD) Treatment Program.  Assist in outbreak response to ensure the safety of Wyoming residents; by interviewing cases for exposure information, updating news outlets on the progress of outbreak control, analyzing exposure data utilizing epidemiological and statistical methods. 
Open Positions – New York State 
The New York State Department of Health, in partnership with Health Research, Inc, has various job openings, including some within the AIDS Institute. Please visit this link to learn about their current opportunities.  
---
News Bulletin
George W. Bush wades into PEPFAR fight as deadline nears 
"House and Senate Republicans are working on a last-ditch effort to save a global HIV-AIDS program set to expire Sept. 30 — defying influential anti-abortion and conservative groups that are lobbying against its renewal… On Wednesday, the former president published an op-ed asking Congress to reauthorize PEPFAR for five more years "without delay," saying that failing to do so would be "a source of national shame." 
Bush's entry into the fight underscores the growing concern from members in both parties that PEPFAR, which enjoyed two decades of strong bipartisan support, will fall victim to abortion politics." 
The House 2024 Appropriations Bills: Two Steps Back For Transgender Health Equity 
"In July 2023, the US House of Representatives made bold and decisive moves to erode gender-affirming health care coverage, marking the beginning of a new frontier in the battle for transgender rights. The House passed two bills and released a third bill that would impact gender-affirming care coverage for Medicare, Medicaid, TRICARE, the Indian Health Service (IHS), and the Department of Veterans Affairs (VA). Together, these sources cover more than 40 percent of people in the US. The three bills will ban virtually all federal sources from covering gender-affirming hormones and surgeries. This watershed moment demands our attention and critical examination by raising questions about access to equitable medical treatment and the impact on transgender population health." 
Philadelphia City Council passes near-total ban on future safe consumption, overdose prevention sites 
"Philadelphia was once poised to open the nation's first supervised injection or safe consumption site. Instead, it's about to become the first major city to enact a near-total ban on such sites. Philadelphia City Council passed legislation Thursday that will ban what are sometimes called overdose prevention centers in nearly all neighborhoods and city districts. These centers and sites exist in New York City and soon in Rhode Island, but have largely remained controversial in the U.S. They are places where people can bring and use illegal drugs and substances under the supervision of others who can intervene in cases of overdose. The proposed ban passed in a 13 to 1 vote, with Councilmember Kendra Brooks casting the single no vote. The legislation next goes to Mayor Jim Kenney for final approval." 
The CDC wants your trust back: It'll 'take time to rebuild.' 
"Mandy Cohen wants to win back America's trust. The new CDC director spent her first two months on the job telling audiences in New York, Wisconsin and Washington state the agency has made mistakes, a mea culpa of sorts meant to show that she understands past shortcomings…"