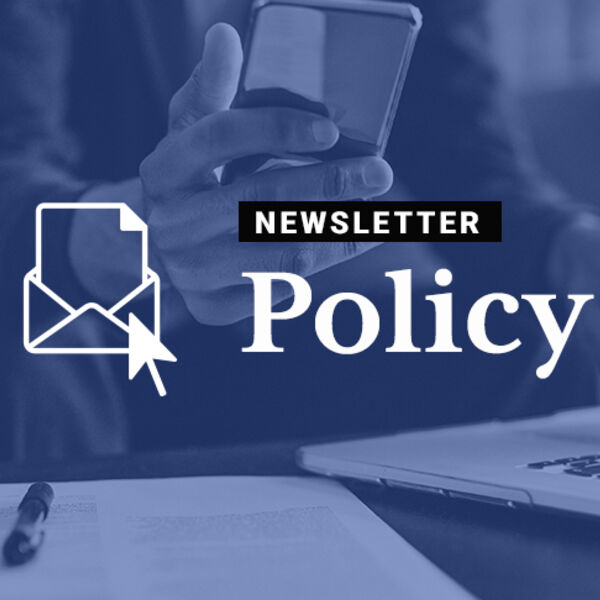 Policy Updates: Hill Happenings and Administration Activities
---
Hill Happenings
FY2024 Appropriations 
Lawmakers returned from August recess and are now facing a quickly approaching September 30 spending deadline. In July, the House and Senate issued competing spending proposals that adhere to budgetary caps set by the bipartisan debt limit compromise, but House Republicans are pursuing even steeper cuts in the Fiscal Year 2024 (FY2024) package that threaten funding for critical health programs. Some House Republicans are pushing House Speaker McCarthy (R-CA-20) to secure significant conservative spending priorities in the spending bills even if it results in a government shutdown. As a result, lawmakers will need to pass a continuing resolution to temporarily extend funding levels until an agreement is reached later in the fall or face a government shutdown on October 1. As a result, Senate Democrats are preparing a spending minibus to kickstart the appropriations process and gain leverage in negotiations. 
NASTAD will continue to monitor the congressional appropriations process and advocate for the highest possible funding for HIV, hepatitis, and drug user health programs.
House Republicans Introduce Bipartisan Health Care Transparency Legislation 
On September 8, the Republican-led House Energy & Commerce committee introduced a bipartisan legislative package that aims to increase health care price transparency and lower health spending. The Lower Costs, More Transparency Act would require hospitals to publicize standard prices for all items and services, as well as require pharmacy benefit managers to disclose negotiated rates and ban the practice of spread pricing in Medicaid. Additionally, the legislative package would extend the Community Health Center Fund through calendar year 2025 at $4.4 billion per year and National Health Service Corps through calendar year 2025 at $350 million per year. 
---
Administration Activities
FDA Holds Meeting to Discuss HBV Diagnostic Down Classification 
On September 7-8, the US Food and Drug Administration (FDA) Microbiology Devices Panel of the Medical Devices Advisory Committee held a meeting to discuss a potential future reclassification of serology-based, in vitro diagnostic devices for hepatitis B virus (HBV). Down classification from class III to class II would allow diagnostic manufacturers to seek marketing clearance through less burdensome pathways, leading to greater availability of HBV diagnostics in the consumer market. NASTAD signed on to comments led by the Hepatitis B Foundation in support of the down classification, which would facilitate the implementation of universal HBV screening and testing recommendations issued in March 2023. The move follows an FDA decision in November of 2021 to move certain hepatitis C virus (HCV) diagnostic tests from class III to class II. 
---
Resources 
CDC DHP/HRSA HAB: HHS Region 6 Listening Session 
The Centers for Disease Control and Prevention (CDC) Division of HIV Prevention (DHP) and Health Resources and Services Administration's (HRSA) HIV/AIDS Bureau (HAB) are hosting joint regional virtual community listening sessions continuing with HHS Region 6 on Thursday, September 14, from 3-4:30 PM ET. The community listening sessions will provide a venue for discussion and collaboration focused on barriers to and opportunities for improving HIV diagnosis, treatment, prevention, and outbreak response.
CDC MMWR: Reduced Odds of Mpox-Associated Hospitalization Among Persons Who Received JYNNEOS Vaccine — California, May 2022–May 2023 
"Receiving ≥1 dose of JYNNEOS vaccine reduced the odds of hospitalization among California residents. To maximize enduring immunity against Monkeypox virus infection, all eligible persons should complete the 2-dose JYNNEOS vaccine series." 
CDC Overdose Data to Action (OD2A): $279M awarded to 49 states, DC, and 40 local health departments 
AIDSVu Annual Data Update 
On August 29, AIDSVu released interactive maps and data visualizing the HIV epidemic at state and county levels for 2021, including disaggregated data by demographic groupings and social determinants of health measures. The CDC Medical Monitoring Project partnered with AIDSVU for the 2021 update, providing new data on local profiles for people experiencing homelessness/unstable housing and HIV-related stigma. The 2021 data update informs CDC, policymakers, and advocates on progress made towards achieving the goals laid out by the National HIV/AIDS Strategy for the United States (NHAS), which aims to reduce both stigma and homelessness among people living with HIV by 50% by 2025.
CAI Technical Assistance Provider-innovation network (TAP-in) Webinar: Housing First as A Key Strategy to End the HIV Epidemic 
Date: Tuesday, September 19 from 12 – 1.30 pm ET 
Housing First is an effective, cost-efficient, evidence-based best practice that demonstrates improved health outcomes and care utilization for people experiencing homelessness, including people with HIV (PWH). The U.S. Ending the HIV Epidemic is a unique opportunity for HRSA-funded Jurisdictions to support the uptake and implementation of the Housing First model in their communities to prevent new HIV diagnoses and engage people with HIV who are outside the current system of care. Attendees will learn about the Housing First model and hear from colleagues in two HRSA-funded EHE Jurisdictions on how they have incorporated this approach into EHE efforts and utilization of spending.  
Gilead RFP: Community REseArch To End the HIV Epidemic-U.S. (CREATE U.S. RFP) 
Letter of Intent Due: October 3, 2023 at 11:59 PDT 
Community-based research plays a critical role in helping improve services and quality of care for populations most impacted by HIV. To advance this research, Gilead launched the CREATE U.S. RFP, a new program offering funding to community groups for projects helping to improve long-term care and engagement for people with HIV. We encourage you to share this opportunity with your networks or any eligible parties. 
2023 RWHAP Clinical Conference 
Dates: December 3-5, 2023 
Location: Portland, Oregon 
Registration for the 2023 RWHAP Clinical Conference is now open. This conference provides state-of-the-art research, care, and treatment updates for experienced clinical decision-makers and those integral to medical care provision housed under the Ryan White HIV/AIDS Program (RWHAP) funded sites. Details on covered topics, venue descriptions, information about continuing education credits, and updates on registration and travel will be available on the IAS-USA website and the AETC National Coordinating Resource Center (NCRC) website. 
---
Job Postings
Viral Hepatitis Surveillance Coordinator – Oahu, HI 
The primary purposes of this position are to plan, develop, coordinate, monitor, and evaluate the statewide surveillance system for adult viral hepatitis, particularly hepatitis B and C, to inform efforts to control and prevent the spread of adult viral hepatitis and related sequelae, particularly drug overdose and liver cancer. This position is responsible for the systematic analysis and interpretation of population-based and program-specific health and related data in order to assess the distribution and determinants of the health status and needs of populations at risk for or living with viral hepatitis, for the purpose of implementing effective interventions and promoting policy development. 
Drug Trends and Technology-Based Drug Checking Analyst – New York City, NY 
NYC DOHMH is looking for an analyst to work on our drug checking initiative. Currently operating in four SSPs across the city, including one of the OPCs, drug checking technicians use Bruker Infrared technology to test samples from SSP participants and provide individualized harm reduction education. This is a great opportunity for someone with strong data skills and an interest in drugs and toxicology. Please send out far and wide and feel free to reach out if you have any questions.
Prevention Coordinator, Boulder County AIDS Project – Boulder, Colorado 
The primary duties of this position are to provide HIV/HCV/STI testing, syringe access, and street outreach services, as well as outreach education at community partner locations and events. This position provides these services in collaboration with other Prevention Department staff and key community partners, as well as enters data into databases and completes monthly reports. This position reports directly to the Prevention Director, and attends staff, department, and community partner meetings. 
Florida Department of Health – Palm Beach County 
To apply, please send resumes to Robert Scott, Robert.Scott@flhealth.gov. These are all $20/hr, in-office roles with possible remote flexibility. 
EHE Navigator: This position's work will be actively guided by the Palm Beach County Ending the Epidemic (EHE) Plan, including the four pillars and their goals, objectives, strategies and activities. Incumbent will assist in the planning, coordination, implementation and monitoring of the goals, objectives, strategies and activities set forth in the Palm Beach County Ending the Epidemic (EHE) Plan, in collaboration with other Area 9 EHE funding recipients, to include, but not limited to: Palm Beach County, FoundCare, and Florida Community Health Centers.
PrEP Navigator: This position's work will be actively guided by the Palm Beach County Ending the Epidemic (EHE) Plan, including the four pillars and their goals, objectives, strategies and activities. Incumbent will link high-risk negative persons to available Pre-Exposure Prophylaxis (PrEP) and non-occupational Post Exposure Prophylaxis (nPEP) services with the goal of significantly reducing the number of new HIV infections among high-risk populations. Incumbent will assess and increase the knowledge, desirability, accessibility, and adherence of PrEP among referred high-risk individuals.
Digital Media Manager: This position is responsible for developing and coordinating the area HIV digital media presence through multiple platforms. Developing digital marketing strategies, creating social media content, collaborating with community partner organizations, and creating new ad campaigns to advance Ending the HIV Epidemic (EHE) in Palm Beach County. Tracking data from digital campaigns to assist with EHE goals. 
Deputy Medical Director, HIV/STI/Viral Hepatitis/Harm Reduction – Nashville, TN 
This position will serve as the Statewide Deputy Medical Director in the HIV/STI/Viral Hepatitis section. The position has cross-cutting responsibility in all program areas with potential for promotion in succession plans. Primary responsibilities include leadership and oversight of cross-cutting programs related to End the Syndemic Tennessee to tackle HIV, sexually transmitted infections, viral hepatitis and substance use disorder in an integrated manner with an outward-facing, community-engaged process.
Program Content and Training Specialist, Supporting Harm Reduction Programs (SHaRP) – University of Washington 
This position is part of a cooperative agreement award from the Centers for Disease Control and Prevention to provide technical assistance about monitoring and evaluation to syringe services programs (SSPs) as part of the National Harm Reduction Technical Assistance Center. One of the primary projects of this award is to provide technical assistance (TA) to SSPs for monitoring and evaluation activities. The University of Washington is working in collaboration with the CDC, SAMHSA, NASTAD, the National Harm Reduction Coalition, and other TA partners to provide a suite of technical assistance support to individual programs.  
Communicable Disease Epidemiologist – Cheyenne, Wyoming 
This position will serve as the Communicable Disease AIDS Drug Assistance Program (ADAP) Coordinator, Wyoming TB Controller, and Disease Intervention Specialist (DIS) for the Communicable Disease (CD) Treatment Program.  Assist in outbreak response to ensure the safety of Wyoming residents; by interviewing cases for exposure information, updating news outlets on the progress of outbreak control, and analyzing exposure data utilizing epidemiological and statistical methods. 
Open Positions – New York State 
The New York State Department of Health, in partnership with Health Research, Inc, has various job openings, including some within the AIDS Institute. Please visit this link to learn about their current opportunities.
---
News Bulletin
Narcan nasal spray for overdoses will be available over the counter at three pharmacies 
"Three pharmacy store chains plan to make the opioid overdose reversal drug Narcan available nationwide without a prescription starting in early September. Narcan, the nasal spray brand of the lifesaving drug naloxone, will sell at Walgreens stores for $44.99, the company announced Wednesday. It will be available at select stores and online as soon as Sept. 5, with nationwide availability across nearly 9,000 stores on Sept. 7, the company said. CVS Pharmacy and Rite Aid will also begin selling Narcan over-the-counter for $44.99 in early September, spokespeople for the companies told USA TODAY. The medication will be available online and in stores at both chains." 
Sanders says he will hold nomination hearing for NIH nominee in October 
"Sen. Bernie Sanders (I-Vt.) says he plans to hold a confirmation hearing in October for Monica Bertagnolli, the Biden administration's nominee to lead the National Institutes of Health (NIH). The announcement Friday ends a months-long standoff with the administration over drug pricing." 
No deal in sight for global AIDS program as deadline looms 
"Congress is almost certain to blow past a Sept. 30 deadline to re-up the law governing the United States' global HIV/AIDS relief work as the widely praised program becomes mired in the fight over abortion. Money for the program would continue so long as Congress keeps the government funded — an increasingly uncertain prospect as members with competing demands begin returning this week. But lawmakers in both parties see no clear path for reviving the law by the end of the year. While the program would limp on, the impasse threatens to turn an initiative credited with saving 25 million lives into an annual political battle, making it far more difficult for groups fighting HIV and AIDS to hire staff or launch long-term projects."