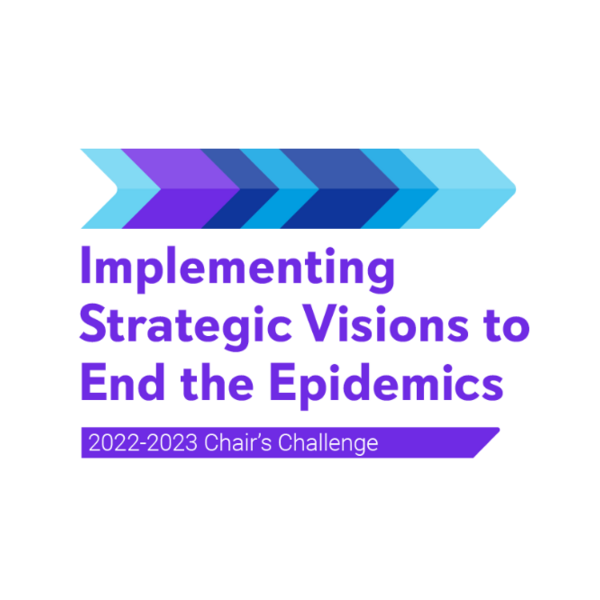 2022-2023 Chair's Challenge: Implementing Strategic Visions to End the Epidemics
Last year, I stepped into the role as NASTAD Board Chair and continued on Marlene McNeese's 30 Years of Leading Change Chair's Challenge. Marlene's Challenge highlighted the importance of looking back to celebrate NASTAD's achievements over 30 years, while also looking ahead at what still needs to be done to end HIV/AIDS, hepatitis, and intersecting epidemics. During this time, NASTAD staff, members, and partners prioritized addressing racism as a public health crisis; spearheaded programs and projects that focused on the EHE initiative; and navigated COVID-19 with innovation at the forefront.
As the 2022-2023 Board Chair, I am eager to launch my Chair's Challenge, "Implementing Strategic Visions to End the Epidemics." This challenge focuses on NASTAD'S new strategic plan and updated mission and vision statements; values; guiding principles; and four strategic priorities. This update came at a time when NASTAD was reflecting on the accomplishments of the last 30 years, and planning on how the organization would like to move forward in the future. Over the next year, I hope my colleagues in every jurisdiction can join and align their work with NASTAD'S four strategic priorities and uphold its values and principles.
Priority A focuses on strengthening public health systems for HIV and hepatitis prevention, surveillance, and care. Priority B continues our commitment in advancing health and racial equity and stigma elimination, while focusing on disparately impacted communities. It is essential to address racism as a public health crisis and intentionally create opportunities in our workforce for BIPOC, people with lived experiences, and underrepresented groups. Priority C consists of strengthening organizational excellence within NASTAD and its member jurisdictions. Finally, priority D highlights implementing integrated approaches to address HIV, hepatitis, STIs, harm reduction, and the social determinants of health. In order to achieve this priority, it is imperative to remove policies that are barriers to achieving the goals of a syndemic approach and break down programmatic siloes.
We must all work as a team to achieve these priorities and uphold NASTAD's guiding principles of equity; harm reduction; personal growth and development; community; evidence-informed innovation; and accountability and transparency. We have come a long way since NASTAD'S founding in 1992, when I was at NASTAD in 2010, and until now in 2022. We have much more work to do, but we can do it, if we continue to work together in order to end the epidemics.