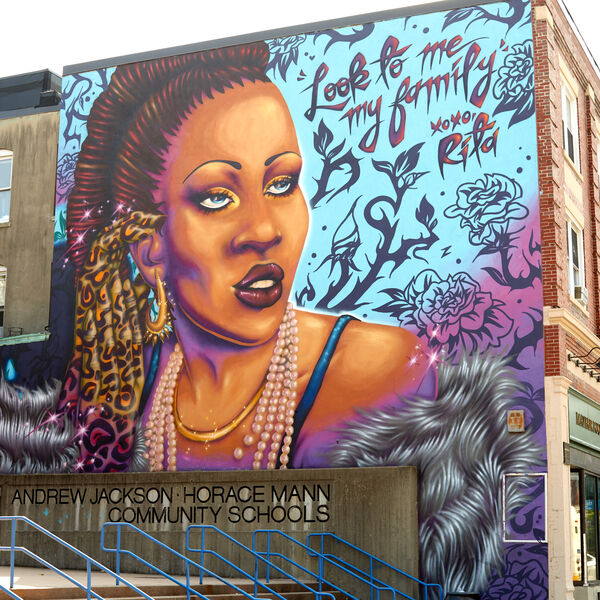 Resistance and Resilience: Recognizing Trans Day of Remembrance 2023
Image: Rita's Spotlight by Rixy. Image Credit: Street Art Cities
November 20 is Trans Day of Remembrance (TDOR), a day established by trans activist Gwendolyn Ann Smith to bear witness to the monumental losses and ongoing violence faced by trans people. It is a day of recognition and mourning, as well as a reminder of the community's tenacity, strength, and tireless activism in service of creating a world that prioritizes the humanity, safety, and dignity of trans people. 
The first TDOR took place in November 1999, to honor the life of the beloved Boston-area performer Rita Hester.  Hester – a Black trans woman who was a deeply loved member of her family and the New England community – was viciously murdered in November 1998. The brutal murder of Matthew Shepard had made headlines just two months earlier, yet Rita's equally violent, senseless, and tragic death did not garner a fraction of that attention. On November 28, 1999, the first anniversary of Rita Hester's death, Smith worked with fellow activist Penni Ashe Matz to hold the first TDOR in her memory. Smith also created the digital resource Remembering our Dead, which continues to track violence and deaths today. 
In a 2022 interview with Them, Smith expressed fears that the original vision of TDOR could fade as awareness of the observation increased, moving away from its radical roots in a manner similar to the corporatization of Pride celebrations. Without a doubt, trans joy is revolutionary, and being trans does not mean that one must exist in a perpetual state of exile and grief. Even as we find joy alongside our sadness, it is crucial to prioritize the observance's original spirit of reflection and its call to acknowledge and resist anti-trans violence. Trans Day of Remembrance serves as both a day for mourning and a call to action. We must harness our sadness, rage, and joy to generate momentum and put an end to  violence, especially in the face of a socio-political climate that is growing increasingly hostile toward trans liberation. 
Earlier this year, NASTAD released a statement condemning the ongoing physical and legislative violence against LGBTQ+ people. Crafted in collaboration with Trans Harm Reduction and Sexual Health (THRASH), our internal working group dedicated to trans activism and liberation, this statement addresses the escalating legislative assaults on trans people. Over the past few years, there has been an unprecedented surge in the number of bills targeting trans individuals, with 541 anti-trans bills introduced by May 2023, surpassing the record set in 2022 by more than threefold. NASTAD firmly believes in prioritizing the safety, dignity, and right to self-determination and self-actualization of trans people. 
These legislative attacks on bodily autonomy coincide with a notable increase in violence against LGBTQ+ individuals. On this Trans Day of Remembrance, NASTAD reaffirms its opposition to these violent attacks. In addition to emphasizing our commitment to trans advocacy, we want to highlight trans resilience, causes, and important work being done by trans-led and centered organizations: 
NASTAD Resources 
Further Resources