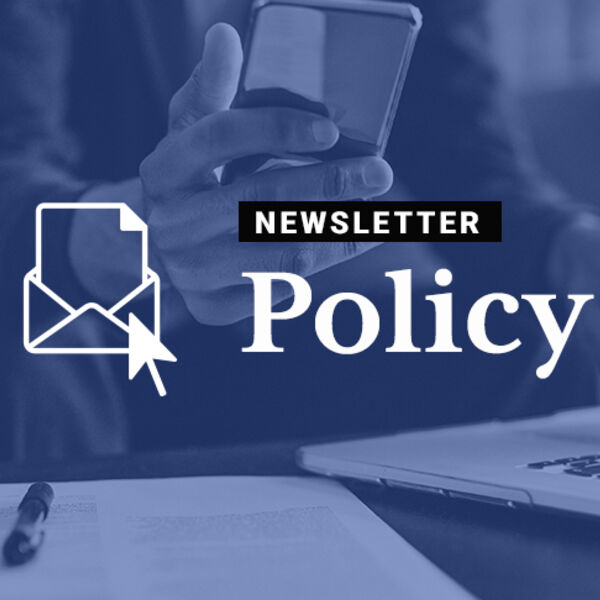 Policy Updates: Hill Happenings and Administration Activities
---
Hill Happenings
FY2024 Appropriations 
After lawmakers narrowly averted a government shutdown at the end of fiscal year 2023 (FY2023), Representatives in the lower chamber are now working to resolve persisting leadership gaps that have derailed progress on many legislative priorities, including FY2024 spending bills. On September 30, Congress passed a bipartisan continuing resolution (CR) (H.R.5860) that temporarily extends FY2023 funding levels through November 17, buying appropriators more time to negotiate on a bipartisan spending framework for FY2024 through the fall.
However, on October 3, a group of House Republicans successfully voted to remove Representative McCarthy (R-CA-20) from the House Speaker role in retaliation for his role in developing the midnight CR. After Speakership attempts from Reps. Scalise (R-LA-01) and Jordan (R-OH-04) failed, no clear frontrunner has emerged that can convincingly secure a majority vote in the House, stalling all legislative action in the House until the Republican caucus unifies behind a new Speaker. 
NASTAD will continue to monitor the congressional appropriations process and advocate for the highest possible funding for HIV, hepatitis, and drug user health programs.
Senate Holds Confirmation Hearing for NIH Director Nominee 
On October 18, the Senate Committee on Health, Education, Labor, and Pensions (HELP) held a full committee hearing on the nomination of Monica Bertagnolli to be Director of the National Institutes of Health (NIH). Dr. Bertagnolli currently leads the National Cancer Institute (NCI) since August of 2022, and will work to further implement Biden's cancer moonshot agenda at NIH if confirmed. President Biden announced his intent to nominate Dr. Bertagnolli for the NIH Director role on May 15, but confirmation hearings were delayed by Democrats on the Senate HELP Committee as they vetted Dr. Bertagnolli's commitments to lower drug costs.
---
Administration Activities
CDC Releases Preliminary Data on EHE Core Indicators 
On October 17, the CDC Division of HIV Prevention (DHP) published preliminary data tracking national progress on achieving the core indicators outlined by the Ending the HIV Epidemic Initiative, which aims to reduce new HIV infections by 75% by 2025 and by 90% by 2030. The surveillance data are presented for diagnoses of HIV infection reported to CDC through June 2023 and preexposure prophylaxis (PrEP) data reported through March 2023. The data show that, although PrEP coverage is improving overall, racial disparities in PrEP uptake and new HIV infections continue to pose major challenges to achieving EHE goals. Click here to read a Dear Colleague letter from leaders of the CDC National Center for HIV, Viral Hepatitis, STD, and TB Prevention and DHP highlighting the key findings of the data. 
CDC Observes National Latinx AIDS Awareness Day 
On October 15, CDC observed National Latinx AIDS Awareness Day (NLAAD), a day to promote HIV testing, prevention, and treatment and reduce HIV stigma among Hispanic/Latino people in the United States. This year, CDC called attention to the social and structural issues—such as discrimination, racism, HIV stigma, homophobia, poverty, and limited access to high-quality health care—that influence health outcomes and continue to drive many health inequities for Latinxs in the US. Click here to read a Dear Colleague letter from leaders of the CDC National Center for HIV, Viral Hepatitis, STD, and TB Prevention and DHP on the importance of NLAAD. 
---
Resources
NASTAD/HepVu Webinar: 2022 Viral Hepatitis Surveillance Status Report 
Date: November 2 at 2:30 PM ET  
Last year, HepVu and NASTAD released the first-ever assessment of viral hepatitis surveillance practices across U.S. jurisdictions, showing that while public health professionals are doing commendable surveillance work with currently available resources, there is a need for additional funding and resources. This November, HepVu and NASTAD will be releasing the 2022 Viral Hepatitis Surveillance Status Report, which showed that while the number of jurisdictions with a full-time employee (FTE) dedicated to viral hepatitis surveillance has increased from 68% in 2021 to 80% in 2022, 1/5 (20%) still did not have dedicated staffing in 2022. 
CDC MMWR: Hepatitis A outbreak-related deaths 
"Recent hepatitis A outbreaks show hepatitis A vaccines are still not reaching adults at the highest risk of infection, and the consequences can be deadly." 
CDC DHP/HRSA HAB: HHS Regions 1 & 2Virtual Community Listening Session 
Date: Thursday, November 2, 10:30 AM-12 PM ET 
The Centers for Disease Control and Prevention (CDC) Division of HIV Prevention (DHP) and Health Resources and Services Administration's (HRSA) HIV/AIDS Bureau (HAB) are hosting joint regional virtual community listening sessions continuing with HHS Regions 1 and 2 on Thursday, November 2, 10:30 AM-12 PM ET. The community listening sessions will provide a venue for discussion and collaboration focused on barriers to and opportunities for improving HIV diagnosis, treatment, prevention, and outbreak response.
2023 RWHAP Clinical Conference 
Dates: December 3-5, 2023 
Location: Portland, Oregon 
Registration for the 2023 RWHAP Clinical Conference is now open. This conference provides state-of-the-art research, care, and treatment updates for experienced clinical decision-makers and those integral to medical care provision housed under the Ryan White HIV/AIDS Program (RWHAP) funded sites. Details on covered topics, venue descriptions, information about continuing education credits, and updates on registration and travel will be available on the IAS-USA website and the AETC National Coordinating Resource Center (NCRC) website.
---
Job Postings
NASTAD RFP: Technical Assistance Providers- Hepatitis Technical Assistance Center 
NASTAD's Hepatitis team is seeking technical assistance providers with viral hepatitis expertise to support the capabilities of viral hepatitis prevention and surveillance personnel at state, territorial, and major city/county health departments through a new national technical assistance center. This project is a joint effort between NASTAD and the Centers for Disease Control and Prevention's Center for State, Tribal, Local, and Territorial Support (CSTLTS) and the Division of Viral Hepatitis (DVH). We will consider all responses that are sent to hepatitisRFP@nastad.org by midnight PT on November 8, 2023. Please include the name of the project, "Technical Assistance Consultants- Hepatitis Technical Assistance Center" in the subject line. 
HIV and Hepatitis Prevention Program Manager – Des Moines, IA 
The HIV and Hepatitis Prevention Program Manager coordinates statewide HIV and viral hepatitis prevention activities, including: functional oversight of team members who coordinate risk-reduction activities; HIV/hepatitis testing and diagnosis activities; perinatal HIV prevention activities; quality improvement and program evaluation activities; public information programs; condom and harm reduction supply distribution; policy initiatives; and capacity building/technical assistance and training for HIV and hepatitis prevention contractors. Apply by October 31. 
Viral Hepatitis Prevention Coordinator – Austin, TX 
Under direction of the Prevention Unit, provides highly advanced, senior-level consultative services and technical assistance as the DSHS viral hepatitis prevention coordinator. Oversees implementation and maintenance of viral hepatitis prevention efforts by identifying ways to integrate viral hepatitis prevention, vaccination, testing, and linkage to care into existing public health, clinical care, and community settings. Responsible for developing a DSHS viral hepatitis prevention plan as well as legislatively-mandated plans, including working with branch staff to solicit input from the public, including experts on Hepatitis, on the tenets of the plan.  
Distinguished Consultant - Director, Division of HIV Prevention – CDC, NCHHSTP 
The CDC seeks exceptional candidates for the position of Director, Division of HIV Prevention (DHP), National Center for HIV, Viral Hepatitis, STD, and TB Prevention (NCHHSTP). As a leader at CDC, the Division Director will play a key role to bring together and utilize the tools and the science available to end the HIV epidemic in the United States. The role is based in Atlanta, GA with telework available. Apply by October 30, 2023. 
Syndemic Epidemiologist – Des Moines, IA  
The Bureau of HIV, STI, and Hepatitis at Iowa HHS is seeking a staff epidemiologist for the collection and analysis of data with the goal of identifying common populations, risks, and protective factors associated with HIV, STIs, and viral hepatitis. Works collaboratively with epidemiologists and program staff in the bureau to develop analytical approaches to identify social determinants of health and other inequities related to vulnerability of populations to HIV, STIs and viral hepatitis. Must live in Iowa or a state contiguous to Iowa. 
Viral Hepatitis Surveillance Coordinator – Oahu, HI 
The primary purposes of this position are to plan, develop, coordinate, monitor, and evaluate the statewide surveillance system for adult viral hepatitis, particularly hepatitis B and C, to inform efforts to control and prevent the spread of adult viral hepatitis and related sequelae, particularly drug overdose and liver cancer. This position is responsible for the systematic analysis and interpretation of population-based and program-specific health and related data in order to assess the distribution and determinants of the health status and needs of populations at risk for or living with viral hepatitis, for the purpose of implementing effective interventions and promoting policy development. 
Drug Trends and Technology-Based Drug Checking Analyst – New York City, NY 
NYC DOHMH is looking for an analyst to work on our drug checking initiative. Currently operating in four SSPs across the city, including one of the OPCs, drug checking technicians use Bruker Infrared technology to test samples from SSP participants and provide individualized harm reduction education. This is a great opportunity for someone with strong data skills and an interest in drugs and toxicology. Please send out far and wide and feel free to reach out if you have any questions.
Prevention Coordinator, Boulder County AIDS Project – Boulder, Colorado 
The primary duties of this position are to provide HIV/HCV/STI testing, syringe access, and street outreach services, as well as outreach education at community partner locations and events. This position provides these services in collaboration with other Prevention Department staff and key community partners, as well as enters data into databases and completes monthly reports. This position reports directly to the Prevention Director and attends staff, department, and community partner meetings. 
Florida Department of Health – Palm Beach County 
To apply, please send resumes to Robert Scott, Robert.Scott@flhealth.gov. These are all $20/hr, in-office roles with possible remote flexibility. 
EHE Navigator: This position's work will be actively guided by the Palm Beach County Ending the Epidemic (EHE) Plan, including the four pillars and their goals, objectives, strategies and activities. Incumbent will assist in the planning, coordination, implementation and monitoring of the goals, objectives, strategies and activities set forth in the Palm Beach County Ending the Epidemic (EHE) Plan, in collaboration with other Area 9 EHE funding recipients, to include, but not limited to: Palm Beach County, FoundCare, and Florida Community Health Centers.
PrEP Navigator: This position's work will be actively guided by the Palm Beach County Ending the Epidemic (EHE) Plan, including the four pillars and their goals, objectives, strategies and activities. Incumbent will link high-risk negative persons to available Pre-Exposure Prophylaxis (PrEP) and non-occupational Post Exposure Prophylaxis (nPEP) services with the goal of significantly reducing the number of new HIV infections among high-risk populations. Incumbent will assess and increase the knowledge, desirability, accessibility, and adherence of PrEP among referred high-risk individuals.
Digital Media Manager: This position is responsible for developing and coordinating the area HIV digital media presence through multiple platforms. Developing digital marketing strategies, creating social media content, collaborating with community partner organizations, and creating new ad campaigns to advance Ending the HIV Epidemic (EHE) in Palm Beach County. Tracking data from digital campaigns to assist with EHE goals. 
Deputy Medical Director, HIV/STI/Viral Hepatitis/Harm Reduction – Nashville, TN 
This position will serve as the Statewide Deputy Medical Director in the HIV/STI/Viral Hepatitis section. The position has cross-cutting responsibility in all program areas with potential for promotion in succession plans. Primary responsibilities include leadership and oversight of cross-cutting programs related to End the Syndemic Tennessee to tackle HIV, sexually transmitted infections, viral hepatitis, and substance use disorder in an integrated manner with an outward-facing, community-engaged process.
Program Content and Training Specialist, Supporting Harm Reduction Programs (SHaRP) – University of Washington 
This position is part of a cooperative agreement award from the Centers for Disease Control and Prevention to provide technical assistance about monitoring and evaluation to syringe services programs (SSPs) as part of the National Harm Reduction Technical Assistance Center. One of the primary projects of this award is to provide technical assistance (TA) to SSPs for monitoring and evaluation activities. The University of Washington is working in collaboration with the CDC, SAMHSA, NASTAD, the National Harm Reduction Coalition, and other TA partners to provide a suite of technical assistance support to individual programs.  
Communicable Disease Epidemiologist – Cheyenne, Wyoming 
This position will serve as the Communicable Disease AIDS Drug Assistance Program (ADAP) Coordinator, Wyoming TB Controller, and Disease Intervention Specialist (DIS) for the Communicable Disease (CD) Treatment Program.  Assist in outbreak response to ensure the safety of Wyoming residents; by interviewing cases for exposure information, updating news outlets on the progress of outbreak control, and analyzing exposure data utilizing epidemiological and statistical methods. 
Open Positions – New York State 
The New York State Department of Health, in partnership with Health Research, Inc., has various job openings, including some within the AIDS Institute. Please visit this link to learn about their current opportunities.
---
News Bulletin
The opioid crisis has gotten much, much worse despite Congress' efforts to stop it 
"Washington, despite a bipartisan desire to combat it, is finding its addiction-fighting programs are failing. In 2018, Republicans, Democrats and then-President Donald Trump united around legislation that threw $20 billion into treatment, prevention and recovery. But five years later, the SUPPORT Act has lapsed and the number of Americans dying from overdoses has grown more than 60 percent, driven by illicit fentanyl. The battle has turned into a slog." 
Sens. Mark Kelly, Kyrsten Sinema tapped for key committees after Dianne Feinstein's death 
"Both of Arizona's U.S. senators picked up new and influential committee assignments after Democrats reassigned the work previously handled by the late Sen. Dianne Feinstein. Sen. Kyrsten Sinema, I-Ariz., will join the Senate Appropriations Committee, the panel that helps shape the overall federal budget. Sen. Mark Kelly, D-Ariz., joins the Senate Intelligence Committee, a panel with wide-ranging oversight of the nation's intelligence-gathering efforts." 
DEA extends pandemic rules for telehealth prescribing through 2024 as agency irons out new policies 
"The Drug Enforcement Administration (DEA) said Friday it will extend telehealth flexibilities that enable clinicians to virtually prescribe controlled medications to their patients through 2024 as it mulls permanent policy changes… Telehealth leaders and doctors urged the DEA to allow prescribing via virtual care, arguing that mandates that require in-person doctor visits for patients to get prescriptions for controlled drugs, such as Adderall or buprenorphine used to treat opioid use disorder, severely restrict access to care and could increase patient harm."