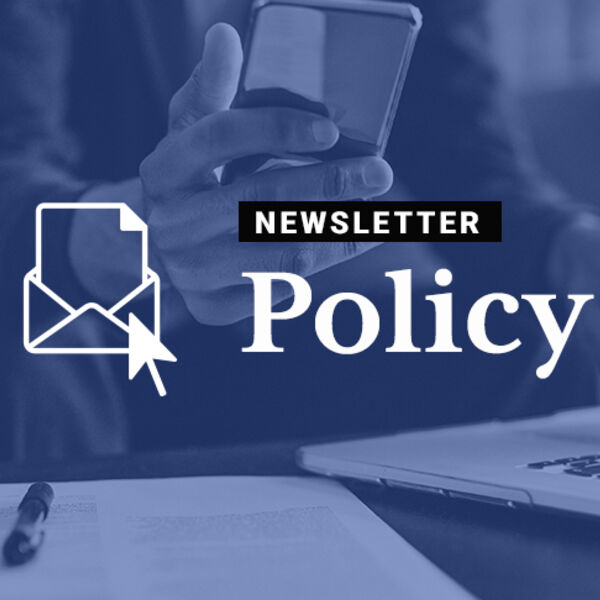 Policy Updates: Hill Happenings and Administration Activities
---
Hill Happenings
FY2024 Appropriations 
Lawmakers passed a bipartisan continuing resolution (CR) on September 30 and narrowly avoided a government shutdown on the last day of fiscal year 2023 (FY2023). The CR (H.R.5860) temporarily extends FY2023 funding levels through November 17, buying appropriators more time to negotiate on a bipartisan spending framework for FY2024 through the fall. Despite avoiding a shutdown, lawmakers are facing significant challenges in advancing a FY2024 spending package as House Republicans seek to impose spending cuts in FY2024.
Additionally, on October 3, a group of right-wing House Republicans successfully voted to remove Representative McCarthy (R-CA-20) from the House Speaker role in the wake of the midnight bipartisan spending deal. There is currently no clear candidate to replace the Speaker that can convincingly secure a majority vote in the House, threatening to derail all legislative action until the Republican caucus unifies behind a new Speaker. 
NASTAD will continue to monitor the congressional appropriations process and advocate for the highest possible funding for HIV, hepatitis, and drug user health programs.
NASTAD Calls on Congress to Pass TEST Act 
On September 25, NASTAD joined a coalition of 52 organizations and called on Congress to support the Temporary Emergency Scheduling and Testing of Fentanyl Analogues Act of 2023 (TEST Act). The TEST Act would temporarily extend the emergency scheduling of all fentanyl-related substances (FRS) while providing an off-ramp to study and de-schedule FRS that have a potential for beneficial pharmacological effect. Congress previously considered permanently classifying all FRS under Schedule I without the off-ramp, including passing the HALT Fentanyl Act (H.R. 467) in the House in May of 2023. The HALT Fentanyl Act would indiscriminately classify all FRS under Schedule I and imposes mandatory minimum sentencing for fentanyl-related charges, which would deter future FRS research and expands mass incarceration and criminalization for people who use drugs.
NASTAD Calls on Congress to Reject Harmful Riders Attacking Reproductive and Gender Affirming Care  
On September 29, NASTAD joined a coalition of 135 organizations and called on Congress to reject any appropriations bills that include language that would impose restrictions on essential health care services that are stigmatized, including abortion, contraception, and gender-affirming care. The reproductive health care crisis, exacerbated by the elimination of the constitutional right to an abortion, threatens the health of millions of women and families across the country by restricting reproductive health services and triggering a chilling effect on related reproductive care, like contraceptive access. Additionally, surges in political attacks against transgender people at the state level, particularly through efforts to eliminate access to gender-affirming care, threaten access to medically necessary care for transgender people. The coalition urged lawmakers to protect healthcare access and the basic right to self-determination and bodily autonomy for all people.
NASTAD Calls on Congress to Fund Global LGBTQI+ Programs in FY2025 
On September 21, NASTAD joined a coalition of 108 organizations and called on the Biden Administration to support increased funding for global LGBTQI+ health and rights programs in the State Department's Global Equality Fund and USAID in fiscal year 2025 (FY2025). The coalition urges the Biden Administration to make good on its commitments to protect and promote LGBTQI+ rights both at home and around the world through financial investment, even as Republicans target funding for historically bipartisan global HIV programs like PEPFAR. The coalition calls for an increase of $40 million for the State Department's Global Equality Fund and $30 million for USAID's Inclusive Development Hub's Protection of LGBTQI+ Persons.
---
Administration Activities
CDC Proposes New Guidelines for STI Post-Exposure Prophylaxis using Doxycycline 
On October 2, The Centers for Disease Control and Prevention (CDC) issued proposed guidelines for the use of doxycycline post-exposure prophylaxis (PEP) for prevention of bacterial sexually transmitted infections (STI). The agency issued the new guidelines after doxycycline PEP demonstrated benefits in reducing chlamydia, gonorrhea, and syphilis infections and represents a new approach to addressing STI prevention in populations at increased risk for these infections. Doxycycline PEP should be implemented in the context of a comprehensive sexual health approach including risk reduction counseling, STI screening and treatment, recommended vaccination, and linkage to HIV pre-exposure prophylaxis (PrEP), HIV care, or other services, as appropriate. CDC is accepting public comment on the new guidelines through November 16. Click here to read a Dear Colleague Letter with more information on the new guidelines. 
SAMHSA Awards Nearly $35M for HIV Prevention and Care for Historically Underserved Populations 
On October 4, the Substance Abuse and Mental Health Services Administration (SAMHSA) announced that it awarded nearly $35 million in grant funding to bring essential behavioral health services and HIV prevention and care to historically underserved populations. The awards include funding for the Minority AIDS Initiative and the Minority HIV/AIDS Fund to increase engagement in prevention and comprehensive care for racial and ethnic medically underserved individuals with substance use disorders (SUDs) and/or co-occurring SUDs and mental health conditions (COD) who are at risk for or living with HIV, including behavioral health services. Award recipients will take a syndemic approach to SUD, HIV and viral hepatitis.
CDC Observes National Gay Men's HIV/AIDS Awareness Day 
On September 27, CDC observed National Gay Men's HIV/AIDS Awareness Day (NGMHAAD), a day to help end HIV stigma and encourage HIV testing, prevention, and treatment among gay and bisexual men. This year, CDC highlighted the success of the Together TakeMeHome (TTMH) program, which will distribute at least 1 million free HIV self-tests by mail over the next 5 years. Click here to read a Dear Colleague Letter from the CDC Division of HIV Prevention and the National Center for HIV, Viral Hepatitis, STD, and TB Prevention, and access HIV prevention resources.
HIV Advocates File Suit Challenging Discriminatory HIV Drug Coverage in Texas 
On September 26, the HIV+Hepatitis Policy Institute called on the Centers for Medicare and Medicaid Services (CMS) Center for Consumer Information and Insurance Oversight (CCIIO) to take action to ensure that health insurance plans do not discriminate against individuals living with or at risk for contracting HIV. The letter alleges that Community Health Choice Texas is violating patient protections under the Affordable Care Act (ACA) by offering substandard HIV drug coverage by not covering recommended drugs for HIV treatment, requiring patient cost-sharing for preventive care, and imposing adverse drug tiering and inadequate formularies for HIV care. HIV+Hep urges CCIIO to provide states with the tools needed to ensure that health plans are in compliance with federal standards, including Community Health Choice Texas. 
---
Resources
NASTAD Resource: Pre-Exposure Prophylaxis (PrEP), Post-Exposure Prophylaxis (PEP), and Other HIV Prevention Strategies: Billing and Coding Guide 
Webinar: October 18, 2:00-3:00 pm ET 
The goal of this guide is to provide up-to-date information and best practices for coding, billing, and denial resolution for PrEP and PEP services. NASTAD developed this guide with funding from CDC PS19-1906 Component A. The guide describes the procedure and diagnosis codes accepted by public and private insurance, including the newly effective ICD-10-CM code for PrEP. The ICD-10-CM code (Z29.81 - Encounter for HIV pre-exposure prophylaxis) became effective October 1, 2023 and will chiefly be used as the primary diagnosis code on claims for which PrEP administration and counseling is the primary reason for the encounter. The guide also includes: descriptions of scenarios for PrEP initiation, follow-up visits for adherence, linkage, counseling services, and lab tests for HIV and other STIs; helpful decision trees, sample appeal letter templates; an overview of challenges in obtaining reimbursement; payer guidance and more.
To further introduce the updated guide, join NASTAD for a webinar on October 18, 2:00-3:00 ET. The webinar will further walk through the guide updates, spotlight helpful resources, and discuss strategies to best utilize the guide. Register for the webinar here. 
CDC/HRSA: HHS Region 9 Virtual Community Listening Session 
Date: October 18 from 4:00-5:30 pm ET 
The Centers for Disease Control and Prevention (CDC) Division of HIV Prevention (DHP) and Health Resources and Services Administration's (HRSA) HIV/AIDS Bureau (HAB) are hosting joint regional virtual community listening sessions continuing with HHS Region 9 on Wednesday, October 18, 4-5:30 PM ET. The community listening sessions will provide a venue for discussion and collaboration focused on barriers to and opportunities for improving HIV diagnosis, treatment, prevention, and outbreak response. 
NACCHO NOFO: Evaluating the Distribution of Smoking Supplies as a Harm Reduction Strategy 
Deadline: Friday, October 13th at 11:59 PM PT 
In partnership with the Centers for Disease Control and Prevention (CDC), NACCHO is pleased to announce a new funding opportunity to support the evaluation of smoking supplies distribution as a harm reduction strategy. Through this funding opportunity, NACCHO will provide up to $38,000 to approximately four syringe services programs (SSPs) to evaluate the distribution of smoking supplies as a harm reduction strategy.
2023 RWHAP Clinical Conference 
Dates: December 3-5, 2023 
Location: Portland, Oregon 
Registration for the 2023 RWHAP Clinical Conference is now open. This conference provides state-of-the-art research, care, and treatment updates for experienced clinical decision makers and those integral to medical care provision housed under the Ryan White HIV/AIDS Program (RWHAP) funded sites. Details on covered topics, venue descriptions, information about continuing education credits, and updates on registration and travel will be available on the IAS-USA website and the AETC National Coordinating Resource Center (NCRC) website. 
---
Job Postings
Distinguished Consultant - Director, Division of HIV Prevention – CDC, NCHHSTP 
The CDC seeks exceptional candidates for the position of Director, Division of HIV Prevention (DHP), National Center for HIV, Viral Hepatitis, STD, and TB Prevention (NCHHSTP). As a leader at CDC, the Division Director will play a key role to bring together and utilize the tools and the science available to end the HIV epidemic in the United States. The role is based in Atlanta, GA with telework available. Apply by October 30, 2023. 
Syndemic Epidemiologist - Des Moines, IA  
The Bureau of HIV, STI, and Hepatitis at Iowa HHS is seeking a staff epidemiologist for the collection and analysis of data with the goal of identifying common populations, risks, and protective factors associated with HIV, STIs, and viral hepatitis. Works collaboratively with epidemiologists and program staff in the bureau to develop analytical approaches to identify social determinants of health and other inequities related to vulnerability of populations to HIV, STIs and viral hepatitis. Must live in Iowa or a state contiguous to Iowa. 
Viral Hepatitis Surveillance Coordinator – Oahu, HI 
The primary purposes of this position are to plan, develop, coordinate, monitor, and evaluate the statewide surveillance system for adult viral hepatitis, particularly hepatitis B and C, to inform efforts to control and prevent the spread of adult viral hepatitis and related sequelae, particularly drug overdose and liver cancer. This position is responsible for the systematic analysis and interpretation of population-based and program-specific health and related data in order to assess the distribution and determinants of the health status and needs of populations at risk for or living with viral hepatitis, for the purpose of implementing effective interventions and promoting policy development. 
Drug Trends and Technology-Based Drug Checking Analyst – New York City, NY 
NYC DOHMH is looking for an analyst to work on our drug checking initiative. Currently operating in four SSPs across the city, including one of the OPCs, drug checking technicians use Bruker Infrared technology to test samples from SSP participants and provide individualized harm reduction education. This is a great opportunity for someone with strong data skills and an interest in drugs and toxicology. Please send out far and wide and feel free to reach out if you have any questions.  
Prevention Coordinator, Boulder County AIDS Project – Boulder, Colorado 
The primary duties of this position are to provide HIV/HCV/STI testing, syringe access, and street outreach services, as well as outreach education at community partner locations and events. This position provides these services in collaboration with other Prevention Department staff and key community partners, as well as enters data into databases and completes monthly reports. This position reports directly to the Prevention Director, and attends staff, department, and community partner meetings. 
Florida Department of Health – Palm Beach County 
To apply, please send resumes to Robert Scott, Robert.Scott@flhealth.gov. These are all $20/hr, in-office roles with possible remote flexibility. 
EHE Navigator: This position's work will be actively guided by the Palm Beach County Ending the Epidemic (EHE) Plan, including the four pillars and their goals, objectives, strategies and activities. Incumbent will assist in the planning, coordination, implementation and monitoring of the goals, objectives, strategies and activities set forth in the Palm Beach County Ending the Epidemic (EHE) Plan, in collaboration with other Area 9 EHE funding recipients, to include, but not limited to: Palm Beach County, FoundCare, and Florida Community Health Centers.  

PrEP Navigator: This position's work will be actively guided by the Palm Beach County Ending the Epidemic (EHE) Plan, including the four pillars and their goals, objectives, strategies and activities. Incumbent will link high-risk negative persons to available Pre-Exposure Prophylaxis (PrEP) and non-occupational Post Exposure Prophylaxis (nPEP) services with the goal of significantly reducing the number of new HIV infections among high-risk populations. Incumbent will assess and increase the knowledge, desirability, accessibility, and adherence of PrEP among referred high-risk individuals.  

Digital Media Manager: This position is responsible for developing and coordinating the area HIV digital media presence through multiple platforms. Developing digital marketing strategies, creating social media content, collaborating with community partner organizations, and creating new ad campaigns to advance Ending the HIV Epidemic (EHE) in Palm Beach County.  Tracking data from digital campaigns to assist with EHE goals. 
Deputy Medical Director, HIV/STI/Viral Hepatitis/Harm Reduction – Nashville, TN 
This position will serve as the Statewide Deputy Medical Director in the HIV/STI/Viral Hepatitis section. The position has cross-cutting responsibility in all program areas with potential for promotion in succession plans. Primary responsibilities include leadership and oversight of cross-cutting programs related to End the Syndemic Tennessee to tackle HIV, sexually transmitted infections, viral hepatitis, and substance use disorder in an integrated manner with an outward-facing, community-engaged process.  
Program Content and Training Specialist, Supporting Harm Reduction Programs (SHaRP) – University of Washington 
This position is part of a cooperative agreement award from the Centers for Disease Control and Prevention to provide technical assistance about monitoring and evaluation to syringe services programs (SSPs) as part of the National Harm Reduction Technical Assistance Center. One of the primary projects of this award is to provide technical assistance (TA) to SSPs for monitoring and evaluation activities. The University of Washington is working in collaboration with the CDC, SAMHSA, NASTAD, the National Harm Reduction Coalition, and other TA partners to provide a suite of technical assistance support to individual programs.  
Communicable Disease Epidemiologist – Cheyenne, Wyoming 
This position will serve as the Communicable Disease AIDS Drug Assistance Program (ADAP) Coordinator, Wyoming TB Controller, and Disease Intervention Specialist (DIS) for the Communicable Disease (CD) Treatment Program.  Assist in outbreak response to ensure the safety of Wyoming residents; by interviewing cases for exposure information, updating news outlets on the progress of outbreak control, and analyzing exposure data utilizing epidemiological and statistical methods. 
Open Positions – New York State 
The New York State Department of Health, in partnership with Health Research, Inc, has various job openings, including some within the AIDS Institute. Please visit this link to learn about their current opportunities.  
---
News Bulletin
Laphonza Butler is sworn in, filling Dianne Feinstein's Senate seat 
"Laphonza Butler was sworn in Tuesday to fill the seat of the late Sen. Dianne Feinstein, D-Calif., who died last week at age 90. Vice President Kamala Harris, who has been a longtime ally of and adviser to Butler, administered the oath of office, prompting boisterous applause from the Senate floor and gallery. California Gov. Gavin Newsom moved quickly to select Butler, who was the president of EMILY's List, on Sunday. She is the third Black woman to serve as a senator, following Harris until she became vice president and Carol Moseley Braun, D-Ill., in the 1990s." 
Heavy Drinking Not Tied to Lower Response to DAAs for Hepatitis C 
"Alcohol use and alcohol use disorder (AUD) were not associated with lower odds of sustained virologic response to direct-acting antiviral (DAA) therapy for chronic hepatitis C virus (HCV) infection, according to a retrospective cohort study of veterans…'Our findings suggest that DAA therapy should be provided and reimbursed despite alcohol consumption or history of AUD,' Rentsch and team concluded. 'Restricting access to DAA therapy according to alcohol consumption or AUD creates an unnecessary barrier to patients accessing DAA therapy and challenges HCV elimination goals.'" 
State Department slams GOP for failing to reauthorize global AIDS program 
"The inability of Congress to renew the primary U.S. program for combating AIDS across the world sends a message that America is "backing down from our leadership in ending HIV/AIDS as a public health threat," State Department spokesman Matthew Miller said Monday. The President's Emergency Plan for AIDS Relief (PEPFAR) was not included in legislation to fund the government, meaning parts of the program expired on Sept. 30. The program has been reauthorized on a bipartisan basis three times in past years, but it's currently caught up in a GOP-led revolt over abortion politics."