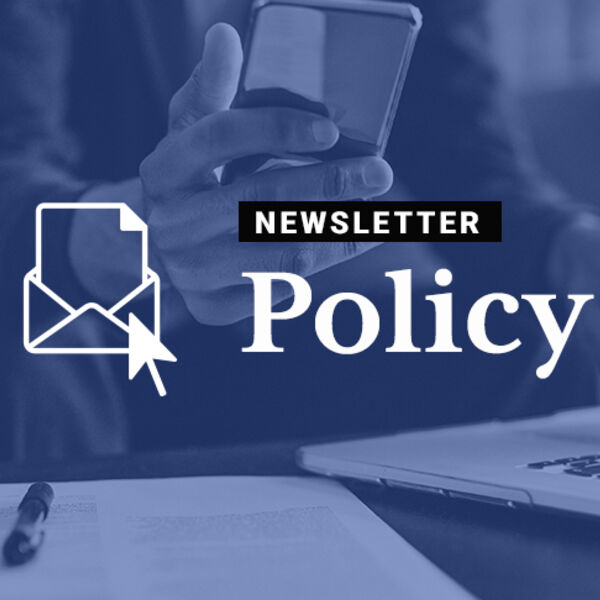 Policy Updates: Hill Happenings and Administration Activities
---
Hill Happenings
President Biden, House Republicans at Odds on Federal Debt Limit Fix 
On May 9, President Biden met with Senate and House party leaders in an effort to find common ground on the high-stakes debt limit negotiations. Although the conversation was not productive, the White House meeting signaled intensified efforts to achieve a bipartisan solution for the impending default of the national debt limit, which the Department of Treasury expects could come as soon as June 1 without Congressional intervention. House Republicans have approved deep budget cuts in the fiscal year 2024 (FY2024) spending package and in upcoming years through the Limit, Save, Grow Act of 2023 (H.R.2811) in exchange for a temporary debt limit increase, which would threaten health funding and safety-net programs. Democrats panned the proposal, however, and are calling for Republicans to decouple the yearly spending process from debt limit discussions.  
Due to the uncertainty around the outcome of the debt limit negotiations, FY2024 spending discussions have largely been put on hold, despite House Appropriations Chair Kay Granger (R-TX-12) calling for June markups. NASTAD will continue to monitor the debt limit and appropriations process and advocate for strong funding for HIV, hepatitis, and drug user health programs in FY2024. 
NASTAD Calls on Congress to Reject Proposed Cuts in FY2024 Spending Bills 
On May 15, NASTAD joined a 760-organization sign-on letter spearheaded by the Coalition for Health Funding and called on Congress to reject dangerous cuts to non-defense discretionary appropriations in the FY2024 spending bills. The coalition urged policymakers to set funding for fiscal year 2024 at a level that recognizes both rising costs and the need for investment in programs important to fostering economic growth and meeting human needs. The proposed FY2024 programmatic cuts and attritive budgetary measures included in the Limit, Save, Grow Act of 2023 (H.R.2811) would threaten the viability of a wide range of important programs and services, including those operated through the national's public health system.  
---
Administration Activities 
FDA Issues Updated Recommendations for Risk-Based Blood Donor Eligibility Screening  
On May 11, the Food and Drug Administration (FDA) issued guidance that formally updates recommendations for evaluating blood donor eligibility using individual risk-based questions following the agency's decision to revise donor deferral recommendations for individuals with increased risk for transmitting human immunodeficiency virus (HIV) infection. FDA now recommends eliminating the screening questions specific to men who have sex with men (MSM) and women who have sex with MSM, instead opting for assessing donor eligibility using the same individual risk-based questions relevant to HIV risk for every donor regardless of sex or gender. However, FDA still recommends deferring individuals who report a new sexual partner or more than one sexual partner in the past three months, individuals who have had anal sex in the past three months, or take PrEP or PEP for HIV.  
NASTAD Calls on Biden Administration to Protect Medicaid, CHIP Coverage as PHE Unwinds  
On April 24, NASTAD joined a coalition of 228 organizations and called on the Biden Administration to take action to protect against unprecedented Medicaid coverage terminations that are likely to occur as a result of the COVID-19 public health emergency unwinding. Without vigorous federal intervention, state Medicaid programs may rescind Medicaid eligibility for as many as 15 million people, a vast majority of which are children and people of color. Over half of all people of color and three-fourths of all children losing coverage would technically remain eligible but lose coverage due to burdensome administrative requirements imposed by state Medicaid programs. The coalition highlighted four key steps aimed at protecting families during the unwinding: (1) CMS mitigation plans should prevent states from wrongfully terminating beneficiaries for purely procedural reasons; (2) CMS should hold state and local Medicaid agencies accountable for compliance with civil rights laws; (3) CMS should promote transparency and accountability by publishing state unwinding and performance indicator data as soon as possible; (4) CMS should hold states accountable for renewing coverage based on data matches "to the maximum extent practicable." 
CDC Investigating Potential Mpox Resurgence 
On May 10, CDC announced that it was working with multiple health departments to investigate new mpox cases, some of which occurred in people who were vaccinated. The new infections have raised concerns of an Mpox resurgence in the summer months, when people are more likely to encounter community spread of the virus due to Pride events and social gatherings in the warmer weather. CDC's notice overlaps with the World Health Organization's (WHO) decision to end the mpox public health emergency of international concern and transition to a robust, proactive and sustainable mpox response and control program, that prevents resurgence of global spread, aims to eliminate person-to-person transmission, and mitigates the impact of local spill-over effects. 
DEA, HHS Extend COVID-19 Telemedicine Flexibilities for Prescribing Controlled Medications 
On May 9, the US Drug Enforcement Administration (DEA) and Substance Abuse and Mental Health Administration (SAMHSA) published a temporary rule that extends remote prescribing flexibilities authorized through the COVID-19 public health emergency (PHE). With the PHE expiring on May 11, the Biden Administration published two proposed rules last month which would require in-person appointments in order for patients to receive certain controlled substances, like ADHD and pain medications, buprenorphine for opioid use disorder treatment, and gender-affirming care. The rules were meant to safeguard against improper prescribing, but the Administration received significant pushback from advocates, providers, and the pharmaceutical and insurance industries, citing the unnecessary barriers to care. DEA's new temporary rule will extend telehealth flexibilities through November 11, 2024.  
CDC Observes National Fentanyl Awareness Day 
On May 9, CDC observed the second annual National Fentanyl Awareness Day, which was founded by parents who have lost loved ones to the drug overdose crisis. The aim of the observance is to raise awareness that people are dying at alarming rates due to the widespread presence of illicit fentanyl, a dangerous synthetic opioid, in the drug supply.  
NASTAD calls on Biden Administration to Collect Middle Eastern and North African Race and Ethnicity Data to Improve Health Outcomes 
On April 27, NASTAD joined a coalition of 107 organizations and called on the Biden Administration to revise the Office of Management and Budget's (OMB) Statistical Policy Directive Number 15 (Directive 15) to support the capacity of federal agencies to enforce civil rights protections for Middle Eastern or North African (MENA) communities. The coalition is calling for OMB to require all agencies to collect detailed data on race and ethnicity through a combined question that includes a MENA response option. In the 1970s, Congress authorized the OMB to standardize federal data collection on race and ethnicity, but Directive 15 required agencies to aggregate data on MENA under the "White" reference category, which has perpetuated longstanding inequities in health access and outcomes, education, employment, housing, and voting rights, and prevented MENA communities from fully accessing their equal opportunity and protections guaranteed by the US constitution. Due to the lack of disaggregated data on MENA populations, MENA communities and community-based organizations are largely unable to advocate for fair political representation and voter protections, nor does the federal government have the data to address MENA health outcomes and conditions.  
---
Resources
GU O'Neill Institute Quick Take: Community Partnerships Make Public Health More Effective: Learning from the 2022 Mpox Outbreak Response 
"While imperfect, the public health response to mpox, coming on the heels of an even more problematic response to COVID-19, offers important lessons that must be applied to future public health threats. Mpox has not been eliminated and modeling studies suggest that a resurgence is a possibility this summer. We must use lessons learned—most importantly that public health should focus on community-guided partnerships that promote health as opposed to risk-based communications that foster stigma and shame." 
U Penn/Center for Addiction Medicine and Policy: Best Practices for Management of Xylazine Withdrawal and Xylazine-related Overdose 
Journal of Pharmaceutical Policy and Practice: Access to a novel first-line single-tablet HIV antiretroviral regimen in Affordable Care Act Marketplace plans, 2018–2020 
CDC MMWR: Emergency Department Visits Involving Mental Health Conditions, Suicide-Related Behaviors, and Drug Overdoses Among Adolescents — United States, January 2019–February 2023 
"By fall 2022, weekly ED visits among adolescents, and females in particular, for mental health conditions overall, suicide-related behaviors, and drug overdoses decreased compared with those during fall 2021; weekly ED visits among males were stable. Although sex differences were observed, as of fall 2022, weekly ED visits among females were at or higher than the prepandemic baseline for mental health conditions overall, suicide-related behaviors, and drug overdoses." 
CDC DVH Webinars:  
NASTAD Webinars: Syphilis and Drug User Health Webinar Series 
The NASTAD Drug User Health Team is pleased to announce an upcoming webinar series exploring syphilis among communities of people who use drugs, in partnership with AIDS United, NACCHO, NCSD, and the Northwest Portland Area Indian Health Board. This webinar series consists of five monthly sessions where those working on STIs – specifically syphilis – and those working in harm reduction and drug user health will be brought together to learn from each other, share promising practices, and highlight effective cross-sector partnerships. To join the webinars please register for them here: 
Still Trep-in': Ongoing Responses to Syphilis in Indian Country – Tuesday, May 30, from 3-4:30pm ET 
State Health Department Innovations at the Intersection of Syphilis & Drug User Health – Tuesday, June 27, from 3-4:30pm ET 
"Solo Makes You Go Slow": Local Partnerships Addressing Syphilis Among People Who Use Drugs – Tuesday, July 25, from 3-4:30pm ET 
---
Job Postings
Viral Hepatitis Database Analyst – San Francisco, CA 
Heluna Health invites applications for the full-time position of Viral Hepatitis Data Management Analyst in the ARCHES Branch at the San Francisco Department of Public Health. The Data Analyst will work with the ARCHES Viral Hepatitis Epidemiologist II to improve ongoing hepatitis data reporting and analysis. Responsibilities include higher level data cleaning tasks, data analysis and reporting, coordination with laboratory contacts to improve ELR protocols and procedures, and managing special projects as needed. This is a temporary (2 years), grant-funded, full-time, benefited position. Employment is provided by Heluna Health. 
Chicago Department of Public Health 
Chief Racial Equity Officer/Deputy Commissioner - As a member of the CDPH executive team reporting directly to the Commissioner, the Chief Racial Equity Officer/Deputy Commissioner will oversee the Bureau of Inclusion, Diversity, Equity, and Access (the "IDEA Bureau"). Newly created in 2022, the IDEA Bureau is dedicated to leading internal strategy, workforce development, community engagement, communications and other culture and process/system change initiatives rooted in the principles of racial equity. This position will supervise the following offices in the IDEA Bureau: Racial Equity & Belonging, Workforce Development, Community Engagement & Partnership, and Public Information. These offices have grown substantially in the past year, and the Chief Racial Equity Officer/Deputy Commissioner will be tasked with developing plans to nurture and sustain these new teams and functions within the department. This position will also work closely with program staff in core operational and administrative areas such as human resources, finance, and contracts to co-lead process improvement initiatives to ensure that our practices are in line with the department's anti-racism values. Salary is $133,416 per year. 

Chief Public Health Informatics Officer/Deputy Commissioner - Reporting to the First Deputy Commissioner, this position will serve as the department's leader for priorities related to data modernization initiatives (DMI) and data process improvement, and in this capacity will establish and guide the department's strategic public health informatics initiatives and will oversee CDPH's work to align with national DMI. The position will continue to build and supervise the IT and Informatics teams; and will work closely with the citywide IT team based in the Department of Assets, Information and Services, the Illinois Department of Public Health, healthcare providers and other stakeholders in public health IT and informatics issues. This position will also serve as the primary liaison with the Centers for Disease Control and Prevention for DMI work. Salary is $146,000 per year. 
Manager, Meetings and Travel – NASTAD 
Under general supervision of the Associate Director, IT and Administration, the Manager, Meetings and Travel will provide management, coordination and hands-on delivery of comprehensive service and support to NASTAD members, staff members, and other stakeholders as appropriate.   This position will coordinate and implement several, sometimes simultaneous, live, hybrid, and virtual events, particularly to NASTAD's Annual and Technical Assistance Meetings. This position will monitor airline travel and purchases, manage travel-related vendors, maintain travel-related processes, reconcile meeting and travel expenses, complete appropriate forms and procedure documents, and work to fulfill NASTAD mission, goals, and objectives within the limitations of agency resources and policies and federal grant requirements. 
Director, Health Care Access – NASTAD 
NASTAD is recruiting for the Director of our Health Care Access program. The Director, Health Care Access plays a vital leadership role in achieving the organization's training, technical assistance, and policy support priorities for Ryan White HIV/AIDS Program (RWHAP) Part B and AIDS Drug Assistance Programs (ADAP). The position will work closely with Tim Horn, NASTAD's Director of Medication Access.  
Viral Hepatitis Prevention Manager – Health Federation of Philadelphia 
The Prevention Manager will be responsible for coordination of activities related to viral hepatitis prevention, including outreach, training, education and collaboration with appropriate programs to facilitate access to hepatitis services.  This position works in close coordination with viral hepatitis surveillance activities. Apply by June 2, 2023. 
Drug Trends and Technology-Based Drug Checking Analyst – New York City, NY 
NYC DOHMH is looking for an analyst to work on our drug checking initiative. Currently operating in four SSPs across the city, including one of the OPCs, drug checking technicians use Bruker Infrared technology to test samples from SSP participants and provide individualized harm reduction education. This is a great opportunity for someone with strong data skills and an interest in drugs and toxicology. Please send out far and wide and feel free to reach out if you have any questions.  
Chief Executive Officer – Western North Carolina AIDS Project (WNCAP) 
Western North Carolina AIDS Project's (WNCAP's) mission is to provide equitable access to care and reduce harm from HIV, Hepatitis C, and drug use. WNCAP provides case management, prevention education, STD testing, harm reduction, and other support services to people living across 18 counties of western North Carolina. The Chief Executive Officer (CEO) is the principal leadership position at WNCAP and reports to the Board of Directors. 
Division of Viral Hepatitis, National Center for HIV, Viral Hepatitis, STD, and TB Prevention, CDC 
NCHHSTP/DVH is recruiting for an exceptional candidate for the position of Prevention Branch Chief, Division of Viral Hepatitis (DVH), National Center for HIV, Viral Hepatitis, STD, and TB Prevention (NCHHSTP). The incumbent will serve as Chief in the Prevention Branch, Division of Viral Hepatitis, and will participate in the division's senior management team responsible for directing the development, administration, implementation, and evaluation of national programs to prevent and control viral hepatitis. The incumbent provides advice to the Division Director on medical and scientific policy and practices associated with program, education, and research activities in support of viral hepatitis prevention and control, including harm reduction. 
Boulder County AIDS Project – Boulder, Colorado 
Prevention Coordinator: The primary duties of this position are to provide HIV/HCV/STI testing, syringe access, and street outreach services, as well as outreach education at community partner locations and events. This position provides these services in collaboration with other Prevention Department staff and key community partners, as well as enters data into databases and completes monthly reports. This position reports directly to the Prevention Director, and attends staff, department, and community partner meetings. 
Florida Department of Health – Palm Beach County 
To apply, please send resumes to Robert Scott, Robert.Scott@flhealth.gov. These are all $20/hr, in-office roles with possible remote flexibility. 
EHE Navigator: This position's work will be actively guided by the Palm Beach County Ending the Epidemic (EHE) Plan, including the four pillars and their goals, objectives, strategies and activities. Incumbent will assist in the planning, coordination, implementation and monitoring of the goals, objectives, strategies and activities set forth in the Palm Beach County Ending the Epidemic (EHE) Plan, in collaboration with other Area 9 EHE funding recipients, to include, but not limited to: Palm Beach County, FoundCare, and Florida Community Health Centers.  

PrEP Navigator: This position's work will be actively guided by the Palm Beach County Ending the Epidemic (EHE) Plan, including the four pillars and their goals, objectives, strategies and activities. Incumbent will link high-risk negative persons to available Pre-Exposure Prophylaxis (PrEP) and non-occupational Post Exposure Prophylaxis (nPEP) services with the goal of significantly reducing the number of new HIV infections among high-risk populations. Incumbent will assess and increase the knowledge, desirability, accessibility, and adherence of PrEP among referred high-risk individuals. 

Digital Media Manager: This position is responsible for developing and coordinating the area HIV digital media presence through multiple platforms. Developing digital marketing strategies, creating social media content, collaborating with community partner organizations, and creating new ad campaigns to advance Ending the HIV Epidemic (EHE) in Palm Beach County.  Tracking data from digital campaigns to assist with EHE goals. 
Executive Director, Hepatitis Education Project (HEP) – Seattle, WA (partially remote) 
Reporting to a Board of Directors and in partnership with a staff of 19, the ED will lead the evolution of HEP as the organization reviews its impact to date and plans for the future in the fields of viral hepatitis and drug user health both locally and nationally.  
Deputy Medical Director, HIV/STI/Viral Hepatitis/Harm Reduction – Nashville, TN 
This position will serve as the Statewide Deputy Medical Director in the HIV/STI/Viral Hepatitis section. The position has cross-cutting responsibility in all program areas with potential for promotion in succession plans. Primary responsibilities include leadership and oversight of cross-cutting programs related to End the Syndemic Tennessee to tackle HIV, sexually transmitted infections, viral hepatitis and substance use disorder in an integrated manner with an outward-facing, community-engaged process.  
Program Content and Training Specialist, Supporting Harm Reduction Programs (SHaRP) – University of Washington 
This position is part of a cooperative agreement award from the Centers for Disease Control and Prevention to provide technical assistance about monitoring and evaluation to syringe services programs (SSPs) as part of the National Harm Reduction Technical Assistance Center. One of the primary projects of this award is to provide technical assistance (TA) to SSPs for monitoring and evaluation activities. The University of Washington is working in collaboration with the CDC, SAMHSA, NASTAD, the National Harm Reduction Coalition, and other TA partners to provide a suite of technical assistance support to individual programs.  
Communicable Disease Epidemiologist – Cheyenne, Wyoming 
This position will serve as the Communicable Disease AIDS Drug Assistance Program (ADAP) Coordinator, Wyoming TB Controller, and Disease Intervention Specialist (DIS) for the Communicable Disease (CD) Treatment Program.  Assist in outbreak response to ensure the safety of Wyoming residents; by interviewing cases for exposure information, updating news outlets on the progress of outbreak control, analyzing exposure data utilizing epidemiological and statistical methods. 
Assistant Commissioner - Health Department – Baltimore, Maryland 
The Baltimore City Health Department (BCHD) is seeking an Assistant Commissioner to lead the Bureau of Communicable Disease and Outbreak Control. This senior management position will lead a talented team responsible for communicable disease investigation, outbreak control and emergency preparedness programming. The incumbent will also be responsible for developing and implementing agency wide policies related to health department readiness to respond to public health emergencies. The incumbent will report directly to the Deputy Commissioner for BCHD's Division of Population Health & Disease Prevention.   
Open Positions – New York State 
The New York State Department of Health, in partnership with Health Research, Inc, has various job openings, including some within the AIDS Institute. Please visit this link to learn about their current opportunities.  
Viral Hepatitis Epidemiologist - Pennsylvania Department of Health 
The Department of Health is seeking a dedicated and hardworking individual to fulfill their Viral Hepatitis Coordinator/Epidemiologist position within the Division of Infectious Disease Epidemiology.  If you would like to support an organization that protects the public's health, apply today!  
---
News Bulletin
Gilead notches trial win in high-stakes HIV patent case against US government 
"It's extremely unusual for the U.S. government to go after a pharmaceutical company for alleged patent infringement, much less take the case to trial. But in the government's case against Gilead Sciences, the California drugmaker has come out on top. After years of litigation, Gilead prevailed following the trial in a Delaware federal court. The jury found the patents at issue were invalid, The New York Times reports. The case centers on Gilead's HIV prevention drugs Truvada and Descovy, which the government argued infringed patents stemming from work at the Centers for Disease Control and Prevention (CDC)." 
US backs study of safe injection sites, overdose prevention 
"For the first time, the U.S. government will pay for a large study measuring whether overdoses can be prevented by so-called safe injection sites, places where people can use heroin and other illegal drugs and be revived if they take too much. The grant provides more than $5 million over four years to New York University and Brown University to study two sites in New York City and one opening next year in Providence, Rhode Island." 
The Supreme Court Is Harming Public Health and the Environment 
"A fundamental shift in the Supreme Court was set in motion in 2020 with the death of Ruth Bader Ginsburg. President Trump appointed Amy Coney Barrett as his third appointee, forming a conservative 6-3 supermajority. The Supreme Court's jurisprudence is having a profound effect on public health, safety, and environmental policy. This Viewpoint looks back at the Supreme Court's 2021 and 2022 terms and forward to the 2023 term and beyond." 
Fear-based messaging doesn't stop drug use. But it does make things worse 
"It "rots" flesh. It "tears" bone. It will turn you into a "zombie." According to Senate Majority Leader Chuck Schumer and his colleagues, these are some of the reasons we should fear and criminalize xylazine, a veterinary sedative and painkiller that is increasingly found in drugs purchased on the U.S. illicit market. This hyperbolic, oversimplified, and fearmongering rhetoric is not new…But the research is clear: Fear is simply not that good at preventing drug use."