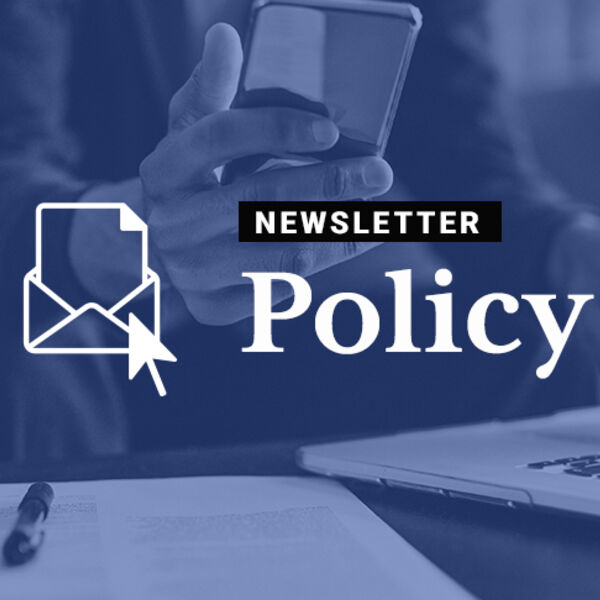 Policy Updates: Hill Happenings and Administration Activities
---
Hill Happenings 
House Resumes Appropriations Bill Markups  
Lawmakers are increasingly focused on advancing fiscal year 2024 (FY2024) spending bills following the passage of the bipartisan Fiscal Responsibility Act of 2023 (H.R. 3746) on June 3, which averted an economically devastating default on the nation's debt. The Fiscal Responsibility Act introduced spending caps for FY2024 and fiscal year 2025 (FY2025), which are complicating spending discussions for both parties: Republicans are seeking to circumvent the caps to boost defense funding, and Democrats are strategizing to avoid the inclusion of damaging programmatic cuts to a range of safety-net programs, including federal health programs. Although Congress has some time to draft and approve the spending bills by the start of FY2024 on October 1, lawmakers are feeling pressure to advance the spending bills promptly, given that the debt limit fix would impose a 1% funding cut for FY2024 if Congress does not pass a spending bill by the start of the new fiscal year. 
With a renewed focus on appropriations, House Republicans announced that they would resume postponed markups for several spending bills in June and advance the FY2024 appropriations package by the end of the summer. Additionally, Senate appropriators announced their commitment to advancing spending bills along a similar timeframe. NASTAD will continue to monitor the congressional appropriations process and advocate for the highest possible funding for HIV, hepatitis, and drug user health programs.
---
Administration Activities 
HHS Releases First-Ever STI Plan 
On June 8, the Department of Health and Human Services (HHS) released the first-ever STI Federal Implementation Plan, which details the roles and responsibilities that federal agencies will take to implement the STI National Strategic Plan 2021-2025. The implementation plan highlights over 200 actions that federal stakeholders will take to achieve the strategic plan's goals of preventing new STIs, reducing adverse outcomes of STIs, accelerating STI research, technology, and innovation, reducing health disparities, and integrating efforts to address the STI epidemic. Advocates applauded the release of the plan, but highlighted the significant challenges that must be addressed to achieve the goals of the plan, including rapidly intervening on the current record-high levels of STIs and beating appropriators' reluctance to invest significant funding for the CDC Division of STD prevention and HHS Office of Infectious Disease Policy to fully implement the plan. 
CDC Launches Nonfatal Overdose Data Dashboards 
On June 2, the Centers for Disease Control and Prevention (CDC) launched two new data dashboards that expand monitoring of nonfatal overdose trends in the US. The new Drug Overdose Surveillance and Epidemiology (DOSE) dashboard is an interactive data visualization tool that displays current nonfatal drug overdose-related emergency department. and hospital discharge data. CDC's new Fentalog Study Toxicology Testing Dashboard provides data on the amount of fentanyl, fentalogs, and other substance combinations present in blood samples from people hospitalized with a suspected opioid-involved overdose across 10 study sites. These dashboards will support public health providers and policymakers as they take steps to curb overdose deaths and prevent adverse health outcomes related to nonfatal overdoses. 
---
Resources 
CDC MMWR:
OMH Health Equity blog: LGBTQI+ Health in Every Language 
"Community health centers provide culturally and linguistically competent care to limited English proficient (LEP) patients, including those who identify as LGBTQI+. Providing care in your patient's primary language is key to patient-centered care. In the latest post on the OMH Blog for Health Equity, Gem P. Daus, Public Health Analyst at the Health Resources and Services Administration (HRSA) Office of Health Equity (OHE), highlights resources and training opportunities to help providers deliver culturally and linguistically appropriate care to LGBTQI+ patients." 
GU O'Neill Institute: Transcending MET (Money, Ego, Turf): A Whole Person, Whole Government Approach to Addressing Substance Use Disorder Through Aligned Funding Streams and Coordinated Outcomes 
"A recent infusion of significant federal dollars, opioid litigation proceeds, and other funding sources, such as philanthropy and cannabis tax revenue, as well as innovation and research, has created an opportunity for governments to re-imagine traditional approaches to SUD. With the opportunity to direct local, state, and federal funds, governments can implement a new, cohesive system to promote access to evidence-based, individualized, low-barrier care. This brief proposes guiding principles and concrete recommendations for governments to leverage this momentum and transform government budgets to incentivize investment in a coordinated, targeted, and outcomes-driven approach to SUD." 
Faces and Voices of Recovery: Virtual learning communities for the peer workforce 
Hep B United: HBV Community Health Center Learning Collaborative – "Getting to Protected" 
The Getting to Protected module will focus on strategies for improving hepatitis B screening and vaccination, and keeping patients engaged. This virtual learning collaborative will foster a small cohort of community-based health centers, FQHCs, and/or FQHC look-alikes serving Asian American, Native Hawaiian, Pacific Islander, African Immigrant, and/or drug-using communities in the US and/or its territories. The four sessions will be on June 28, July 5, 12 & 19 from 3-4:30pm ET. The deadline to apply is June 9 by 12:00am ET. 
NASTAD Webinars: Syphilis and Drug User Health Webinar Series 
The NASTAD Drug User Health Team is pleased to announce an upcoming webinar series exploring syphilis among communities of people who use drugs, in partnership with AIDS United, NACCHO, NCSD, and the Northwest Portland Area Indian Health Board. This webinar series consists of five monthly sessions where those working on STIs – specifically syphilis – and those working in harm reduction and drug user health will be brought together to learn from each other, share promising practices, and highlight effective cross-sector partnerships. To join the webinars please register for them here: 
State Health Department Innovations at the Intersection of Syphilis & Drug User Health – Tuesday, June 27, from 3-4:30pm ET 
"Solo Makes You Go Slow": Local Partnerships Addressing Syphilis Among People Who Use Drugs – Tuesday, July 25, from 3-4:30pm ET 
---
Job Postings 
Senior Consultant - HIV and Infectious Diseases (CQI) – Boston, MA 
JSI is a global public health organization dedicated to greater health equity and improving the health of individuals and communities, and to providing an environment where people of passion can pursue this cause. JSI is seeking a highly motivated individual with expertise in clinical care for HIV, STIs, viral hepatitis, and/or other infectious diseases (i.e., HIV-ID) to serve as a Senior Consultant within our Health Services Division. The position will be responsible for leading, supporting, and advising national, state, and local U.S. projects focused on HIV-ID prevention, care, and treatment, including projects focused on increasing the use of effective telehealth strategies for HIV care and providing technical assistance to high volume hospitals focused on Hepatitis C testing and treatment policies and workflows. Apply by June 30. 
HIV/STD Prevention Program Manager – Augusta, ME 
The HIV/STD Prevention Program Manager in the Maine Center for Disease Control and Prevention (Maine CDC) manages federal HIV and STD grants and the HIV/STD Prevention Program.  Services provided by this program are designed to increase awareness of prevention strategies, promote access to testing and treatment, and link individuals to appropriate care, all in an effort to improve health outcomes and reduce disease transmission. Apply by June 15. 
Bureau of HIV/STD & Viral Hepatitis Prevention, Houston Health Department – Houston, TX 
Viral Hepatitis Database Analyst – San Francisco, CA 
Heluna Health invites applications for the full-time position of Viral Hepatitis Data Management Analyst in the ARCHES Branch at the San Francisco Department of Public Health. The Data Analyst will work with the ARCHES Viral Hepatitis Epidemiologist II to improve ongoing hepatitis data reporting and analysis. Responsibilities include higher level data cleaning tasks, data analysis and reporting, coordination with laboratory contacts to improve ELR protocols and procedures, and managing special projects as needed. This is a temporary (2 years), grant-funded, full-time, benefited position. Employment is provided by Heluna Health. 
Manager, Meetings and Travel – NASTAD 
Under general supervision of the Associate Director, IT and Administration, the Manager, Meetings and Travel will provide management, coordination and hands-on delivery of comprehensive service and support to NASTAD members, staff members, and other stakeholders as appropriate.   This position will coordinate and implement several, sometimes simultaneous, live, hybrid, and virtual events, particularly to NASTAD's Annual and Technical Assistance Meetings. This position will monitor airline travel and purchases, manage travel-related vendors, maintain travel-related processes, reconcile meeting and travel expenses, complete appropriate forms and procedure documents, and work to fulfill NASTAD's mission, goals, and objectives within the limitations of agency resources and policies and federal grant requirements. 
Director, Health Care Access – NASTAD 
NASTAD is recruiting for the Director of our Health Care Access program. The Director of Health Care Access plays a vital leadership role in achieving the organization's training, technical assistance, and policy support priorities for Ryan White HIV/AIDS Program (RWHAP) Part B and AIDS Drug Assistance Programs (ADAP). The position will work closely with Tim Horn, NASTAD's Director of Medication Access.
Drug Trends and Technology-Based Drug Checking Analyst – New York City, NY 
NYC DOHMH is looking for an analyst to work on our drug-checking initiative. Currently operating in four SSPs across the city, including one of the OPCs, drug checking technicians use Bruker Infrared technology to test samples from SSP participants and provide individualized harm reduction education. This is a great opportunity for someone with strong data skills and an interest in drugs and toxicology. Please send out far and wide and feel free to reach out if you have any questions.
Division of Viral Hepatitis, National Center for HIV, Viral Hepatitis, STD, and TB Prevention, CDC 
Prevention Coordinator, Boulder County AIDS Project – Boulder, Colorado 
The primary duties of this position are to provide HIV/HCV/STI testing, syringe access, and street outreach services, as well as outreach education at community partner locations and events. This position provides these services in collaboration with other Prevention Department staff and key community partners, as well as enters data into databases and completes monthly reports. This position reports directly to the Prevention Director and attends staff, department, and community partner meetings. 
Florida Department of Health – Palm Beach County 
To apply, please send resumes to Robert Scott, Robert.Scott@flhealth.gov. These are all $20/hr, in-office roles with possible remote flexibility. 
Deputy Medical Director, HIV/STI/Viral Hepatitis/Harm Reduction – Nashville, TN 
This position will serve as the Statewide Deputy Medical Director in the HIV/STI/Viral Hepatitis section. The position has cross-cutting responsibility in all program areas with potential for promotion in succession plans. Primary responsibilities include leadership and oversight of cross-cutting programs related to End the Syndemic Tennessee to tackle HIV, sexually transmitted infections, viral hepatitis and substance use disorder in an integrated manner with an outward-facing, community-engaged process.
Program Content and Training Specialist, Supporting Harm Reduction Programs (SHaRP) – University of Washington 
This position is part of a cooperative agreement award from the Centers for Disease Control and Prevention to provide technical assistance about monitoring and evaluation to syringe services programs (SSPs) as part of the National Harm Reduction Technical Assistance Center. One of the primary projects of this award is to provide technical assistance (TA) to SSPs for monitoring and evaluation activities. The University of Washington is working in collaboration with the CDC, SAMHSA, NASTAD, the National Harm Reduction Coalition, and other TA partners to provide a suite of technical assistance support to individual programs.  
Communicable Disease Epidemiologist – Cheyenne, Wyoming 
This position will serve as the Communicable Disease AIDS Drug Assistance Program (ADAP) Coordinator, Wyoming TB Controller, and Disease Intervention Specialist (DIS) for the Communicable Disease (CD) Treatment Program.  Assist in outbreak response to ensure the safety of Wyoming residents; by interviewing cases for exposure information, updating news outlets on the progress of outbreak control, analyzing exposure data utilizing epidemiological and statistical methods. 
Assistant Commissioner - Health Department – Baltimore, Maryland 
The Baltimore City Health Department (BCHD) is seeking an Assistant Commissioner to lead the Bureau of Communicable Disease and Outbreak Control. This senior management position will lead a talented team responsible for communicable disease investigation, outbreak control and emergency preparedness programming. The incumbent will also be responsible for developing and implementing agency wide policies related to health department readiness to respond to public health emergencies. The incumbent will report directly to the Deputy Commissioner for BCHD's Division of Population Health & Disease Prevention.   
Open Positions – New York State 
The New York State Department of Health, in partnership with Health Research, Inc, has various job openings, including some within the AIDS Institute. Please visit this link to learn about their current opportunities.
---
News Bulletin 
Abortion politics cast shadow over PEPFAR reauthorization 
"An unexpected campaign by conservative and anti-abortion activists to paint PEPFAR, the U.S. global AIDS initiative, as a source of funding for abortion has some advocates worried that plans to extend its legal authorization for another five years could be derailed. Without full authorization, the President's Emergency Plan for AIDS Relief, or PEPFAR, which has saved 25 million lives since it was founded two decades ago, would be at risk of budget cuts, deprioritization, and diminished status." 
Merck sues HHS over drug negotiation, claims program 'tantamount to extortion' 
"Pharmaceutical giant Merck sued the federal government on Tuesday to block Medicare drug price negotiations, calling the program unconstitutional. 
The complaint, filed against the Department of Health and Human Services and the Centers for Medicare and Medicaid Services, argued that Medicare's efforts to negotiate certain drug prices is "political Kabuki theater" that is "tantamount to extortion." 
Biden's drug czar: 165,000 lives might be lost annually to the opioid crisis by 2025 
"Rahul Gupta, director of the White House Office of National Drug Control Policy, said Wednesday that without policy action, 165,000 lives could be lost a year to the opioid crisis by 2025. That would be an increase of about 55,000 additional deaths per year from the number of people who died from an overdose last year, according to provisional data from the Centers for Disease Control and Prevention." 
Bereaved Parents Weaponized by DEA to Back More Drug War 
"Against all evidence and humanity, many states are implementing more punitive drug laws, such as lower amounts of fentanyl triggering mandatory minimum sentences, sentencing enhancements for fentanyl possession and sales, and drug-induced homicide (DIH) laws…Evidence shows that they not only fail to prevent deaths, but increase them by dissuading people from seeking emergency aid. They fuel more incarceration, with racist outcomes. And many of the people prosecuted are friends or family members who were sharing drugs with the person who overdosed."