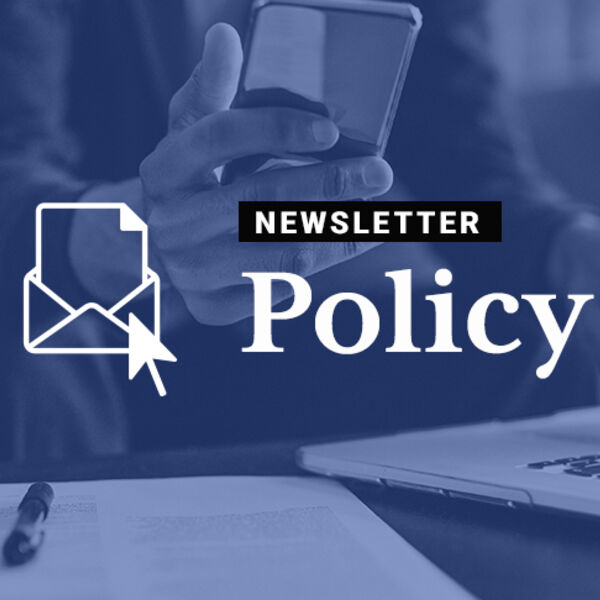 Policy Updates: Hill Happenings and Administration Activities
---
Hill Happenings
FY2024 Appropriations
House and Senate appropriators are working to markup and approve fiscal year 2024 (FY2024) spending bills while adhering to spending caps set by the bipartisan Fiscal Responsibility Act of 2023 (H.R. 3746). On June 22, the Senate Appropriations Committee approved topline spending numbers for FY2024 spending bills, setting topline spending levels at the cap established in the bipartisan debt limit compromise. However, House appropriators are advancing spending bills with lower totals capped at fiscal year 2022 levels, insisting that the bipartisan debt limit compromise established a ceiling for funding and did not represent a topline spending agreement. If approved, a return to FY2022 levels would amount to at least a 25% cut for the House Labor, Health and Human Services, Education, and Related Agencies (LHHS) spending bill in FY2024. House and Senate appropriators have not announced dates for their respective LHHS spending bill markups. 
The Senate and House must reconcile their spending bills by September 30 or pass a continuing resolution to temporarily extend fiscal year 2023 spending levels while appropriators negotiate through the fall. NASTAD will continue to monitor the congressional appropriations process and advocate for the highest possible funding for HIV, hepatitis, and drug user health programs.  
Senator Murray (D-WA) Introduces Public Health Infrastructure Saves Lives Act 
On June 14, Senator Patty Murray (D-WA) reintroduced the Public Health Infrastructure Saves Lives Act (PHISLA), which would authorize a Core Public Health Infrastructure Program at the Centers for Disease Control and Prevention (CDC). The program would award grants to state, local, tribal and territorial health departments to ensure they have the tools, workforce, and systems in place to address existing and emerging health threats and reduce health disparities. NASTAD endorsed the legislation and applauds Senator Murray for calling for $4.5 billion in dedicated, annual funding to expand and sustain infrastructure at health departments and in public health systems.  
---
Administration Activities
Braidwood v Becerra Plaintiffs Reach Compromise with DOJ 
On June 13, the 5th Circuit Federal Court of Appeals approved an agreement between the parties involved in the Braidwood v Becerra case working its way through the appeals courts. Under the agreement, the lower court's ruling that the no-cost preventive services authorized by the Affordable Care Act (ACA) were unconstitutional will not go into effect while the court deliberates the merits of the case, in exchange for indemnity for the plaintiff's refusal to provide covered services like PrEP for HIV. The pause on the lower court's ruling temporarily protects access to free preventive care for millions of Americans covered by private and ACA marketplace plans.  
HIV Medicine Association and NASTAD Submit Amicus Brief in Braidwood v Becerra 
On June 27, HIV Medicine Association (HIVMA) and the National Alliance of State and Territorial AIDS Directors (NASTAD) filed a friend-of-the-court brief at the U.S. Court of Appeals for the Fifth Circuit, urging reversal of the federal district court order in Braidwood v. Becerra. The lower court's ruling blocks a long-standing requirement under the Affordable Care Act (ACA) that covers designated preventive care services, including HIV PrEP (Pre-Exposure Prophylaxis), without cost sharing. The brief cites a recent epidemiological analysis conducted by experts at Harvard and Yale predicting, under the most cautious and conservative estimates, that blocking the ACA's no-cost sharing provision for PrEP will result in a 17% increase of HIV transmission among men who have sex with men in the first year alone. Furthermore, in 2021, the CDC estimated that only 11% of Black people and 20% of Hispanic/Latino people who could benefit from PrEP were prescribed it, as opposed to 78% of White people. If allowed to stand, the lower court's ruling in Braidwood v. Becerra will exacerbate racial health disparities, increase new HIV diagnoses by the tens of thousands, and have devastating consequences on our efforts to end the epidemic. 
Biden Administration Rescinds COVID-19 Era DIS Funding 
On June 13, the National Coalition of STD Directors (NCSD) announced that $400 million in emergency COVID-19 funding used to supplement the disease intervention specialist (DIS) workforce would be rescinded as a result of the spending concessions authorized under the bipartisan Fiscal Responsibility Act of 2023 (H.R. 3746). Advocates sharply criticized the move, noting that the funding claw-back would further limit the underinvested DIS workforce and public health system's ability to address record-high rates of STIs and other infectious diseases. 
On June 16, NASTAD and the Partnership to End HIV, STDs, and Hepatitis sent a letter to the Secretary of the Department of Health and Human Services (HHS) urging the Biden Administration to quickly identify replacement funding to fill the gaps caused by the rescinded COVID-19 DIS funding. The advocates highlighted the effectiveness of the DIS workforce in preventing community transmission of infectious diseases and the critical role they play in addressing pressing public health challenges, like COVID-19, mpox, and congenital syphilis. NASTAD is continuing to work with NCSD and advocate for funding for the DIS program.  
HRSA Updates Guidance to Confirm SSP Services are Authorized Under the Health Center Program, if Approved 
On May 26, the Health Resources and Services Administration (HRSA) issued updated guidance confirming that the Health Center Program allows health centers to operate and fund syringe service programs (SSP). The guidance clarifies that health centers must request prior approval from HRSA via the HRSA Electronic Handbooks (EHBs). HRSA must review and approve the prior approval request before Health Center Program funding can be used to support proposed syringe service program costs, as allowable. The National Health Care for the Homeless Council developed a fact sheet for health centers that breaks down compliance issues and provides models of care and best practices for health centers interested in operating an SSP or partnering with local SSPs.  
President Biden Formally Selects Dr. Mandy Cohen to Lead CDC  
On June 16, President Biden confirmed media reports that he would appoint Dr. Mandy Cohen to step into the CDC Director role after current Director Rochelle Walensky announced that she was stepping down by the end of June. Cohen, a physician by training, served as the chief operating officer and chief of staff at the Centers for Medicare and Medicaid Services (CMS) during the Obama Administration, and later as the Secretary of the North Carolina Department of Health and Human Services from 2017-2021. Senate confirmation is not required to appoint the CDC Director, although the fiscal year 2023 spending package instituted a policy requiring Senate confirmation for incoming CDC Directors starting January 2025. 
CDC Data Show Rising Prevalence of Meningococcal Disease among PLWHIV 
New HIV surveillance data published in a CDC MMWR on June 16 show an increase in the percentage of people with HIV among meningococcal disease cases in 2022. Meningococcal disease is uncommon but deadly. The report found that in 2022, nearly 1 in 10 cases of meningococcal disease occurred in people with HIV, but vaccine uptake remains low for this population. According to administrative claims data, less than 1 in 6 people with HIV received at least one dose of the MenACWY vaccine within two years following their diagnosis. The findings highlight the importance of healthcare providers to ensure PLWH are up to date on the preventive MenACWY vaccine and boosters, maintain high suspicion for meningococcal disease when someone with HIV presents with symptoms compatible with this disease, and screen patients with meningococcal disease for HIV. 
CMS Releases Guidance on Mandatory Coverage Requirements for Adult Vaccines 
On June 27, the Centers for Medicare & Medicaid Services (CMS) released guidance to states outlining new mandatory coverage requirements for approved adult vaccines recommended by the Advisory Committee on Immunization Practices (ACIP) and their administration, without cost sharing, to begin October 1, 2023. Where vaccination rates are suboptimal for all adults, regardless of health coverage, these disparities are particularly glaring for those enrolled in Medicaid as opposed to those with private health insurance coverage. These guidance's, covered under the new amendments to Section 11405 of the IRA, will require state Medicaid and CHIP programs to cover approved adult vaccines recommended by ACIP, and their administration, without cost sharing; these requirements apply in both fee-for-service and managed care. 
CDC Report Finds that Only 1/3 of People Diagnosed with HCV are Cured 
On June 29, CDC published a MMWR that determined that the majority of people with hepatitis C (HCV) still have not been cured – nearly a decade after breakthrough curative treatments were first approved. The report authors used 2013-2022 national HCV testing data to determine that the prevalence of viral clearance was only 34% overall and even lower (16%) among persons aged 20–39 years without robust insurance coverage. The low treatment success rates reflect the importance of re-energizing efforts to address the HCV epidemic: on June 30, a CDC press release highlighted the urgent need for Congress to approve President Biden's proposed national HCV elimination program to systematically eliminate HCV in the United States. 
---
Resources 
CDC MMWRs: 
Notes from the Field: Increase in Meningococcal Disease Among Persons with HIV — United States, 2022 

"During 2017–2021, five to 15 meningococcal disease cases were reported each year among people with HIV, representing 1.5%–4.3% of all meningococcal disease cases annually. Based on preliminary data, 29 meningococcal disease cases have been reported among people with HIV in 2022, accounting for 9.8% of all cases." 

Notes from the Field: Emergence of an Mpox Cluster Primarily Affecting Persons Previously Vaccinated Against Mpox — Chicago, Illinois, March 18–June 12, 2023 

"Although the cause of this cluster has not yet been determined, leading hypotheses include a potential high number of sexual exposures in a network with many vaccinated persons, decreased vaccine effectiveness due to waning of humoral immunity, or vaccine mishandling or administration errors. Health departments are encouraged to report vaccination status of mpox patients to CDC for rapid detection of similar clusters among persons who were previously vaccinated."  
AIDSVu Resource: 2022 PrEP Use by Race/Ethnicity 
"AIDSVu has released PrEP use data and maps by race/ethnicity at the state-level for 2022, showing that while PrEP use has continued to increase on average by 56% each year since its approval in 2012, significant inequities remain in PrEP use among Black and Hispanic people and in the Southern region of the country." 
NNDITC Learning Collaborative: 2023 Disease Intervention Training 
The National Network of Disease Intervention Training Centers (NNDITC) have opened registration for their disease intervention training courses from now through September, which feature free and interactive skill-building trainings for the disease intervention community. 
NASTAD Webinars: Syphilis and Drug User Health Webinar Series 
The NASTAD Drug User Health Team is pleased to announce an upcoming webinar series exploring syphilis among communities of people who use drugs, in partnership with AIDS United, NACCHO, NCSD, and the Northwest Portland Area Indian Health Board. This webinar series consists of five monthly sessions where those working on STIs – specifically syphilis – and those working in harm reduction and drug user health will be brought together to learn from each other, share promising practices, and highlight effective cross-sector partnerships. To join the webinars please register for them here: 
State Health Department Innovations at the Intersection of Syphilis & Drug User Health – Tuesday, June 27, from 3-4:30pm ET 
"Solo Makes You Go Slow": Local Partnerships Addressing Syphilis Among People Who Use Drugs – Tuesday, July 25, from 3-4:30pm ET 
---
Job Postings
NASTAD 
Health Systems Integration 
Senior Consultant - HIV and Infectious Diseases (CQI) – Boston, MA 
JSI is a global public health organization dedicated to greater health equity and improving the health of individuals and communities, and to providing an environment where people of passion can pursue this cause. JSI is seeking a highly motivated individual with expertise in clinical care for HIV, STIs, viral hepatitis, and/or other infectious diseases (i.e., HIV-ID) to serve as a Senior Consultant within our Health Services Division. The position will be responsible for leading, supporting, and advising national, state, and local U.S. projects focused on HIV-ID prevention, care, and treatment, including projects focused on increasing the use of effective telehealth strategies for HIV care and providing technical assistance to high volume hospitals focused on Hepatitis C testing and treatment policies and workflows. Apply by June 30. 
Drug Trends and Technology-Based Drug Checking Analyst – New York City, NY 
NYC DOHMH is looking for an analyst to work on our drug checking initiative. Currently operating in four SSPs across the city, including one of the OPCs, drug checking technicians use Bruker Infrared technology to test samples from SSP participants and provide individualized harm reduction education. This is a great opportunity for someone with strong data skills and an interest in drugs and toxicology. Please send out far and wide and feel free to reach out if you have any questions.  
Division of Viral Hepatitis, National Center for HIV, Viral Hepatitis, STD, and TB Prevention, CDC 
NCHHSTP/DVH is recruiting for an exceptional candidate for the position of Prevention Branch Chief, Division of Viral Hepatitis (DVH), National Center for HIV, Viral Hepatitis, STD, and TB Prevention (NCHHSTP). The incumbent will serve as Chief in the Prevention Branch, Division of Viral Hepatitis, and will participate in the division's senior management team responsible for directing the development, administration, implementation, and evaluation of national programs to prevent and control viral hepatitis. The incumbent provides advice to the Division Director on medical and scientific policy and practices associated with program, education, and research activities in support of viral hepatitis prevention and control, including harm reduction. 
Prevention Coordinator, Boulder County AIDS Project – Boulder, Colorado 
The primary duties of this position are to provide HIV/HCV/STI testing, syringe access, and street outreach services, as well as outreach education at community partner locations and events. This position provides these services in collaboration with other Prevention Department staff and key community partners, as well as enters data into databases and completes monthly reports. This position reports directly to the Prevention Director, and attends staff, department, and community partner meetings. 
Florida Department of Health – Palm Beach County 
To apply, please send resumes to Robert Scott, Robert.Scott@flhealth.gov. These are all $20/hr, in-office roles with possible remote flexibility. 
EHE Navigator: This position's work will be actively guided by the Palm Beach County Ending the Epidemic (EHE) Plan, including the four pillars and their goals, objectives, strategies and activities. Incumbent will assist in the planning, coordination, implementation and monitoring of the goals, objectives, strategies and activities set forth in the Palm Beach County Ending the Epidemic (EHE) Plan, in collaboration with other Area 9 EHE funding recipients, to include, but not limited to: Palm Beach County, FoundCare, and Florida Community Health Centers.  
PrEP Navigator: This position's work will be actively guided by the Palm Beach County Ending the Epidemic (EHE) Plan, including the four pillars and their goals, objectives, strategies and activities. Incumbent will link high-risk negative persons to available Pre-Exposure Prophylaxis (PrEP) and non-occupational Post Exposure Prophylaxis (nPEP) services with the goal of significantly reducing the number of new HIV infections among high-risk populations. Incumbent will assess and increase the knowledge, desirability, accessibility, and adherence of PrEP among referred high-risk individuals.  
Digital Media Manager: This position is responsible for developing and coordinating the area HIV digital media presence through multiple platforms. Developing digital marketing strategies, creating social media content, collaborating with community partner organizations, and creating new ad campaigns to advance Ending the HIV Epidemic (EHE) in Palm Beach County.  Tracking data from digital campaigns to assist with EHE goals. 
Deputy Medical Director, HIV/STI/Viral Hepatitis/Harm Reduction – Nashville, TN 
This position will serve as the Statewide Deputy Medical Director in the HIV/STI/Viral Hepatitis section. The position has cross-cutting responsibility in all program areas with potential for promotion in succession plans. Primary responsibilities include leadership and oversight of cross-cutting programs related to End the Syndemic Tennessee to tackle HIV, sexually transmitted infections, viral hepatitis and substance use disorder in an integrated manner with an outward-facing, community-engaged process.  
Program Content and Training Specialist, Supporting Harm Reduction Programs (SHaRP) – University of Washington 
This position is part of a cooperative agreement award from the Centers for Disease Control and Prevention to provide technical assistance about monitoring and evaluation to syringe services programs (SSPs) as part of the National Harm Reduction Technical Assistance Center. One of the primary projects of this award is to provide technical assistance (TA) to SSPs for monitoring and evaluation activities. The University of Washington is working in collaboration with the CDC, SAMHSA, NASTAD, the National Harm Reduction Coalition, and other TA partners to provide a suite of technical assistance support to individual programs.  
Communicable Disease Epidemiologist – Cheyenne, Wyoming 
This position will serve as the Communicable Disease AIDS Drug Assistance Program (ADAP) Coordinator, Wyoming TB Controller, and Disease Intervention Specialist (DIS) for the Communicable Disease (CD) Treatment Program.  Assist in outbreak response to ensure the safety of Wyoming residents; by interviewing cases for exposure information, updating news outlets on the progress of outbreak control, analyzing exposure data utilizing epidemiological and statistical methods. 
Open Positions – New York State 
The New York State Department of Health, in partnership with Health Research, Inc, has various job openings, including some within the AIDS Institute. Please visit this link to learn about their current opportunities.  
---
News Bulletin
New York State lawmakers pass LGBTQ and HIV long-term care residents' bill of rights 
"New York State lawmakers this month approved legislation establishing a bill of rights for LGBTQ people and individuals living with HIV who live in long-term care facilities. The bill bars discrimination against potential residents based on actual or perceived sexual orientation, gender identity or expression, or HIV status. With the ongoing crisis of transphobic rhetoric and legislation around the country, the bill seeks to ensure the rights of transgender individuals living in these facilities, from using the correct names and pronouns to warning against any malpractice or disregard as a result of transphobic ideology." 
White House 'naloxone summit' omitting prominent advocates for lower costs 
"The invite list for the White House's upcoming "summit" on naloxone pricing and accessibility has some noteworthy omissions. Two of the most prominent organizations focused on providing cheaper overdose-reversal medications will be conspicuously absent from Tuesday's event: Harm Reduction Therapeutics, a nonprofit drug manufacturer currently seeking approval for a naloxone nasal spray, and Remedy Alliance, a group that distributes cheap naloxone to harm-reduction groups across the country." 
Biden Admin Implores States to Slow Medicaid Cuts After More Than 1M Enrollees Dropped 
"Too many Americans are losing Medicaid coverage because of red tape, and states should do more to make sure eligible people keep their health insurance, the Biden administration said Monday. More than a million Americans have lost coverage through the program for low-income and disabled Americans in the past several weeks, following the end of pandemic protections on April 1, according to the latest Medicaid renewal data from more than 20 states. After a three-year pause, most states have now resumed checking which Medicaid recipients remain eligible and dropping those who no longer qualify or don't complete required paperwork. About 4 in 5 people dropped so far either never returned the paperwork or omitted required documents, federal and state data show." 
Mandy Cohen, seen as next CDC director, would bring political chops to an agency lacking them 
"The Biden administration, seemingly having come to the conclusion it is time for a different approach in its selection of the CDC director, has chosen Cohen, a Yale-trained internal medicine physician with a masters in public health from Harvard who has held high-level health administration jobs at both the federal and state level. Cohen's fans suggest she has the political chops needed to lead the agency. And even people who don't know her well believe she brings to the job assets previous directors have lacked."