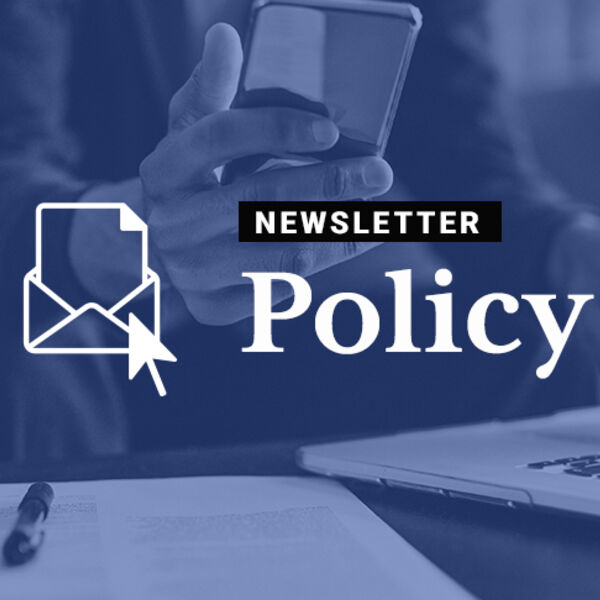 Policy Updates: Hill Happenings and Administration Activities
---
Hill Happenings 
Fiscal Year 2024 Appropriations & Debt Limit  
Lawmakers in the 118th Congress are already facing their first major fiscal battle on the national debt limit. On January 19, the Department of Treasury informed lawmakers that it implemented extraordinary measures to avert passing the debit limit, which could have catastrophic consequences for federal programs and the economy if Congress does not take bipartisan action to raise the debt limit and avoid defaulting on the national debt. Although raising the debt limit is typically a bipartisan priority, tensions are high due to the anticipated hardline approach that Republicans in the House of Representatives might take in order to extract some budgetary concessions from Democrats during negotiations, despite Senate Republican leaders vowing to avoid a debt default.
Republicans' effort to force in budget cuts via the debt limit fix foreshadows a contentious appropriations cycle for Fiscal Year 2024 (FY2024). Republicans in the House of Representatives passed a conservative House rules package, which implements a provision requiring any mandatory spending increase to be offset by an equal or greater cut in another program. House Republicans' restrictive spending framework will complicate spending talks, since the must-pass bipartisan spending bills must be reconciled with the proposal offered by the Democrat-controlled Senate, threatening the possibility of year-long continuing resolutions and government shutdowns.
NASTAD will continue to monitor the appropriations process and advocate for the highest funding level on behalf of HIV and hepatitis programs.  
---
Administration Activities
CDC, HRSA Encourage Providers to Implement Status Neutral Approaches for HIV 
On January 17, Centers for Disease Control and Prevention (CDC) and Health Resources and Services Administration (HRSA) HIV/AIDS Bureau (HAB) sent a letter to grantees encouraging public health partners to implement status neutral approaches to HIV care and prevention. Employing a status neutral approach and providing comprehensive care for all people, regardless of HIV status, can help reduce HIV stigma, prioritize health equity, and turn the tide on HIV-related disparities. CDC and HRSA highlight that implementing a status neutral framework does not require an overhaul of existing care, and support the use of braided funding to reduce barriers to implementation and extend the reach of status neutral services
---
Resources 
CDC MMWR:  
O'Neill Institute: Rapid Start Can Improve Individual and Public Health 
"The initiation of antiretroviral therapy (ART) as soon as possible after the diagnosis of HIV infection, known as Rapid Start, is critical to getting people with HIV from diagnosis to sustained viral suppression. In 2019, the Department of Health and Human Services updated its ART guidelines endorsing Rapid Start for newly diagnosed people with HIV, and those re-engaging in care." 
CDC Save the Date: Celebration of Life for Dawn Smith 
Date: February 8, 2023, 1:30 – 3:30 pm 
Dr. Dawn K. Smith was a nationally and internationally renowned, influential, prolific, and pioneering HIV researcher, epidemiologist, and public health professional. Her distinguished career of over 30 years at CDC resulted in accomplishments that significantly impacted the world's response to HIV. Please join us next month as we honor the life of our beloved colleague and friend. Dawn was DHP's own "Mother of PrEP." Call-in details to come
AIDS Journal: Needs for shelter or housing assistance among people with diagnosed HIV by jurisdiction—United States, 2015–2020 
"Nationally, 1 in 4 (27.7%) PWH had shelter or housing service needs. Among those who needed housing services, 2 in 5 (40.4%) did not receive them. Addressing housing service needs necessitates a multipronged approach at the provider, jurisdiction, and national level. Locally, jurisdictions should work with their partners to understand and address housing service needs among PWH. Nationally, distribution of HOPWA funding for housing services should be aligned according to local needs; the funding formula could be modified to improve access to housing services among PWH." 
HHS/CDC EHE Townhall: HHS Regions 8 & 10 Community Town Hall 
Date: Thursday, January 26, 10:00 – 11:30 am PT / 1:00 – 2:30 pm ET 
CDC is convening a number of community engagement events with community leaders and members to discuss community-driven solutions to advance HIV prevention, diagnosis, treatment, and outbreak response. The Division of HIV Prevention (DHP) is hosting regional town hall sessions to collaborate with the community to address barriers and maximize opportunities to reach our shared HIV prevention goals. 
HHS NOFO: HIV and Aging Challenges 
Deadline: January 31, 2023 
The U.S. Department of Health and Human Services (HHS) Office of the Assistant Secretary for Health (OASH) Office of Infectious Disease and HIV/AIDS Policy (OIDP) and the HHS Administration for Community Living (ACL) are thrilled to announce a partnership on two national prize competitions ($500,000 each) that focus on innovative efforts that help improve health outcomes for people aging with HIV and long-term survivors, particularly among racial and ethnic minority and LGBTQ+ populations, in either rural or urban areas. 
CDC NCHHSTP NOFO: PS-23-0009: Advancing Policy as a Public Health Intervention to Reduce Morbidity, Mortality, and Disparities in HIV, Viral Hepatitis, STDs, and Tuberculosis 
Deadline: February 1, 2023 
The Center for Disease Control and Prevention's (CDC) National Center for HIV, Viral Hepatitis, STD, and TB Prevention (NCHHSTP) is thrilled to announce a new funding opportunity. This two-component funding opportunity aims to strengthen the ability of leaders who make decisions in public health to identify and implement evidence-based policy interventions. The funding opportunity features two distinct components:
Leverage legal epidemiology methods to examine laws and policies over time and perform critical analyses to understand the effect of laws and policies on health and economic outcomes.  
Provide robust legal and policy technical assistance (TA) to support leaders who make decisions in public health as they navigate complex issues unique to their jurisdiction and proactively create publicly accessible TA tools and resources.  
CDC RFA: Public Health Crisis Response Cooperative Agreement 
Deadline: February 12, 2023 
The CDC is activating CDC-RFA-TP22-2201 Public Health Crisis Response Cooperative Agreement to support state and local public health mpox response efforts. CDC will award up to $16 million to select jurisdictions on the approved but unfunded (ABU) list for CDC-RFA-TP22-2201. Funding will be prioritized for jurisdictions reporting the highest numbers of cases during October 2022. Funding is intended to address urgent needs and to implement monkeypox response related activities including efforts to increase vaccine accessibility and uptake, case and cluster investigation, surveillance, testing, communication, education, and outreach. Additional information, including supplemental funding guidance is forthcoming. 
---
Job Postings 
Public Health Analyst, DHP – CDC
The Prevention Communication Branch, Division of HIV Prevention (DHP) at CDC is searching for a Team Lead, National Partnerships Team. We are seeking diverse and qualified candidates for this dynamic position. The team fosters strategic partnerships that amplify campaign messages and support the implementation of national HIV programs and initiatives that reach priority populations and health care professionals in key geographic areas. NPT oversees the Partnering and Communicating Together cooperative agreement and a range of other partnerships to support our Let's Stop HIV Together campaign and the Ending the HIV Epidemic initiative. Apply by January 30.
Hepatitis Program Manager – Raleigh, NC 
This position serves as the supervisor and manager of the Viral Hepatitis Program, overseeing all viral hepatitis B and C activities (prevention and health education, expanded testing, reportable disease surveillance, epidemiology, healthcare outreach, linkage to care, etc.); Responsible for risk-based hepatitis A response and infrastructure development; Supervise five centralized hepatitis staff and activities of locally placed staff working to link hepatitis C patients to healthcare. Serve as the lead hepatitis epidemiologist and subject matter expert responsible for surveillance, reporting and epidemiologic investigation, and subject matter expert on drug user health. Responsible for implementing comprehensive hepatitis C elimination plan in partnership with others. 
Manage grants and associated budgets and apply for funding opportunities. Apply by January 26. 
Manager, Legal Research – NASTAD 
The Manager, Legal Research provides legal and policy research and analysis as part of NASTAD's technical assistance and capacity building assistance work.  This position will implement key activities under NASTAD's health systems legal and policy portfolio, including conducting public health legal research, synthesizing complex policy material, and supporting development of webinars, peer learning opportunities, and deliverables to support health department efforts to navigate federal, state, and local laws and policies.
Boulder County AIDS Project – Boulder, Colorado 
Prevention Coordinator: The primary duties of this position are to provide HIV/HCV/STI testing, syringe access, and street outreach services, as well as outreach education at community partner locations and events. This position provides these services in collaboration with other Prevention Department staff and key community partners, as well as enters data into databases and completes monthly reports. This position reports directly to the Prevention Director, and attends staff, department, and community partner meetings. 
Bilingual Medical and Housing Case Manager: The focus of this position will be to ensure efficient delivery of quality medical case management services to clients who are living with HIV through assessment, planning, service procurement, delivery, coordination, and monitoring, ensuring all services are offered in an inclusive, respectful and professional manner. The Bilingual Medical and Housing Case Manager reports directly to the Care Services Director and is required to attend All Staff meetings, Care Services team meetings, Clinical Consultations, Finance Committee meetings and to keep all client data up to date for reporting purposes. Because this position manages confidential information for clients, the Bilingual Medical and Housing Case Manager must demonstrate the highest degree of professionalism. 
Florida Department of Health – Palm Beach County 
To apply, please send resumes to Robert Scott, Robert.Scott@flhealth.gov. These are all $20/hr, in-office roles with possible remote flexibility. 
EHE Navigator: This position's work will be actively guided by the Palm Beach County Ending the Epidemic (EHE) Plan, including the four pillars and their goals, objectives, strategies and activities. Incumbent will assist in the planning, coordination, implementation and monitoring of the goals, objectives, strategies and activities set forth in the Palm Beach County Ending the Epidemic (EHE) Plan, in collaboration with other Area 9 EHE funding recipients, to include, but not limited to: Palm Beach County, FoundCare, and Florida Community Health Centers.
PrEP Navigator: This position's work will be actively guided by the Palm Beach County Ending the Epidemic (EHE) Plan, including the four pillars and their goals, objectives, strategies and activities. Incumbent will link high-risk negative persons to available Pre-Exposure Prophylaxis (PrEP) and non-occupational Post Exposure Prophylaxis (nPEP) services with the goal of significantly reducing the number of new HIV infections among high-risk populations. Incumbent will assess and increase the knowledge, desirability, accessibility, and adherence of PrEP among referred high-risk individuals.
Digital Media Manager: This position is responsible for developing and coordinating the area HIV digital media presence through multiple platforms. Developing digital marketing strategies, creating social media content, collaborating with community partner organizations, and creating new ad campaigns to advance Ending the HIV Epidemic (EHE) in Palm Beach County. Tracking data from digital campaigns to assist with EHE goals. 
Executive Director, Hepatitis Education Project (HEP) – Seattle, WA (partially remote) 
Reporting to a Board of Directors and in partnership with a staff of 19, the ED will lead the evolution of HEP as the organization reviews its impact to date and plans for the future in the fields of viral hepatitis and drug user health both locally and nationally.  
Deputy Medical Director, HIV/STI/Viral Hepatitis/Harm Reduction – Nashville, TN 
This position will serve as the Statewide Deputy Medical Director in the HIV/STI/Viral Hepatitis section. The position has cross-cutting responsibility in all program areas with potential for promotion in succession plans. Primary responsibilities include leadership and oversight of cross-cutting programs related to End the Syndemic Tennessee to tackle HIV, sexually transmitted infections, viral hepatitis and substance use disorder in an integrated manner with an outward-facing, community-engaged process.
Program Content and Training Specialist, Supporting Harm Reduction Programs (SHaRP) – University of Washington 
This position is part of a cooperative agreement award from the Centers for Disease Control and Prevention to provide technical assistance about monitoring and evaluation to syringe services programs (SSPs) as part of the National Harm Reduction Technical Assistance Center. One of the primary projects of this award is to provide technical assistance (TA) to SSPs for monitoring and evaluation activities. The University of Washington is working in collaboration with the CDC, SAMHSA, NASTAD, the National Harm Reduction Coalition, and other TA partners to provide a suite of technical assistance support to individual programs.  
Communicable Disease Epidemiologist – Cheyenne, Wyoming 
This position will serve as the Communicable Disease AIDS Drug Assistance Program (ADAP) Coordinator, Wyoming TB Controller, and Disease Intervention Specialist (DIS) for the Communicable Disease (CD) Treatment Program.  Assist in outbreak response to ensure the safety of Wyoming residents; by interviewing cases for exposure information, updating news outlets on the progress of outbreak control, analyzing exposure data utilizing epidemiological and statistical methods.
Assistant Commissioner - Health Department – Baltimore, Maryland 
The Baltimore City Health Department (BCHD) is seeking an Assistant Commissioner to lead the Bureau of Communicable Disease and Outbreak Control. This senior management position will lead a talented team responsible for communicable disease investigation, outbreak control and emergency preparedness programming. The incumbent will also be responsible for developing and implementing agency wide policies related to health department readiness to respond to public health emergencies. The incumbent will report directly to the Deputy Commissioner for BCHD's Division of Population Health & Disease Prevention.   
Open Positions – New York State 
The New York State Department of Health, in partnership with Health Research, Inc, has various job openings, including some within the AIDS Institute. Please visit this link to learn about their current opportunities. 
---
News Bulletin 
Tennessee to cut off funding to nonprofits for HIV prevention, testing, treatment 
"The state of Tennessee is cutting funding for HIV prevention, detection and treatment programs that are not affiliated with metro health departments as of May 31. Organizations across the state were formally notified Wednesday. In an email obtained by The Commercial Appeal, United Way of Greater Nashville ― which administers the funds given to the Tennessee Department of Health by the Centers for Disease Control and Prevention ― told partner organizations there would be a change in the state's HIV prevention program." 
Buprenorphine deaths did not increase despite wider access during pandemic, study shows 
"The onset of the Covid-19 pandemic led to a sea change in addiction medicine — in particular, increased access to buprenorphine, a drug commonly used to treat opioid use disorder. Now, new data show that despite the medication's wider availability, deaths involving buprenorphine still constitute a small fraction of overall drug mortality. 
The research, published Friday in JAMA Network Open, offers new insight into the impact of emergency policies enacted in early 2020 to slow Covid's spread while preserving access to addiction care. The changes allowed doctors to issue new buprenorphine prescriptions via telemedicine, making the medication far more accessible for patients in rural areas or without access to transportation." 
Another HIV Vaccine Fails in Large Trial 
"Another large trial has been discontinued after Johnson & Johnson's experimental HIV vaccine, which uses the same technology as the company's COVID-19 vaccine, was shown to be safe but did not provide protection against HIV acquisition. [The January 18 announcement] by the National Institutes of Health adds to a long string of disappointments in HIV vaccine research." 
U.S. investigating first cases of "concerning" new drug-resistant gonorrhea strain 
"Health authorities in Massachusetts announced Thursday they have identified two cases of a new strain of gonorrhea that appears to have developed resistance to a broad swath of antibiotic treatments. Both patients got better after getting injections of ceftriaxone, the main drug currently recommended to treat cases of the sexually transmitted infection. But state health officials warn the strain that infected them shows signs of at least some resistance to almost every drug to treat the bacteria, the first of its kind confirmed in the U.S. to date."