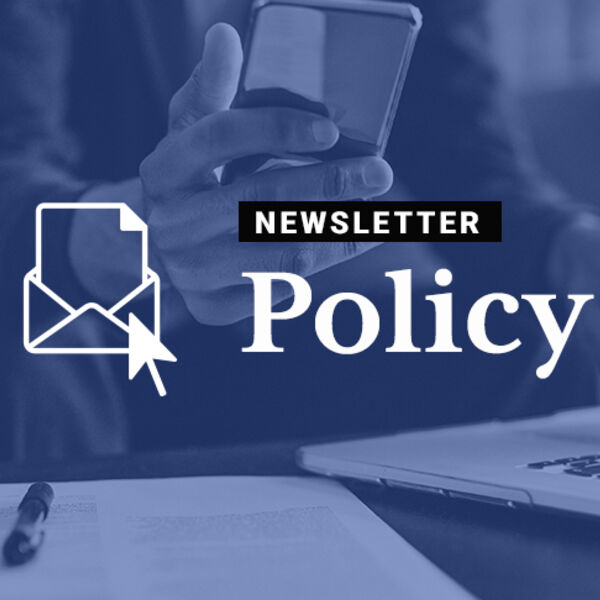 Policy Updates: Hill Happenings and Administration Activities
---
Hill Happenings 
Fiscal Year 2024 Appropriations 
With a contentious Speaker of the House vote settled, Republicans in the House of Representatives moved quickly to start advancing their legislative agenda, including passing priority issue bills, establishing a conservative House rules package, and naming committee leadership and member assignments. The rules package, which sets directives and parameters for the lower chamber's processes and operations, implements a provision requiring any mandatory spending increase to be offset by an equal or greater cut in another program. House Republicans' restrictive spending framework will complicate spending talks during Fiscal Year 2024 (FY2024) appropriations cycle, since the must-pass bipartisan spending bills must be reconciled with the proposal offered by the Democrat-controlled Senate, threatening the possibility of year-long continuing resolutions and government shutdowns.
NASTAD will continue to monitor the appropriations process and advocate for the highest funding level on behalf of HIV and hepatitis programs.
---
Resources 
HHS NOFO: HIV and Aging Challenges 
Applications Due: January 31, 2023 
The U.S. Department of Health and Human Services (HHS) Office of the Assistant Secretary for Health (OASH) Office of Infectious Disease and HIV/AIDS Policy (OIDP) and the HHS Administration for Community Living (ACL) are thrilled to announce a partnership on two national prize competitions ($500,000 each) that focus on innovative efforts that help improve health outcomes for people aging with HIV and long-term survivors, particularly among racial and ethnic minority and LGBTQ+ populations, in either rural or urban areas. 
CDC MMWR: QuickStats: Percentage* of Adults Aged ≥18 Years Who Have Ever Had Hepatitis,† by Age Group and Sex — National Health Interview Survey,§ United States, 2021 
"In 2021, 1.6% of adults aged ≥18 years reported having ever had hepatitis. The prevalence of hepatitis was lowest among adults aged 18–44 years (0.6%) and highest among adults aged ≥65 years (2.7%). Prevalence increased with age for both men and women." 
O'Neill Institute Quick Take: The Minority AIDS Initiative (MAI) is an Essential Tool for Fighting HIV 
The O'Neill Institute for National and Global Health Law at Georgetown University released this fact sheet providing a general overview of the Minority AIDS Initiative (MAI) and the Minority HIV/AIDS Fund, emphasizing the need to reaffirm our commitment to the MAI, including increasing funding and transparency.
University of Washington IDEA Program: Hepatitis B Online Curricula 
The University of Washington (UW) Infectious Diseases Education & Assessment (IDEA) program recently launched the second edition of the free Hepatitis B Online curricula which includes six updated lessons on hepatitis B virus epidemiology, immunization, initial treatment regimen, perinatal transmission, reactivation, and hepatocellular carcinoma screening. UW will launch four additional new lessons in early 2023. Healthcare providers and others can earn free CME, CNE and CE. 
HHS/CDC EHE Townhall: HHS Regions 8 & 10 Community Town Hall 
Date: Thursday, January 26 10 – 11:30 am PT / 1- 2:30 pm ET 
CDC is convening a number of community engagement events with community leaders and members to discuss community-driven solutions to advance HIV prevention, diagnosis, treatment, and outbreak response. The Division of HIV Prevention (DHP) is hosting regional town hall sessions to collaborate with the community to address barriers and maximize opportunities to reach our shared HIV prevention goals.
NASTAD RFP: Strengthening Syringe Services Programs (SSP) through Direct Program Funding 
Deadline: January 20, 2023, at 11:59 PM EST 
NASTAD and project partners, VOCAL-NY and University of Washington (UW), are excited to announce a CDC-supported funding opportunity: Strengthening Syringe Services Programs (SSP) through Direct Program Funding. This five-year project aims to strengthen the capacity of SSPs through direct program funding, provided through NASTAD, to continue serving as critically essential access points for core syringe and safer drug use supplies, overdose prevention information and materials, and a range of services for PWUDs such as adult vaccination services, HIV and viral hepatitis testing and linkage to care services, and referral and navigation efforts. Click here to view the RFP TA webinar recording. 
CDC NCHHSTP NOFO: PS-23-0009: Advancing Policy as a Public Health Intervention to Reduce Morbidity, Mortality, and Disparities in HIV, Viral Hepatitis, STDs, and Tuberculosis 
Deadline: February 1, 2023 
The Center for Disease Control and Prevention's (CDC) National Center for HIV, Viral Hepatitis, STD, and TB Prevention (NCHHSTP) is thrilled to announce a new funding opportunity. This two-component funding opportunity aims to strengthen the ability of leaders who make decisions in public health to identify and implement evidence-based policy interventions. The funding opportunity features two distinct components:
Leverage legal epidemiology methods to examine laws and policies over time and perform critical analyses to understand the effect of laws and policies on health and economic outcomes.  
Provide robust legal and policy technical assistance (TA) to support leaders who make decisions in public health as they navigate complex issues unique to their jurisdiction and proactively create publicly accessible TA tools and resources.  
CDC RFA: Public Health Crisis Response Cooperative Agreement 
Deadline: February 12, 2023 
The CDC is activating CDC-RFA-TP22-2201 Public Health Crisis Response Cooperative Agreement to support state and local public health mpox response efforts. CDC will award up to $16 million to select jurisdictions on the approved but unfunded (ABU) list for CDC-RFA-TP22-2201. Funding will be prioritized for jurisdictions reporting the highest numbers of cases during October 2022. Funding is intended to address urgent needs and to implement monkeypox response related activities including efforts to increase vaccine accessibility and uptake, case and cluster investigation, surveillance, testing, communication, education, and outreach. Additional information, including supplemental funding guidance is forthcoming. 
---
Job Postings 
Hepatitis Program Manager – Raleigh, NC 
This position serves as the supervisor and manager of the Viral Hepatitis Program, overseeing all viral hepatitis B and C activities (prevention and health education, expanded testing, reportable disease surveillance, epidemiology, healthcare outreach, linkage to care, etc.); Responsible for risk-based hepatitis A response and infrastructure development; Supervise five centralized hepatitis staff and activities of locally placed staff working to link hepatitis C patients to healthcare. Serve as the lead hepatitis epidemiologist and subject matter expert responsible for surveillance, reporting and epidemiologic investigation, and subject matter expert on drug user health. Responsible for implementing comprehensive hepatitis C elimination plan in partnership with others. 
Manage grants and associated budgets and apply for funding opportunities. Apply by January 26.
HIV Prevention and Syndemics Specialist – Salt Lake City, UT 
You will be a part of the HIV/STD Elimination, Analysis, Response and Treatment (HEART) Program to implement HIV prevention activities statewide. You will work closely with Local Health Departments (LHDs) and Community Based Organizations (CBOs)  to not just concentrate on HIV itself, but the syndemics that lead to new HIV infections (STDs, Hepatitis C, substance use, etc). As our newest team member, your main focus area in HIV prevention would be with Pre Exposure Prophylaxis (PrEP) and expanding its reach around the state of Utah with medical organizations, CBOs and local health departments.  You will be a part of Utah's "Getting to Zero" plan, seeking to eliminate new HIV infections, HIV-related deaths and HIV-related stigma. Apply by January 17.
Manager, Legal Research – NASTAD 
The Manager, Legal Research provides legal and policy research and analysis as part of NASTAD's technical assistance and capacity building assistance work.  This position will implement key activities under NASTAD's health systems legal and policy portfolio, including conducting public health legal research, synthesizing complex policy material, and supporting development of webinars, peer learning opportunities, and deliverables to support health department efforts to navigate federal, state, and local laws and policies.
Baltimore City Health Department
Boulder County AIDS Project – Boulder, Colorado 
Prevention Coordinator: The primary duties of this position are to provide HIV/HCV/STI testing, syringe access, and street outreach services, as well as outreach education at community partner locations and events. This position provides these services in collaboration with other Prevention Department staff and key community partners, as well as enters data into databases and completes monthly reports. This position reports directly to the Prevention Director, and attends staff, department, and community partner meetings. 
Bilingual Medical and Housing Case Manager: The focus of this position will be to ensure efficient delivery of quality medical case management services to clients who are living with HIV through assessment, planning, service procurement, delivery, coordination, and monitoring, ensuring all services are offered in an inclusive, respectful and professional manner. The Bilingual Medical and Housing Case Manager reports directly to the Care Services Director and is required to attend All Staff meetings, Care Services team meetings, Clinical Consultations, Finance Committee meetings and to keep all client data up to date for reporting purposes. Because this position manages confidential information for clients, the Bilingual Medical and Housing Case Manager must demonstrate the highest degree of professionalism.
Florida Department of Health – Palm Beach County 
To apply, please send resumes to Robert Scott, Robert.Scott@flhealth.gov. These are all $20/hr, in-office roles with possible remote flexibility. 
EHE Navigator: This position's work will be actively guided by the Palm Beach County Ending the Epidemic (EHE) Plan, including the four pillars and their goals, objectives, strategies and activities. Incumbent will assist in the planning, coordination, implementation and monitoring of the goals, objectives, strategies and activities set forth in the Palm Beach County Ending the Epidemic (EHE) Plan, in collaboration with other Area 9 EHE funding recipients, to include, but not limited to: Palm Beach County, FoundCare, and Florida Community Health Centers.
PrEP Navigator: This position's work will be actively guided by the Palm Beach County Ending the Epidemic (EHE) Plan, including the four pillars and their goals, objectives, strategies and activities. Incumbent will link high-risk negative persons to available Pre-Exposure Prophylaxis (PrEP) and non-occupational Post Exposure Prophylaxis (nPEP) services with the goal of significantly reducing the number of new HIV infections among high-risk populations. Incumbent will assess and increase the knowledge, desirability, accessibility, and adherence of PrEP among referred high-risk individuals.
Digital Media Manager: This position is responsible for developing and coordinating the area HIV digital media presence through multiple platforms. Developing digital marketing strategies, creating social media content, collaborating with community partner organizations, and creating new ad campaigns to advance Ending the HIV Epidemic (EHE) in Palm Beach County. Tracking data from digital campaigns to assist with EHE goals. 
Executive Director, Hepatitis Education Project (HEP) – Seattle, WA (partially remote) 
Reporting to a Board of Directors and in partnership with a staff of 19, the ED will lead the evolution of HEP as the organization reviews its impact to date and plans for the future in the fields of viral hepatitis and drug user health both locally and nationally.  
Deputy Medical Director, HIV/STI/Viral Hepatitis/Harm Reduction – Nashville, TN 
This position will serve as the Statewide Deputy Medical Director in the HIV/STI/Viral Hepatitis section. The position has cross-cutting responsibility in all program areas with potential for promotion in succession plans. Primary responsibilities include leadership and oversight of cross-cutting programs related to End the Syndemic Tennessee to tackle HIV, sexually transmitted infections, viral hepatitis and substance use disorder in an integrated manner with an outward-facing, community-engaged process.
Program Content and Training Specialist, Supporting Harm Reduction Programs (SHaRP) – University of Washington 
This position is part of a cooperative agreement award from the Centers for Disease Control and Prevention to provide technical assistance about monitoring and evaluation to syringe services programs (SSPs) as part of the National Harm Reduction Technical Assistance Center. One of the primary projects of this award is to provide technical assistance (TA) to SSPs for monitoring and evaluation activities. The University of Washington is working in collaboration with the CDC, SAMHSA, NASTAD, the National Harm Reduction Coalition, and other TA partners to provide a suite of technical assistance support to individual programs.  
Communicable Disease Epidemiologist – Cheyenne, Wyoming 
This position will serve as the Communicable Disease AIDS Drug Assistance Program (ADAP) Coordinator, Wyoming TB Controller, and Disease Intervention Specialist (DIS) for the Communicable Disease (CD) Treatment Program.  Assist in outbreak response to ensure the safety of Wyoming residents; by interviewing cases for exposure information, updating news outlets on the progress of outbreak control, analyzing exposure data utilizing epidemiological and statistical methods.
Assistant Commissioner - Health Department – Baltimore, Maryland 
The Baltimore City Health Department (BCHD) is seeking an Assistant Commissioner to lead the Bureau of Communicable Disease and Outbreak Control. This senior management position will lead a talented team responsible for communicable disease investigation, outbreak control and emergency preparedness programming. The incumbent will also be responsible for developing and implementing agency-wide policies related to health department readiness to respond to public health emergencies. The incumbent will report directly to the Deputy Commissioner for BCHD's Division of Population Health & Disease Prevention.   
Open Positions – New York State 
The New York State Department of Health, in partnership with Health Research, Inc, has various job openings, including some within the AIDS Institute. Please visit this link to learn about their current opportunities.
---
News Bulletin 
Officials in Nebraska, South Dakota, Oklahoma begin to probe prisons' hepatitis C treatment efforts 
"Members of Congress, state legislators, regulators, and legal advocates are calling on prisons to explain their poor hepatitis C treatment rates, after a STAT investigation revealing that more than 1,000 people had died from complications of the curable disease. In South Dakota and Oklahoma, lawmakers have written to their respective departments of corrections about STAT's reporting. In Nebraska, the state's inspector general of corrections requested that the prison explain a policy, obtained by STAT, requiring that incarcerated people sign a consent form that misrepresents the benefits of available hepatitis C treatments. Lawmakers in other states are pledging broader probes into the issue, too. In Congress, key lawmakers are pledging to work with the Biden administration to find a solution to the nationwide problem. And the White House is rallying support for a $10 billion national plan to eliminate the virus in the United States." 
Biden team eyes end of Covid emergency declaration and shift in Covid team 
"When the Biden administration renews the Covid public health emergency this week, it will mark the 11th time since the coronavirus arrived that the government declared its presence a national crisis. It may also be the last. Senior Biden officials are targeting an end to the emergency designation for Covid as soon as the spring, after debating doing so last summer and taking a pass, three people with knowledge of the matter told POLITICO. Should they do so, such a move would represent a major pivot point in the country's battle with the pandemic." 
Transgender youth health care bans have a new target: adults 
"Lawmakers in at least three states this year have filed legislation meant to restrict access to gender-affirming health care for individuals as old as 26, an escalation of a battle waged nationwide last year over whether minors should be able to access certain prescription medications and procedures. Bills filed this year in Oklahoma, South Carolina and Virginia aim to bar state health care providers from recommending or administering treatments like puberty blockers, hormones and gender-affirming surgeries to patients younger than 21, signaling an aggravation in the fight over transgender health care."