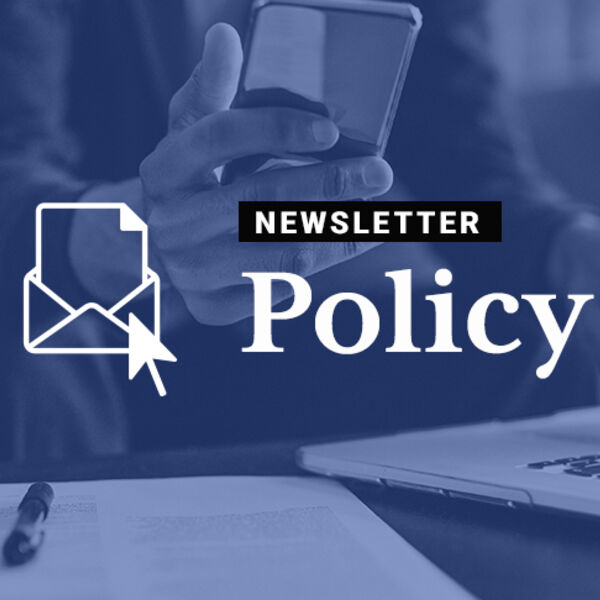 Policy Updates: Hill Happenings and Administration Activities
---
Hill Happenings
Fiscal Year 2024 Appropriations  
Lawmakers are entrenched in major political battles over federal spending in the 118th Congress, including resolving the national debt limit crisis and issuing Fiscal Year 2024 (FY2024) appropriations bills. On January 19, the Department of Treasury informed lawmakers that it implemented extraordinary measures to avert passing the debit limit, which could have catastrophic consequences for federal programs and the economy if Congress does not take bipartisan action to raise the debt limit and avoid defaulting on the national debt. Although raising the debt limit is typically a bipartisan priority, Republicans in the House of Representatives might leverage the opportunity to extract some budgetary concessions from Democrats during negotiations, despite Senate Republican leaders vowing to avoid a debt default.
The results of the debt ceiling negotiations may have significant implications for FY2024 spending, including mandatory spending caps and other limitations. As a result, appropriations discussions are on hold until the debt limit crisis is resolved, which could take until June. Despite the delay, the Biden Administration announced that it will release its Executive Budget Request to Congress on March 9. The Executive Budget is a non-binding budget recommendation that anchors spending discussions in Congress by providing a starting point for spending level allocations and highlighting policy priorities. NASTAD will continue to monitor the appropriations process and advocate for the highest funding level on behalf of HIV and hepatitis programs.  
---
Administration Activities
Biden Administration Announces Unwinding of COVID-19 Public Health Emergency 
On January 30, the Biden Administration announced that it would begin unwinding the COVID-19 national emergency and the related public health emergency (PHE), with an end date of May 11. The COVID-19 national emergency was issued on March 13, 2020, and renewed for the final time on February 2, 2023. The COVID-19 PHE was declared on January 31, 2020, and was periodically renewed in light of the ongoing global spread of COVID-19. The wind-down period aligns with the Biden Administration's previous commitment to give at least 60 days' notice prior to termination of the PHE. The Administration highlighted the importance of gradually unwinding the flexibilities in health spending and coverage afforded by the PHE in order to ensure that patients do not unpredictably lose access to care.
NASTAD Submits Public Comment Supporting Biden Administration's Move to Strengthen ACA Marketplace Plans 
On January 30, NASTAD joined a coalition of 70 organizations and signed onto comments on the US Department of Health and Human Services (HHS) Notice of Benefits and Payment Parameters for 2024 proposed rule, a yearly rule through which HHS sets standards for qualified health plans offered through federally-facilitated health insurance marketplaces. The coalition applauded the Administration for reinstituting standardized options on exchanges that utilize copays, rather than co-insurance, for prescription drugs, which will reduce the significant cost burden associated with certain prescription drugs. The coalition urged the Administration to require plan issuers and PBMs to continue copay accumulator adjustment programs and prohibit health plans from saddling patients with cost-sharing obligations for "non-essential" drugs or drugs that were removed from formularies. Additionally, the advocates called on the Administration to enforce regulations that prevent discriminatory plan design, especially for insurers and PBMs that discriminate against beneficiaries with chronic health conditions.
Additionally, NASTAD joined 49 organizations and signed onto comments responding to a Centers for Medicare and Medicaid Services (CMS) request for information regarding the Essential Health Benefits (EHB) under the Patient Protection and Affordable Care Act (ACA). The coalition highlighted areas for improvement in EHB regulations governing prescription drugs, including greater enforcement against insurers that violate EHB requirements, such as minimum coverage requirements, cost-sharing definitions and limits, and barriers against discriminatory plan design.
HHS Updates HIV Clinical Guidelines for People Living with HIV who Breastfeed Infants 
On February 1, HHS updated HIV clinical practice guidelines for the use of antiretroviral drugs during pregnancy to include a new section that incorporates breastfeeding options for people with HIV. The updated 2023 guidelines integrate community input and recent evidence-based data which show that restricting breastfeeding may increase the inequities that already exist for many women with HIV and the maternal and infant health benefits from breastfeeding for PLWH on antiretroviral therapy with sustained undetectable viral load. Due to the potential of HIV transmission in human milk, previous clinical guidelines in the United States did not recommend breastfeeding for individuals with HIV in the United States. 
CDC Updates Black HIV/AIDS Awareness Day Toolkit 
National Black HIV/AIDS Awareness Day (NBHAAD) is observed annually on February 7. On this day, we acknowledge the progress made in HIV prevention and care among Black or African American people while recognizing the work still needed to address the impact of HIV on these communities. Click here to read a Dear Colleague Letter from the directors of the Centers for Disease Control and Prevention (CDC) National Center for HIV, Viral Hepatitis, STD, and TB Prevention and Division of HIV prevention. Additionally, use the Let's Stop HIV Together (Together) campaign National Black HIV/AIDS Awareness Day toolkit, which includes new, ready-to-use social media posts and graphics in both English and Spanish, as well as an Instagram carousel. These posts can be shared leading up to and on NBHAAD. Use this toolkit to share messages about HIV stigma, testing, prevention, and treatment, along with the hashtags #NBHAAD and #StopHIVTogther. Additionally, join CDC for a NBHAAD webinar on Tuesday, February 7 at 3 pm ET.
CDC Releases New National HIV Behavioral Surveillance (NHBS) Report 
On January 30, CDC released "HIV Infection, Risk, Prevention, and Testing Behaviors Among Men Who Have Sex with Men," a special report from the 2021 National HIV Behavioral Surveillance (NHBS) system. This report provides descriptive, unweighted data that can be used to describe HIV infection among men who have sex with men (MSM). It also provides the percentages of MSM reporting specific behavioral risk factors, HIV testing, and participation in prevention programs. The NHBS system is useful for assessing behavioral risk factors and the use of prevention efforts over time. It also assists in identifying new HIV prevention opportunities for MSM and other key populations. 
Medicare Invites Public Comment as it Considers National Coverage Determination for HIV PrEP 
On January 12, Centers for Medicare and Medicaid Services (CMS) announced that it initiated a national coverage analysis for Medicare coverage of HIV pre-exposure prophylaxis (PrEP) to inform a National Coverage Determination (NCD) by the agency. A NCD for PrEP would allow Medicare to reimburse providers for prescribing PrEP, increasing patient access to affordable or no-cost PrEP nationwide. CMS is accepting public comment on the proposal through February 11, 2023. CMS is expected to conclude the analysis and issue a proposed decision in the summer of 2023. NASTAD will submit comments in coalition with the Federal AIDS Policy Partnership (FAPP) Health Care Access Working Group (HCAWG). 
---
Resources
CDC DHP NOFOs:  
Enhancing Telehealth Strategies to Support Retention and Adherence to Antiretroviral Therapy (ART) (PS23-002)

Letter of intent due February 17, 2023 
Applications due March 17, 2023 
Estimated start date: September 1, 2023 

Exploring Preferences for Long-Acting Antiretroviral Therapies (LA-ART) in a Community-Based Sample of Priority Populations Living with HIV Who are Disproportionately Affected (PS23-003)

Letter of intent due February 17, 2023 
Applications due March 17, 2023 
Estimated start date: September 1, 2023 
CDC Science Brief: Detection and Transmission of Mpox Virus 
These updates incorporate findings from a growing body of scientific evidence that now show some people can spread mpox virus to others from one to four days before symptoms of mpox appear. This is known as presymptomatic spread. There is currently no evidence showing that people who never develop symptoms have spread mpox virus to someone else.
CDC Event: Celebration of Life for Dawn Smith 
Date: February 8, 2023 from 1:30 – 3:30 pm 
Dr. Dawn K. Smith was a nationally and internationally renowned, influential, prolific, and pioneering HIV researcher, epidemiologist, and public health professional. Her distinguished career of over 30 years at CDC resulted in accomplishments that significantly impacted the world's response to HIV. Please join us on Wednesday, February 8, 2023 (1:30 pm to 3:30 pm) as we honor the life of our beloved colleague and friend. Dawn was our own "Mother of PrEP." 
CDC RFA: Public Health Crisis Response Cooperative Agreement 
Deadline: February 12, 2023 
The CDC is activating CDC-RFA-TP22-2201 Public Health Crisis Response Cooperative Agreement to support state and local public health mpox response efforts. CDC will award up to $16 million to select jurisdictions on the approved but unfunded (ABU) list for CDC-RFA-TP22-2201. Funding will be prioritized for jurisdictions reporting the highest numbers of cases during October 2022. Funding is intended to address urgent needs and to implement monkeypox response related activities including efforts to increase vaccine accessibility and uptake, case and cluster investigation, surveillance, testing, communication, education, and outreach. Additional information, including supplemental funding guidance is forthcoming. 
CDC Save the Date: Celebration of Life for Janet Cleveland 
Date: February 15, 1:00 – 3:00 pm 
Janet C. Cleveland was a nationally recognized, influential, and trailblazing HIV prevention and public health leader. A staunch advocate of equity for underserved and underrepresented populations, Janet has left a legacy of high-impact HIV prevention programs that serve the communities she loved. Please join us next month as we honor the life of our beloved colleague and friend. This celebration of life will be a hybrid event. Location and call-in information will follow soon. 
APHL Conference: ID Lab Con 
Date: March 13 – 15, 2023 
Location: Atlanta, Georgia 
​​​Register today for ID Lab Con, a new APHL conference focused on the latest developments in detecti​​on and characterization of infectious diseases of public health concern! Join public health laboratory professionals, clinical laboratorians, epidemiologists, leading researchers and diagnostics manufacturers to share the latest findings, technologies and developments and to generate solutions to infectious disease challenges. 
---
Job Postings
Division of Viral Hepatitis, National Center for HIV, Viral Hepatitis, STD, and TB Prevention, CDC 
Chief, Prevention Branch, DVH:

NCHHSTP/DVH is recruiting for an exceptional candidate for the position of Prevention Branch Chief, Division of Viral Hepatitis (DVH), National Center for HIV, Viral Hepatitis, STD, and TB Prevention (NCHHSTP). The incumbent will serve as Chief in the Prevention Branch, Division of Viral Hepatitis, and will participate in the division's senior management team responsible for directing the development, administration, implementation, and evaluation of national programs to prevent and control viral hepatitis. The incumbent provides advice to the Division Director on medical and scientific policy and practices associated with program, education, and research activities in support of viral hepatitis prevention and control, including harm reduction. 

Epidemiologist, Epidemiology and Surveillance Branch (ESB), DVH 

ESB is responsible for overseeing the national viral hepatitis surveillance system and providing technical assistance to state and local health departments for case surveillance and outbreak detection / response. The Laboratory Branch has been successfully conducting molecular investigation to support outbreak responses utilizing Global Hepatitis Outbreak Surveillance Technology (GHOST). The incumbent is expected to lead new activities in ESB, in collaboration with the Molecular Epidemiology and Bioinformatics Team, Laboratory Branch, to integrate molecular and epidemiological data to identify viral hepatitis transmission clusters for public health action. Apply by February 14. 
Public Health Analyst, DHP – CDC
The Prevention Communication Branch, Division of HIV Prevention (DHP) at CDC is searching for a Team Lead, National Partnerships Team. We are seeking diverse and qualified candidates for this dynamic position. The team fosters strategic partnerships that amplify campaign messages and support the implementation of national HIV programs and initiatives that reach priority populations and health care professionals in key geographic areas. NPT oversees the Partnering and Communicating Together cooperative agreement and a range of other partnerships to support our Let's Stop HIV Together campaign and the Ending the HIV Epidemic initiative. Apply by January 30.
Manager, Legal Research – NASTAD 
The Manager, Legal Research provides legal and policy research and analysis as part of NASTAD's technical assistance and capacity building assistance work.  This position will implement key activities under NASTAD's health systems legal and policy portfolio, including conducting public health legal research, synthesizing complex policy material, and supporting development of webinars, peer learning opportunities, and deliverables to support health department efforts to navigate federal, state, and local laws and policies.
Boulder County AIDS Project – Boulder, Colorado 
Prevention Coordinator: The primary duties of this position are to provide HIV/HCV/STI testing, syringe access, and street outreach services, as well as outreach education at community partner locations and events. This position provides these services in collaboration with other Prevention Department staff and key community partners, as well as enters data into databases and completes monthly reports. This position reports directly to the Prevention Director, and attends staff, department, and community partner meetings. 
Bilingual Medical and Housing Case Manager: The focus of this position will be to ensure efficient delivery of quality medical case management services to clients who are living with HIV through assessment, planning, service procurement, delivery, coordination, and monitoring, ensuring all services are offered in an inclusive, respectful and professional manner. The Bilingual Medical and Housing Case Manager reports directly to the Care Services Director and is required to attend All Staff meetings, Care Services team meetings, Clinical Consultations, Finance Committee meetings and to keep all client data up to date for reporting purposes. Because this position manages confidential information for clients, the Bilingual Medical and Housing Case Manager must demonstrate the highest degree of professionalism. 
Florida Department of Health – Palm Beach County 
To apply, please send resumes to Robert Scott, Robert.Scott@flhealth.gov. These are all $20/hr, in-office roles with possible remote flexibility. 
EHE Navigator: This position's work will be actively guided by the Palm Beach County Ending the Epidemic (EHE) Plan, including the four pillars and their goals, objectives, strategies and activities. Incumbent will assist in the planning, coordination, implementation and monitoring of the goals, objectives, strategies and activities set forth in the Palm Beach County Ending the Epidemic (EHE) Plan, in collaboration with other Area 9 EHE funding recipients, to include, but not limited to: Palm Beach County, FoundCare, and Florida Community Health Centers.
PrEP Navigator: This position's work will be actively guided by the Palm Beach County Ending the Epidemic (EHE) Plan, including the four pillars and their goals, objectives, strategies and activities. Incumbent will link high-risk negative persons to available Pre-Exposure Prophylaxis (PrEP) and non-occupational Post Exposure Prophylaxis (nPEP) services with the goal of significantly reducing the number of new HIV infections among high-risk populations. Incumbent will assess and increase the knowledge, desirability, accessibility, and adherence of PrEP among referred high-risk individuals.
Digital Media Manager: This position is responsible for developing and coordinating the area HIV digital media presence through multiple platforms. Developing digital marketing strategies, creating social media content, collaborating with community partner organizations, and creating new ad campaigns to advance Ending the HIV Epidemic (EHE) in Palm Beach County. Tracking data from digital campaigns to assist with EHE goals. 
Executive Director, Hepatitis Education Project (HEP) – Seattle, WA (partially remote) 
Reporting to a Board of Directors and in partnership with a staff of 19, the ED will lead the evolution of HEP as the organization reviews its impact to date and plans for the future in the fields of viral hepatitis and drug user health both locally and nationally.  
Deputy Medical Director, HIV/STI/Viral Hepatitis/Harm Reduction – Nashville, TN 
This position will serve as the Statewide Deputy Medical Director in the HIV/STI/Viral Hepatitis section. The position has cross-cutting responsibility in all program areas with potential for promotion in succession plans. Primary responsibilities include leadership and oversight of cross-cutting programs related to End the Syndemic Tennessee to tackle HIV, sexually transmitted infections, viral hepatitis and substance use disorder in an integrated manner with an outward-facing, community-engaged process.
Communicable Disease Epidemiologist – Cheyenne, Wyoming 
This position will serve as the Communicable Disease AIDS Drug Assistance Program (ADAP) Coordinator, Wyoming TB Controller, and Disease Intervention Specialist (DIS) for the Communicable Disease (CD) Treatment Program.  Assist in outbreak response to ensure the safety of Wyoming residents; by interviewing cases for exposure information, updating news outlets on the progress of outbreak control, analyzing exposure data utilizing epidemiological and statistical methods. 
Assistant Commissioner - Health Department – Baltimore, Maryland 
The Baltimore City Health Department (BCHD) is seeking an Assistant Commissioner to lead the Bureau of Communicable Disease and Outbreak Control. This senior management position will lead a talented team responsible for communicable disease investigation, outbreak control and emergency preparedness programming. The incumbent will also be responsible for developing and implementing agency wide policies related to health department readiness to respond to public health emergencies. The incumbent will report directly to the Deputy Commissioner for BCHD's Division of Population Health & Disease Prevention.   
Open Positions – New York State 
The New York State Department of Health, in partnership with Health Research, Inc, has various job openings, including some within the AIDS Institute. Please visit this link to learn about their current opportunities.
Program Content and Training Specialist, Supporting Harm Reduction Programs (SHaRP) – University of Washington 
This position is part of a cooperative agreement award from the Centers for Disease Control and Prevention to provide technical assistance about monitoring and evaluation to syringe services programs (SSPs) as part of the National Harm Reduction Technical Assistance Center. One of the primary projects of this award is to provide technical assistance (TA) to SSPs for monitoring and evaluation activities. The University of Washington is working in collaboration with the CDC, SAMHSA, NASTAD, the National Harm Reduction Coalition, and other TA partners to provide a suite of technical assistance support to individual programs.  
---
News Bulletin
How Tennessee axed millions in HIV funds amid scrutiny from far-right provocateurs 
"Tennessee's recent decision to reject over $8 million in federal funds to combat HIV was motivated, at least in part, by right-wing provocateurs stoking anti-LGBTQ sentiment, according to four sources within the state Health Department. The move by Republican Gov. Bill Lee will hamstring, if not cripple, efforts to combat one of the country's most poorly controlled epidemics of the virus, HIV advocates said. The announcement followed a political crisis in Tennessee that began in September when conservative media personalities, including Matt Walsh and Ben Shapiro, launched attacks on Vanderbilt University Medical Center over its care of transgender minors, which they alleged was barbaric." 
NYC Declares Monkeypox Outbreak Over 
"New York City declared an end to its mpox outbreak Wednesday, crediting a successful vaccination campaign and mitigation efforts with keeping transmission very low for two straight months, according to the health department. The city reported more than 3,800 cases of mpox, formerly called monkeypox, between May 2022 and December 2022, according to its disease outbreak summary. At least two deaths were also reported. Cases peaked around 70 a day and fell to a rolling average of zero through most of last month, health officials say." 
The End of the X-Waiver Is a Chance to Advance Health Equity 
"On January 12, the federal government announced an important change to drug policy that should enable greatly expanded access to buprenorphine, a crucial opioid use disorder medication. This change could stem the course of our nation's devastating opioid-involved overdose epidemic. And it's a step toward redressing policies that have harmed lower–income communities as well as Black, Indigenous and other people of color."