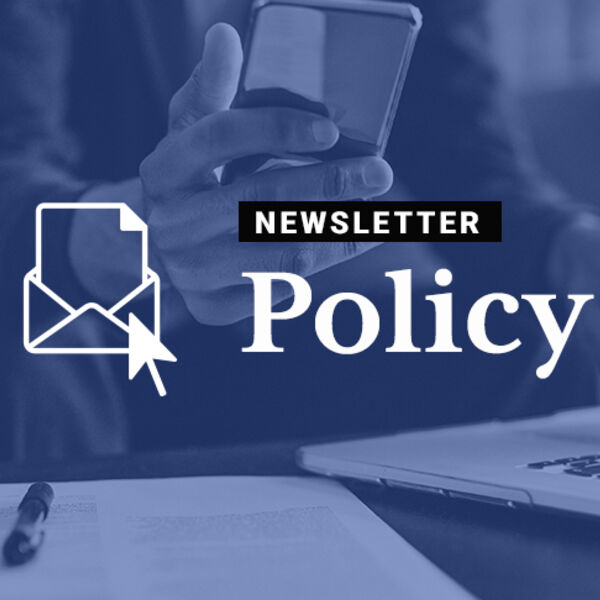 Policy Updates: Hill Happenings and Administration Activities
---
Hill Happenings 
Fiscal Year 2022 Appropriations  
Appropriators are making progress on a federal spending agreement, moving towards resolving a months-long budget impasse before the upcoming funding deadline. On February 8, the House of Representatives approved a continuing resolution (CR) (H.R.6617) that would extend current funding levels through March 11. The new CR would buy appropriators more time to establish a Fiscal Year 2022 (FY2022) appropriations omnibus bill before the current CR expires on February 18.
On February 9, top appropriators announced that bipartisan, bicameral negotiators reached an agreement on an overall spending framework for a FY2022 appropriations omnibus bill. With the topline framework in place, House and Senate appropriations committees will begin to negotiate programmatic funding levels and draft the spending bill text. Should the Senate approve the House-passed CR, lawmakers would have through March 11 to finalize the FY2022 omnibus.
However, Senate Republicans are threatening to block the CR, citing opposition to language in the Biden Administration's first-ever federal harm reduction grant program around safer smoking kits. On February 9, the White House Office of National Drug Control Policy (ONDCP) Director Rahul Gupta and Department of Health and Human Services (HHS) Secretary Xavier Becerra issued a joint statement rejecting the mischaracterization of the harm reduction program, pointing to the evidence-based success of harm reduction strategies for avoiding overdose and improving the health of drug users. However, Republicans are increasingly calling for a CR and eventual FY2022 package that are clear of 'controversial' policy riders, such as the removal of the prohibition on the use of federal funds to purchase syringes and sterile injection equipment, despite bipartisan support for the language. NASTAD will continue to monitor the FY2022 appropriations process to advocate for the highest funding levels on behalf of HIV and hepatitis programs. 
NASTAD Calls on Biden-Harris Administration to Create National PrEP Grant Program 
On February 7, NASTAD joined a coalition of over 110 organizations and called on the Biden-Harris administration to support the creation of a national PrEP grant program to prevent HIV in the U.S. In order to increase PrEP uptake among communities most impacted by HIV, the advocates request the creation of a fully-funded federal program that builds upon the PrEP expansion goals laid out in the Ending the HIV Epidemic in the US (EHE) initiative. The coalition requests $400 million in FY2023 to provide grants to community-based organizations and state and local health departments to implement the program, which would increase patient and provider PrEP education, fund ancillary PrEP services, and provide PrEP to uninsured individuals. 
Senate Advances Administration Nominations  
On February 9, the Senate Homeland Security and Governmental Affairs Committee and the Senate Budget Committee voted to advance the nominations of Shalanda Young and Nani Coloretti to lead OMB as Director and Deputy Director, respectively. The two nominations will now head to the Senate floor, where they are expected to achieve Senate confirmation with little opposition.  
However, President Biden's nominee to lead the HHS Food and Drug Administration (FDA), Robert Califf, is facing more challenges in recruiting the votes necessary to secure Senate confirmation. On February 10, Senate Majority Leader Schumer (D-NY) filed a motion to limit debate on the nomination and tee up a Senate floor confirmation vote. Bipartisan opposition threatened to sink the FDA alum's nomination, but Democrats expect that they now have enough support to confirm Califf as Director of FDA.
---
Administration Activities 
CDC to Update Clinical Practice Guidelines for Prescribing Opioids 
On February 2, the Centers for Disease and Prevention (CDC) National Center for Injury Prevention and Control (NCIRD) Division of Overdose Prevention posted draft updates for the Clinical Practice Guidelines for Prescribing Opioids. The practice guidelines provide evidence-based recommendations for clinicians who provide pain care in order to improve communication between clinicians and patients about the risks and benefits of pain treatment, including opioid use disorder, overdose, and death. The 2022 update would expand upon the last clinical guidelines issued in 2016. CDC is requesting public comment on the proposal through April 11. 
---
Resources 
Lancet Article: Estimating naloxone need in the USA across fentanyl, heroin, and prescription opioid epidemics: a modeling study 
"Opioid epidemic type and how naloxone is accessed have large effects on the number of naloxone kits that need to be distributed, the probability of naloxone use, and the number of deaths due to overdose averted. The extent of naloxone distribution, especially through community-based programs and pharmacy-initiated access points, warrants substantial expansion in nearly every US state." 
AIDS United NOFO: iFORWARD: Equipping Organizations in the South through Technology to End the HIV Epidemic 
Applications Due: February 17, 2022 
AIDS United has launched iFORWARD: Equipping Organizations in the South through Technology to End the HIV Epidemic, a special project designed to address barriers southern organizations face in accessing appropriate technology to carry out their services and achieve their mission. iFORWARD will provide cash grants up to $10,000 along with professional development and technical assistance.
---
Job Postings 
Public Health Educator Advanced (Drug User Health Coordinator) – Madison, WI 
This position will lead a statewide Public Health Drug User Health initiative focused on efforts to reduce harm and improve healthcare access for people who use drugs and reduce the harms associated with drug use including fatal overdoses and infectious diseases (e.g. viral hepatitis, HIV, COVID19, etc.).  This position acts as the subject matter expert for Drug User Health programming across the Bureau of Communicable Disease (BCD) and Division of Public Health (DPH). Applications close February 14. 
Senior Public Health Investigator – Houston, TX 
The Houston Health Department seeks 12 Senior Public Health Investigators in the Bureau of HIV/STD and Viral Hepatitis Prevention to serve as Disease Intervention Specialists, Service Linkage Workers, and Patient Navigators. These full-time positions will report to various units including HIV Field Services, STI Field Services, Congenital Syphilis Field Services, Service Linkage Field Services, and PrEP Services. Applications close March 8. 
Washington State Department of Health – Tumwater, WA 
Department of State Health Services – Austin, TX 
Hepatitis Surveillance Data Analyst – New Orleans, Louisiana 
This position is responsible for the data analysis activities for the Louisiana Office of Public Health STD/HIV/Hepatitis Program (SHHP), in the Hepatitis Surveillance unit. Data utilized for Hepatitis Surveillance activities include Hepatitis laboratory data, Case Report Forms, Provider Report Forms, Linkage to Cure data, investigation data, Medicaid data, and data from related sources and programs. This position will implement and coordinate data analysis activities to monitor and evaluate progress toward meeting hepatitis elimination within the state. All activities must be completed in accordance with the security and confidentiality guidelines required by the Centers for Disease Control and Prevention (CDC) and SHHP. 
Assistant Commissioner - Health Department – Baltimore, Maryland 
The Baltimore City Health Department (BCHD) is seeking an Assistant Commissioner to lead the Bureau of Communicable Disease and Outbreak Control. This senior management position will lead a talented team responsible for communicable disease investigation, outbreak control, and emergency preparedness programming. The incumbent will also be responsible for developing and implementing agency-wide policies related to health department readiness to respond to public health emergencies. The incumbent will report directly to the Deputy Commissioner for BCHD's Division of Population Health & Disease Prevention.
Open Positions – New York State 
The New York State Department of Health, in partnership with Health Research, Inc, has various job openings, including some within the AIDS Institute. Please visit this link to learn about their current opportunities.  
---
News Bulletin 
Is Joe Biden handing out crack pipes? Despite right-wing Twitter frenzy, not really 
"It's difficult to avoid the conclusion that this grotesque distortion of the Biden administration's harm-reduction plan into a "crack pipe" giveaway is about politics, not policy. In the great tradition of "death panels," the "Obamaphone" and "midnight basketball," it's a deliberately misleading attempt to turn a relatively minor social reform into a hot-button culture-war issue during an election year." 
Biden calls on Senate to pass his agenda to lower drug prices 
"President Biden on Thursday called on the Senate to pass his currently-stalled Build Back Better legislation, touting that it would lower prescription drug prices, a popular issue ahead of the midterm elections. Biden traveled to the Virginia district of vulnerable Democratic Rep. Abigail Spanberger, saying that drug prices are "outrageously expensive" and calling for action." 
Opinion: New York State is ready for statewide injection sites 
"With up to 75% of people who use drugs having been exposed to hepatitis C, the principles of harm reduction must form the foundation of New York's strategy to eliminate the virus, building upon syringe services programs. For this, New York City has taken a bold step forward with the country's very first legally operating overdose prevention centers, which provide people a safe environment to inject drugs under medical supervision and get connected with supportive social and health services." 
 Racial Health Disparities in HIV Fueled by SDOH, Social Vulnerability 
"Black people still make up a disproportionate share of individuals diagnosed with HIV, with the latest CDC Morbidity and Mortality Weekly Report (MMWR) revealing that those new diagnoses are among the most socially vulnerable, underscoring the link between social determinants of health and health disparities."