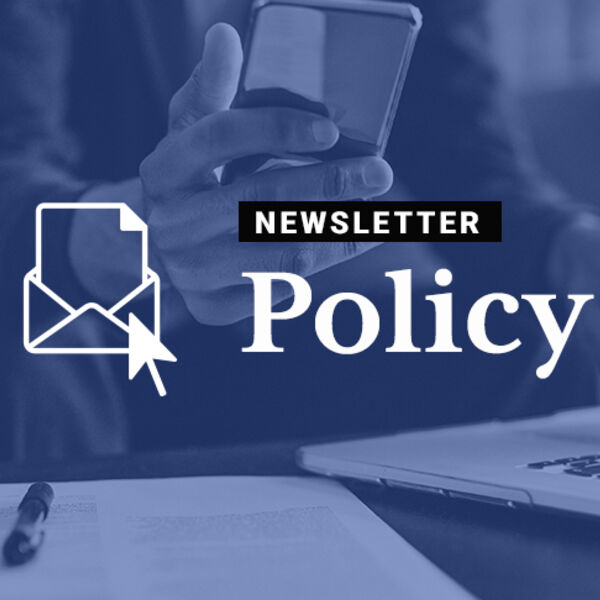 Policy Updates: Hill Happenings and Administration Activities
---
Hill Happenings
House Republicans Introduce Bill Capping Funds for CDC NCHHSTP in FY2024 
On March 29, Representative Andy Biggs (R-AZ-05) introduced H.R. 1962, "to provide for a limitation on availability of funds for Department of Health and Human Services, Centers for Disease Control and Prevention HIV/AIDS, Viral Hepatitis, Sexually Transmitted Diseases, and Tuberculosis Prevention for fiscal year 2024", which would impose budgetary caps for funding allocated to the Centers for Disease Control and Prevention (CDC) National Center for HIV, Hepatitis, STIs, and TB Prevention (NCHHSTP). The legislation follows through on House Republicans' commitment to take a hardline approach for FY2024 appropriations negotiations, aiming to impose across-the-board budget cuts. The bill is part of a legislative package that includes budgetary resolutions capping spending for other federal agencies, but it will require approval from the Democrat-controlled Senate in order to become law.
NASTAD Calls on Congress to Support Reentry Act 
On April 17, NASTAD joined a coalition of 125 organizations and signed onto a letter urging Congress to support the Reentry Act, legislation that would allow incarcerated individuals to receive medical services supported by Medicaid thirty days prior to the individual's release. Currently, the "Medicaid inmate exclusion policy" (MIEP) prohibits the use of federal funds and services for medical care for "inmates of a public institution." This policy prevents Medicaid-eligible incarcerated individuals from receiving services funded by Medicaid. The policy also prevents incarcerated veterans from receiving hospital and outpatient care in local jails from the Department of Veterans Affairs. If passed, the bill would make permanent the upcoming Biden Administration guidance allowing states to leverage Medicaid programs to pay for drug treatment in prisons. 
---
Administration Activities 
President Biden Signs Bill Ending COVID-19 National Emergency 
On April 10, President Biden signed H.J.Res. 7, Relating to a national emergency declared by the President on March 13, 2020. The joint resolution terminates the national emergency related to the COVID-19 pandemic, but does not affect the separate public health emergency (PHE) that is set to expire on May 11. President Biden publicly opposed the Republican-led joint resolution, but declined to veto the legislation after it passed the House and Senate with small but sufficient bipartisan support. Although the termination of the COVID-19 PHE will unwind coverage for COVID testing and remove broad flexibilities for health providers, Congress agreed to temporarily extend Medicaid and Medicare telehealth flexibilities and the Biden Administration will continue to allow remote prescribing of buprenorphine and expanded access to methadone take-home doses while it works to promulgate rulemaking that permanently implements these flexibilities.
Biden Administration Takes Steps to Reverse Ruling that Invalidates ACA Preventive Services Mandate and Clarifies Insurer Requirements Amid Legal Uncertainty 
On April 13, the US Department of Justice announced that it will seek a stay of the judgment and order pending appeal for the Braidwood inc v. Becerra case. The stay would block US District Court Judge O'Connor's ruling that invalidated the Affordable Care Act's (ACA) preventive services mandate, preventing it from going into effect as the 5th Circuit Court of Appeals determines the merits of the case. The stay request follows a March 30th filing from the Biden Administration appealing the judge's ruling, which will make its way through the appellate court and likely be decided by the Supreme Court of the United States.
Additionally, on April 13, the Department of Labor issued guidance clarifying health insurers' cost-sharing requirements following the Braidwood v Becerra ruling. The guidance confirms that health insurers are legally required to offer any preventive services recommended by the United States Preventive Services Task Force (USPSTF) that were issued prior to 2010 without cost sharing. Additionally, the guidance clarifies that the ruling does not impact cost-sharing requirements for routine immunizations recommended by the CDC Advisory Committee on Immunization Practices (ACIP) or preventive care and screenings for infants, children, adolescents, and women's health offered through the Health Resources and Services Administration (HRSA). As a result, insurers are still required to cover the full cost of childhood immunizations for hepatitis A virus, hepatitis B virus, and HPV, and contraceptive services, breastfeeding services and supplies, cervical cancer screening, and pediatric preventive care recommended by HRSA.
CDC, HRSA, HUD Release Dear Colleague Letter Encouraging Action to Prevent and Treat HIV Outbreaks Among People Experiencing Homelessness and Housing Instability 
On April 12, CDC, HRSA, and the Department of Housing and Urban Development (HUD) issued a Dear Colleague Letter encouraging communities to take action to effectively prepare for and respond to HIV outbreaks among people experiencing homelessness and housing instability. The federal agencies encourage health department and housing providers to integrate and assess HIV prevention, care, and housing data on individuals impacted by outbreaks to determine the extent to which they are experiencing homelessness or housing instability and to identify gaps and coordinate service delivery to improve housing stability and health outcomes, including leveraging all available resources to establish integrated models of service delivery that meet people where they are. Additionally, CDC, HRSA, and HUD recommend Housing First and other low-barrier housing models that offer flexibility, individualized support, and client choice in the provision of housing assistance and supportive services, including integration with substance use disorder services.
Biden Administration Designates Fentanyl, Xylazine as an Emerging Threat  
On April 12, the White House Office of National Drug Control Policy (ONDCP) officially designated fentanyl adulterated with xylazine as an emerging threat to the United States. The Biden Administration issued the designation due to a sharp increase in the presence of xylazine in illicitly sold fentanyl and exacerbated morbidities for people who inject opioids, including fatal overdose and severe wounds. The xylazine emerging threat designation was the first of its kind, authorized by Congress in 2018 via the SUPPORT Act (H.Res.1099) and fleshed out in 2022 ONDCP guidance that delineated the criteria used to declare an emerging threat. Following the announcement, the Administration will launch an interagency working group that will inform the development of a national response plan within 90 days to boost xylazine testing, implement treatment and supportive care protocols, build comprehensive data systems (including information on drug sourcing and supply), propose strategies to reduce illicit supply of xylazine, and conduct rapid research (such as work on the interactions between xylazine and fentanyl). The announcement follows an April 11 statement announcing amplified efforts to disrupt the global illicit fentanyl supply chain.
NIH National Cancer Institute: NCI study outlines opportunities to achieve President Biden's Cancer Moonshot goal of reducing cancer death rates in the United States 
On April 17, researchers from the National Institutes of Health (NIH) National Cancer Institute (NCI) published a study that outlines opportunities for achieving President Biden and First Lady Biden's Cancer Moonshot℠ national goal of reducing the cancer death rate by at least 50% over the next 25 years. The authors call for increased access to and use of interventions known to prevent common causes of cancer death, including boosting detection and treatment of hepatitis B and hepatitis C viral infections to reduce the risk of liver cancer. The publication of this study coincides with the release of the National Cancer Plan, a long-term, ambitious framework developed to support a national response to achieving the goals of the Cancer Moonshot, which was first launched in 2016 by then-Vice President Joe Biden to accelerate progress against cancer. 
---
Resources 
National HCV Elimination Initiative 
NACCHO NOFOs  
NACCHO is accepting applications for two related funding opportunities to support the evaluation of STI and harm reduction (HR) services. Applicants must already offer integrated STI and HR services. One application is intended to fund organizations that are primarily STI service providers while the other is intended to fund organizations that are primarily HR service providers. Applicants can request up to $50,000 and applications are due Friday, May 12th. NACCHO will also host an informational webinar on Wednesday, April 19th at 3 PM ET. Access additional information here.  
HepVu: Developing a Continuum of Care (Care Cascade) for Hepatitis C 
"This series of blogs on viral hepatitis elimination explores what it will take to achieve the plan's goal of eliminating viral hepatitis in the U.S. by 2030. This edition focuses on the difficulties associated with developing a Hepatitis C Continuum of Care (also called a Care Cascade) for the United States. We asked viral hepatitis experts from multiple perspectives—local health departments, hospitals, advocacy organizations, and the federal government—to weigh in. Their responses are below." 
Sage Journals: Decriminalization of drug possession in Oregon: Analysis and early lessons 
"In November 2020, Oregon voters approved Measure 110, a ballot initiative that decriminalized possession of small quantities of all drugs and allocated hundreds of millions of dollars annually to health services for people who use drugs. Implementation of Measure 110 is ongoing, but several effects are noticeable in the first two years since the measure passed. Among these are substantial decreases in possession of controlled substances arrests and an infusion of funding into harm reduction services that have not traditionally enjoyed a sustainable funding source. This paper analyzes the provisions of Measure 110, examines its early impacts, successes, and challenges, and outlines lessons that jurisdictions contemplating decriminalizing drug possession in the U.S. and globally should consider." 
Drug Policy Alliance: Xylazine Fact Sheet 
DPA created this fact sheet to respond to federal xylazine criminalization attempts and to respond to congressional inquiries about xylazine.
JAMA: Population-Level Health Effects of Involuntary Displacement of People Experiencing Unsheltered Homelessness Who Inject Drugs in US Cities  
"This simulation modeling study of 23 US cities projects that involuntary displacement of people experiencing homelessness may yield substantial increases in morbidity and mortality over a 10-year period. Involuntary displacement is estimated to worsen overdose and hospitalizations, decrease initiations of medications for opioid use disorder, and contribute to deaths among people experiencing homelessness who inject drugs. Ceasing involuntary displacement of people experiencing homelessness may mitigate some health-related harms associated with homelessness." 
JAMA: Living Alone and Drug Overdose Deaths in the US 
"The increase in US drug overdose deaths has spurred interest in identifying high-risk populations. Being alone while using drugs poses added risks because it decreases opportunities for others to intervene. One study1 reported that 69% of overdose deaths occurred among people using drugs while alone. Living alone might be associated with increased fatal drug overdose risk. In this nationally representative cohort study, we compared overdose death risks among adults who were living alone or with others." 
CDC DHP: National Transgender HIV Testing Day (NTHTD) 
Observed annually on April 18, NTHTD is a day to recognize the importance of routine HIV testing, status awareness, and continued focus on HIV prevention and treatment for transgender and nonbinary people. The toolkit includes ready-to-use social media posts and graphics to share leading up to and on NTHTD.
CDC Mpox MMWR 
Community Liver Alliance: Addressing Disparities in Liver Diseases Virtual Conference 
Date: April 18 from 12:00 – 4:00 pm ET 
"The Community Liver Alliance Disparities in Liver Disease Conference empowers us to address health disparities, including differences that occur by gender, race or ethnicity, education or income, disability, geographic location, or sexual orientation. These health disparity populations constitute a large proportion of patients with liver disease and evidence suggests that these populations are disproportionately affected by several common hepatic disorders, which include rare liver diseases, viral hepatitis, non-alcoholic fatty liver disease, access to liver transplantation and hepatocellular carcinoma."  
Hepatitis Community Collaborative (HC2) 
NASTAD and The AIDS Institute (TAI) are pleased to host the third Hepatitis Community Collaborative (HC2)! Following HC2 events in 2020 and 2021, we are excited to re-convene as a group of hepatitis advocates, infectious disease experts and people with lived experience (PWLE) and provide updates on what communities are doing to combat viral hepatitis. The one-day, virtual and free convening will provide advocates with a platform for cross-jurisdiction learnings and innovative approaches via presentations, peer-to-peer information sharing, dialogue and forums.
NASTAD Webinars: Syphilis and Drug User Health Webinar Series 
The NASTAD Drug User Health Team is pleased to announce an upcoming webinar series exploring syphilis among communities of people who use drugs, in partnership with AIDS United, NACCHO, NCSD, and the Northwest Portland Area Indian Health Board. This webinar series consists of five monthly sessions where those working on STIs – specifically syphilis – and those working in harm reduction and drug user health will be brought together to learn from each other, share promising practices, and highlight effective cross-sector partnerships. To join the webinars please register for them here: 
Hep B United Webinar: Universal Adult Hepatitis B Recommendations are Here - Best Practices for Implementing Universal Screening and Vaccination 
Date: May 1, 2023, at 03:00 PM ET 
Adult hepatitis B guidelines from screening and vaccination have shifted from risk-based to universal. What does it look like in practice? Join us for the second part of our webinar series as panelists provide best practices on how they have been able to implement universal screening and vaccination within their communities, challenges they have faced and the findings of a brand new Call-to-Action to eliminate hepatitis B through the new universal recommendations. 
---
Job Postings 
NASTAD RFP: Consultant, Data Systems Integration 
Deadline: April 21, 2023 
Performance Period: April 25, 2023 – February 28, 2024 
NASTAD is seeking applications from experienced professionals and organizations to provide technical assistance (TA) and subject matter expertise to End the HIV Epidemic (EHE) Phase I jurisdictions engaged in the Systems Coordination Provider (SCP) Data Systems Integration project. The consultants selected will provide TA focused on data linkage processes, data sharing and management, HIV surveillance data and health care data systems, and data workflow for EHE Phase 1 Jurisdictions. 
Manager, Meetings and Travel – NASTAD 
Under general supervision of the Associate Director, IT and Administration, the Manager, Meetings and Travel will provide management, coordination and hands-on delivery of comprehensive service and support to NASTAD members, staff members, and other stakeholders as appropriate.   This position will coordinate and implement several, sometimes simultaneous, live, hybrid, and virtual events, particularly to NASTAD's Annual and Technical Assistance Meetings. This position will monitor airline travel and purchases, manage travel-related vendors, maintain travel-related processes, reconcile meeting and travel expenses, complete appropriate forms and procedure documents, and work to fulfill NASTAD mission, goals, and objectives within the limitations of agency resources and policies and federal grant requirements. 
Director, Health Care Access – NASTAD 
NASTAD is recruiting for the Director of our Health Care Access program. The Director, Health Care Access plays a vital leadership role in achieving the organization's training, technical assistance, and policy support priorities for Ryan White HIV/AIDS Program (RWHAP) Part B and AIDS Drug Assistance Programs (ADAP). The position will work closely with Tim Horn, NASTAD's Director of Medication Access.
Viral Hepatitis Prevention Manager – Health Federation of Philadelphia 
The Prevention Manager will be responsible for coordination of activities related to viral hepatitis prevention, including outreach, training, education and collaboration with appropriate programs to facilitate access to hepatitis services.  This position works in close coordination with viral hepatitis surveillance activities. Apply by June 2, 2023. 
Drug Trends and Technology-Based Drug Checking Analyst – New York City, NY 
NYC DOHMH is looking for an analyst to work on our drug checking initiative. Currently operating in four SSPs across the city, including one of the OPCs, drug checking technicians use Bruker Infrared technology to test samples from SSP participants and provide individualized harm reduction education. This is a great opportunity for someone with strong data skills and an interest in drugs and toxicology. Please send out far and wide and feel free to reach out if you have any questions.
Executive Director, Open Aid Alliance – Missoula, Montana 
Open Aid Alliance is searching for an innovative and passionate Executive Director to lead our team as we continue our mission of providing low-barrier, client-centered care. 
Reporting to the Board of Directors, the Executive Director (ED) will have overall strategic and operational responsibility for Open Aid Alliance (OAA) staff, programs, expansion, and execution of its mission. The main responsibilities of this position fall within the realms of staff leadership and management, programming and financial management. Priority deadline for first round of interviews is April 10, 2023. 
Chief Executive Officer – Western North Carolina AIDS Project (WNCAP) 
Western North Carolina AIDS Project's (WNCAP's) mission is to provide equitable access to care and reduce harm from HIV, Hepatitis C, and drug use. WNCAP provides case management, prevention education, STD testing, harm reduction, and other support services to people living across 18 counties of western North Carolina. The Chief Executive Officer (CEO) is the principal leadership position at WNCAP and reports to the Board of Directors.
Division of Viral Hepatitis, National Center for HIV, Viral Hepatitis, STD, and TB Prevention, CDC 
Chief, Prevention Branch, DVH

NCHHSTP/DVH is recruiting for an exceptional candidate for the position of Prevention Branch Chief, Division of Viral Hepatitis (DVH), National Center for HIV, Viral Hepatitis, STD, and TB Prevention (NCHHSTP). The incumbent will serve as Chief in the Prevention Branch, Division of Viral Hepatitis, and will participate in the division's senior management team responsible for directing the development, administration, implementation, and evaluation of national programs to prevent and control viral hepatitis. The incumbent provides advice to the Division Director on medical and scientific policy and practices associated with program, education, and research activities in support of viral hepatitis prevention and control, including harm reduction. 
Boulder County AIDS Project – Boulder, Colorado 
Prevention Coordinator: The primary duties of this position are to provide HIV/HCV/STI testing, syringe access, and street outreach services, as well as outreach education at community partner locations and events. This position provides these services in collaboration with other Prevention Department staff and key community partners, as well as enters data into databases and completes monthly reports. This position reports directly to the Prevention Director, and attends staff, department, and community partner meetings.
Florida Department of Health – Palm Beach County 
To apply, please send resumes to Robert Scott, Robert.Scott@flhealth.gov. These are all $20/hr, in-office roles with possible remote flexibility. 
EHE Navigator: This position's work will be actively guided by the Palm Beach County Ending the Epidemic (EHE) Plan, including the four pillars and their goals, objectives, strategies and activities. Incumbent will assist in the planning, coordination, implementation and monitoring of the goals, objectives, strategies and activities set forth in the Palm Beach County Ending the Epidemic (EHE) Plan, in collaboration with other Area 9 EHE funding recipients, to include, but not limited to: Palm Beach County, FoundCare, and Florida Community Health Centers.
PrEP Navigator: This position's work will be actively guided by the Palm Beach County Ending the Epidemic (EHE) Plan, including the four pillars and their goals, objectives, strategies and activities. Incumbent will link high-risk negative persons to available Pre-Exposure Prophylaxis (PrEP) and non-occupational Post Exposure Prophylaxis (nPEP) services with the goal of significantly reducing the number of new HIV infections among high-risk populations. Incumbent will assess and increase the knowledge, desirability, accessibility, and adherence of PrEP among referred high-risk individuals.
Digital Media Manager: This position is responsible for developing and coordinating the area HIV digital media presence through multiple platforms. Developing digital marketing strategies, creating social media content, collaborating with community partner organizations, and creating new ad campaigns to advance Ending the HIV Epidemic (EHE) in Palm Beach County. Tracking data from digital campaigns to assist with EHE goals. 
Executive Director, Hepatitis Education Project (HEP) – Seattle, WA (partially remote) 
Reporting to a Board of Directors and in partnership with a staff of 19, the ED will lead the evolution of HEP as the organization reviews its impact to date and plans for the future in the fields of viral hepatitis and drug user health both locally and nationally.  
Deputy Medical Director, HIV/STI/Viral Hepatitis/Harm Reduction – Nashville, TN 
This position will serve as the Statewide Deputy Medical Director in the HIV/STI/Viral Hepatitis section. The position has cross-cutting responsibility in all program areas with potential for promotion in succession plans. Primary responsibilities include leadership and oversight of cross-cutting programs related to End the Syndemic Tennessee to tackle HIV, sexually transmitted infections, viral hepatitis and substance use disorder in an integrated manner with an outward-facing, community-engaged process.
Program Content and Training Specialist, Supporting Harm Reduction Programs (SHaRP) – University of Washington 
This position is part of a cooperative agreement award from the Centers for Disease Control and Prevention to provide technical assistance about monitoring and evaluation to syringe services programs (SSPs) as part of the National Harm Reduction Technical Assistance Center. One of the primary projects of this award is to provide technical assistance (TA) to SSPs for monitoring and evaluation activities. The University of Washington is working in collaboration with the CDC, SAMHSA, NASTAD, the National Harm Reduction Coalition, and other TA partners to provide a suite of technical assistance support to individual programs.  
Communicable Disease Epidemiologist – Cheyenne, Wyoming 
This position will serve as the Communicable Disease AIDS Drug Assistance Program (ADAP) Coordinator, Wyoming TB Controller, and Disease Intervention Specialist (DIS) for the Communicable Disease (CD) Treatment Program.  Assist in outbreak response to ensure the safety of Wyoming residents; by interviewing cases for exposure information, updating news outlets on the progress of outbreak control, analyzing exposure data utilizing epidemiological and statistical methods. 
Assistant Commissioner - Health Department – Baltimore, Maryland 
The Baltimore City Health Department (BCHD) is seeking an Assistant Commissioner to lead the Bureau of Communicable Disease and Outbreak Control. This senior management position will lead a talented team responsible for communicable disease investigation, outbreak control and emergency preparedness programming. The incumbent will also be responsible for developing and implementing agency-wide policies related to health department readiness to respond to public health emergencies. The incumbent will report directly to the Deputy Commissioner for BCHD's Division of Population Health & Disease Prevention.   
Open Positions – New York State 
The New York State Department of Health, in partnership with Health Research, Inc, has various job openings, including some within the AIDS Institute. Please visit this link to learn about their current opportunities.
Viral Hepatitis Epidemiologist - Pennsylvania Department of Health 
The Department of Health is seeking a dedicated and hardworking individual to fulfill their Viral Hepatitis Coordinator/Epidemiologist position within the Division of Infectious Disease Epidemiology. If you would like to support an organization that protects the public's health, apply today!
Viral Hepatitis Database Analyst - Heluna Health position with San Francisco Department of Public Health 
Heluna Health is currently looking for a Viral Hepatitis Database Management Analyst to work in the ARCHES Surveillance branch at San Francisco Department of Public Health (SFDPH). The Database Analyst will support SFDPH's Viral Hepatitis Surveillance team in its efforts to improve hepatitis data reporting and analysis. Responsibilities include higher level data cleaning, monitoring and reporting on data trends, coordinating with laboratory contacts to improve ELR protocols and procedures, and managing special projects as needed. This is a full-time, 2-year position based in San Francisco and employed by Heluna Health.
Program Manager (Viral Hepatitis and Harm Reduction Prevention) - Augusta, Maine 
We are looking to bring on board a Viral Hepatitis and Harm Reduction Prevention Manager to provide (1) statewide viral hepatitis prevention program coordination; (2) manage education and outreach activities focused on prevention of viral hepatitis disease transmission, (3) develop, coordinate, implement and evaluate statewide viral hepatitis prevention and harm reduction services including education, outreach, testing, linkage to care activities, syringe service programs, and overdose prevention activities; and (4) monitor state and federal viral hepatitis and harm reduction grants and contracts. Work is performed under administrative direction.
Human Services Program Coordinator – Richmond, Virginia
The Virginia Department of Health is hiring a Viral Hepatitis Program Coordinator. The Viral Hepatitis Program Coordinator participates in the design and management of hepatitis B (HBV) and hepatitis C (HCV) program activities, including surveillance, prevention, testing, and linkage-to-care as well as hepatitis data collection tools; assesses hepatitis events of public health significance; leads grant writing efforts around improving HBV/HCV prevention and care cascades; coordinates program planning efforts with respect to surveillance and other viral hepatitis epidemiologic data and evaluation; serves in a supervisory or team lead capacity for staff conducting hepatitis program support activities; uses software tools (i.e. SAS) for data quality activities. 
---
News Bulletin
Top Democrats ask health insurers for response to ObamaCare preventive care ruling 
"Democrats in key House and Senate health committees have requested information from a dozen major health insurance companies and trade groups on how they plan to respond to the ruling from Texas that struck down the preventive services provision in the Affordable Care Act. The lawmakers sent out letters to major insurance providers including Blue Cross Blue Shield, Cigna, Humana and UnitedHealth Group. The letters asked whether consumers would experience interruptions in their coverage in light of the ruling issued by U.S District Judge Reed O'Connor last month." 
STDs are at record levels. It could get much worse. 
"White House officials fear that the most recent legal blow to the Affordable Care Act could undermine more than a decade of national progress on HIV and worsen record-high rates of sexually transmitted diseases. U.S. District Court Judge Reed O'Connor's decision last week tossed out the requirements for insurance companies to cover the HIV prevention drug PrEP and to offer a range of preventive services — from syphilis tests to depression screenings — at no cost. And while the Biden administration is appealing the ruling, many worry it won't fare any better before conservative-leaning judges in the higher courts." 
Biden announces Medicaid, ObamaCare access for DACA recipients 
"The Biden administration on Thursday rolled out a plan to expand health care access for beneficiaries of Deferred Action for Childhood Arrivals (DACA). Under the plan, DACA recipients will become eligible to apply for Medicaid and to enroll in Affordable Care Act (ACA) insurance exchanges. DACA beneficiaries are not currently eligible for those benefits because their immigration status does not meet the current definition of "lawful presence" required to enroll in Medicaid and the ObamaCare exchanges. Under the administration's plan, the Department of Health and Human Services (HHS) is preparing a new rule to amend that definition by the end of the month." 
Appeals court keeps abortion pill on the market but sharply limits access 
"A federal appeals court ruled late Wednesday that an abortion pill can remain on the market but only under strict conditions that prohibit its use beyond seven weeks of pregnancy and bar its distribution by mail. In a 42-page decision, a three-judge panel of the 5th Circuit Court of Appeals agreed to temporarily block the central aspect of a Texas-based federal judge's ruling that suspended the FDA's 2000 approval of the drug, mifepristone. But by a 2-1 vote, the panel permitted other aspects of that ruling to take effect that would block a seven-year effort by the FDA to widen access to the drug." 
Opinion: Don't curb opioid prescriptions through telemedicine. They're saving lives 
"The explosion of telemedicine during the COVID-19 pandemic has been transformative for countless patients who might otherwise be unable to access care. But the Drug Enforcement Administration is preparing to roll back telemedicine options for many essential prescriptions. It would be a dangerous move, exacerbating already gaping disparities and imperiling the most vulnerable patients."