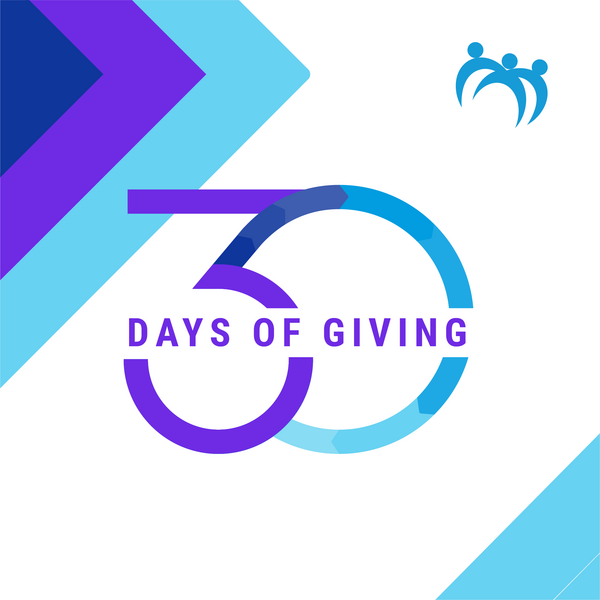 NASTAD's 30 Days of Giving
In observance of NASTAD's 30 year anniversary, for the 30 days leading up to our 2022 Annual Meeting (#NASTAD2022), NASTAD highlighted organizations that are committed to ending HIV/AIDS, hepatitis, and intersecting epidemics. Every day one or more organizations from one of NASTAD's member jurisdictions were shared on NASTAD's social media and we encouraged individuals to learn about their organization, as well as, donate and/or volunteer with them. Below is the list of organizations that were shared on NASTAD's social media accounts for the #30DaysOfGiving campaign. We encourage you to look back on the campaign and continue to like, share, and repost/retweet!  LinkedIn | Facebook | Twitter | YouTube | Instagram 
APRIL 22: Day 1

Alabama: Health Services Center 

Health Services Center, Inc. is a non-profit, Community Based Organization (CBO), and medical clinic providing HIV/AIDS medical care, education and support to people living with HIV and AIDS, as well as their families. Since 1990, Health Services Center, Inc. has served hundreds of people living with HIV and AIDS, as well as their families.

HSCAL is committed to the provision of quality comprehensive HIV/AIDS services to all HIV infected and affected persons in our service area  

APRIL 23: Day 2  

Arkansas: ARcare 
ARcare Positive Connections offers rapid HIV testing, awareness campaigns, educational initiatives, HIV medical and case management services, and HIV empowerment programming through our ever-growing, statewide network of Access Centers, Family Practice Clinics, and HIV Telehealth program.  We also offer quality training and education to health professionals through our affiliation with the South-Central AIDS Education and Training Center (AETC).  

April 24: Day 3  

Chicago: Chicago Black Gay Men's Caucus  

Chicago Black Gay Men's Caucus is a grassroots organization whose mission is to advance health equity among Black gay, bisexual, and same-gender-loving men by developing community-centered leadership and innovative programs.​ This includes eliminating HIV within our community, which we define as preventing all new HIV infections, and ensuring every man in our community living with HIV achieves a sustained undetectable status.  

APRIL 25: Day 4  

Washington, DC: La Clinica Del Pueblo  

Community health center whose mission is to build a healthy Latino community through culturally appropriate health services, focusing on those most in need.  

Washington, DC: Us Helping Us, People Into Living, Inc. 

Us Helping Us is committed to improving the health and well-being of communities of color through innovative programs and services. 
Us Helping Us is an experienced CBO with two locations in the greater Washington, DC area, including a certified, freestanding mental health clinic, and works tirelessly to achieve health equity for underserved and marginalized populations in the greater Washington, DC area.  

APRIL 26: Day 5  

Florida: Basic NWFL 

BASIC NWFL, Inc. is a volunteer governed, community-based organization dedicated to aiding, assisting, and comforting those living with HIV/AIDS, their families and friends.  

APRIL 27: Day 6  

Georgia: AID Atlanta

AID Atlanta is the largest HIV/AIDS service organization in the Southeast. The mission of AID Atlanta is to reduce new HIV infections & improve the quality of life of its members & the community by breaking barriers & building community.  

April 28: Day 7  

Hawaii: Kumukahi Health & Wellness

Rooted in the principles of Harm Reduction, Kumukahi Health & Wellness provides a safe space for people affected by or living with HIV and others in need by addressing the social determinants of health for all underserved communities on Hawai'i Island.  

APRIL 29: Day 8  

Iowa: Positive Iowans Taking Charge (PITCH) 

PITCH (Positive Iowans Taking Charge) is a state-wide non-profit organization with a clear mission: To create an atmosphere where HIV+ people can unite, advocate, and assist other HIV+ people for better health and wellness.  

APRIL 30: Day 9  

Illinois: Howard Brown Health Center 

The Midwest's largest provider of health & wellness for the LGBTQ+ community & people living with HIV.  

May 1: Day 10  

Indiana: Damien Center 

Damien Center is Indiana's oldest and largest AIDS service organization (ASO) and serves more than 4,000 individuals affected and infected by HIV/AIDS through a comprehensive, innovative approach to HIV care and prevention.  

MAY 2: Day 11  

Kentucky: LivWell Community Health Services

LivWell Community Health Services is a non-profit organization providing comprehensive health and support services, education, and advocacy, as related to HIV/AIDS, sexually transmitted diseases and viral hepatitis.  

May 3: Day 12

Louisiana: HAART Clinic 

The HAART Clinic offers culturally sensitive sexual healthcare from birth control and LGBTQ+ wellness to HIV/STD testing, PrEP/PEP, and HIV prevention education  

MAY 4: Day 13 

Maryland: Heart to Hand, Inc.

Heart to Hand is a community-based public health organization that provides support services to those living with HIV/AIDS and other sexually transmitted infections.  

MAY 5: Day 14 

Michigan: Wellness AIDS

Wellness AIDS Services, Inc. assists in the care of individuals who are infected/affected by HIV/AIDS and promotes education and prevention in the community.  

Michigan: Unified 

As the only comprehensive AIDS service organization in its Michigan ten-county area, UNIFIED's mission is to provide HIV-related services to the community through compassionate direct care, prevention, and outreach activities.

Michigan: Corktown Health

​​​​​​​Corktown Health Center is the first medical home focused on serving the LGBTQ community in Southeastern Michigan  

MAY 6: Day 15 

Michigan: OLHSA 

OLHSA supports Oakland and Livingston County residents that are looking for support in removing the burdens of poverty by providing individually tailored, wrap-around assistance for all individuals and families in need of support.  

Michigan: Lansing Area AIDS Network  

LAAN provides free HIV testing and counseling; HIV/AIDS education; PrEP (Pre-Exposure Prophylaxis) and PEP (Post-exposure Prophylaxis) resources and referrals; Early Intervention Services and Medical Case Management for individuals living with HIV/AIDS.  

Michigan: Grand Rapids Red Project  

Red Project works to prevent HIV/AIDS, Hepatitis C, and Accidental Drug Overdose via Harm Reduction.  

MAY 7: Day 16 

Michigan: Matrix Human Services  

Matrix Community Health provides a systematic approach toward addressing the social determinants of poverty and the impact that has on the health of people living with HIV, along with providing comprehensive wrap-around services to assist people living with HIV in obtaining the assistance and services necessary to treat and stabilize their medical condition.  

Michigan: CHAG  

CHAG provides comprehensive HIV harm reduction, prevention, and care services, including syringe exchange, an array of prevention and early intervention services to target those most at risk, and offers rapid HIV and hepatitis testing and referral.  
Community Health Awareness Group (CHAG) provides resources and support to improve the health of those most impacted by HIV.  

MAY 8: Day 17 

Minnesota: The Aliveness Project  

The Aliveness Project links people living with HIV to resources for leading healthy, self-directed lives.   

MAY 9: Day 18 

Mississippi: Institute for the Advancement of Minority Health  

Institute for the Advancement of Minority Health aims to reduce health disparities among disadvantaged and underserved minority populations in Mississippi through program development and implementation, training and technical assistance, organizational capacity building, grant writing, and evaluation.  

MAY 10: Day 19 

New York: Voces Latinas  

Voces Latinas aims to reduce the rate of HIV transmission and violence among immigrant Latino/as by empowering, educating, and providing leadership and advocacy training to enable them to make healthier decisions for themselves and their families.  

New York: The Alliance for Positive Change  

Alliance helps New Yorkers living with HIV and other chronic health conditions get the medical care, peer support, and housing assistance they need to achieve health, happiness, and stability.  

MAY 11: Day 20 

New York: START Treatment and Recovery Centers  

START is a nonprofit, medication-assisted treatment and recovery organization that offers primary medical care and comprehensive HIV/AIDS (and HEP C treatment) services.  

New York: New York Harm Reduction Educators  

New York Harm Reduction Educators (NYHRE) is a nonprofit organization that strives to reduce the adverse conditions that surround drug use and sex work.   
Rooted in social justice and human rights principles, NYHRE is dedicated to promoting the health, safety, dignity, and well-being of marginalized, often homeless, low-income persons who use drugs or engage in sex work, their loved ones, and their communities.  

MAY 12: Day 21 

New York: Housing Works  

Housing Works is a healing community of people living with and affected by HIV/AIDS whose mission is to end the dual crises of homelessness and AIDS through relentless advocacy, the provision of lifesaving services, and entrepreneurial businesses that sustain our efforts.  

New York: Callen-Lorde Community Health Center  

Callen-Lorde Community Health Center provides sensitive, quality health care and related services targeted to New York's lesbian, gay, bisexual, and transgender communities — in all their diversity — regardless of ability to pay.   

MAY 13: Day 22 

Ohio: Caracole  

Nonprofit AIDS Service organization devoted to positively changing lives in the fight against HIV/AIDS through prevention, housing, and care.  

MAY 14: Day 23 

Oklahoma: Guiding Right, Inc.  

Guiding Right, Inc. is a non-profit organization dedicated to the fight to reduce the rate of HIV/AIDS infection among Oklahomans through testing, prevention education, and case management.  

MAY 15: Day 24 

Oregon: African American AIDS Awareness Action Alliance  

African American AIDS Awareness Action Alliance partners with Healthcare agencies and Faith Houses in planning, coordinating and implementing HIV/AIDS/STDs and mental health prevention programs to help prevent and eradicate HIV/AIDS in the Portland, OR area.  
African American AIDS Awareness Action Alliance (A6) is a cross-sector collection of leaders dedicated to reducing HIV stigma and decreasing the rates of HIV infection in Portland's Black community  

MAY 16: Day 25 

Pennsylvania: Community Human Services: Project Silk  

Project Silk provides STI/HIV testing on-site to increase knowledge of undiagnosed infections; implements behavioral interventions related to positive adult identity development and sexual health education; skills-based programming for youth to actualize their goals; and linkage to medical care and ancillary services to promote overall wellness within HIV-positive as well as high-risk negative communities.  

MAY 17: Day 26 

Rhode Island: RI Open Door Clinic  

Provides primary care and other preventative and sexual health services for the LGBTQ+ population.  

MAY 18: Day 27 

South Carolina: Palmetto AIDS Life Support Services  
PALSS provides FREE services, including testing, education, case management, transportation, food access, and clinical services, for those who need them.  

MAY 19: 28 

Tennessee: A Betor Way  

A Betor Way aims to share information and make people who use drugs (PWUD) and their support systems aware of the programs and initiatives available  

Tennessee: NashvilleCARES  

NashvilleCARES provides education, free and confidential HIV testing, and a broad range of comprehensive services to individuals who are at-risk for or living with HIV.  

MAY 20: Day 29 

Texas: Bee Busy, Inc.  

Bee Busy provides FREE HIV/STI Testing and has implemented sexual education courses in schools and organizations across the city of Houston to help end the epidemic.  

MAY 21: Day 30 

Virginia: LGBT Life Center  

LGBT Life Center empowers the LGBTQ communities and all people affected by HIV through improving health and wellness, strengthening families and communities, and providing transformative education and advocacy.  
May 21 is the last day before NASTAD's 2022 Annual Meeting, marking the last day of NASTAD's #30DaysofGiving campaign! We want to thank everyone who followed along with us and supported the incredible organizations that were highlighted. We also want to thank the organizations for their continued commitment to ending HIV/AIDS, hepatitis, and intersecting epidemics.