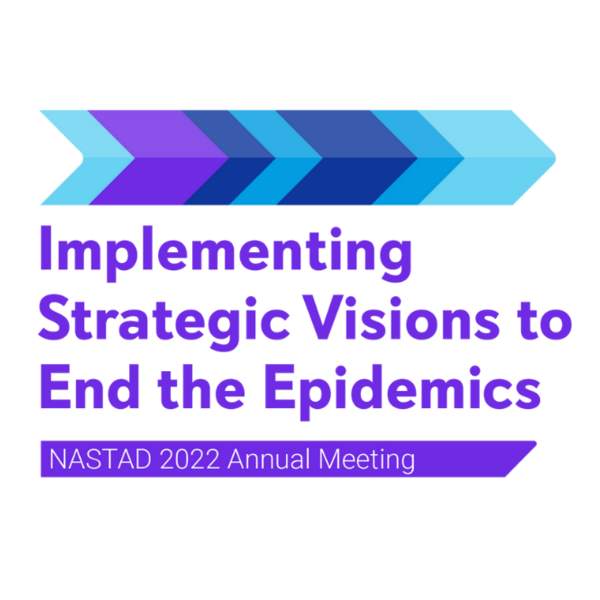 NASTAD Recognizes Health Department Members and Staff During 2022 Annual Meeting
Every year during the NASTAD Annual Meeting, NASTAD celebrates the accomplishments of dedicated members and staff. This year, NASTAD was pleased to recognize the contributions of the following health department staff: Susan Jones, Sharon Jordan, the Michigan Department of Health and Human Services, and the Tennessee Department of Health. NASTAD was also pleased to recognize staff who received 5-year, 10-year, and 15-year service awards.
2022 Lifetime Achievement Award: Susan Jones, RN, MN, HIV/STD Program Manager, Alaska Department of Health and Social Services
NASTAD honored Susan Jones with the 2022 Lifetime Achievement Award for her extraordinary commitment and dedication to ending the HIV/AIDS, viral hepatitis, and intersecting epidemics over the years. Susan is now retired, but prior to her retirement, she served as HIV/STD Program Manager at Alaska's health department; a NASTAD member, and NASTAD board member. In these roles, she provided a unique approach to implementing public health programs in her large, rural state of Alaska. She also focused on community engagement and prioritized Native, Tribal, and Indigenous communities. NASTAD is pleased to celebrate Susan's accomplishments and acknowledge her contributions to NASTAD and the public health field.
2022 Service Award: Sharon Jordan, Director, Division of HIV Prevention and Care, Alabama Department of Public Health
NASTAD honored Sharon Jordan with the 2022 Service Award. Sharon has been a consistent voice on NASTAD's board, bringing a firm and gentle presence. Sharon is celebrated for her dedication towards ending the epidemics in her state of Alabama, and the calm and rationale approach she has taken to doing so. She is admired for her amazing leadership in her home state projects, such as the Start Talking Alabama - a social marketing campaign that both made waves and was widely accepted throughout the state. NASTAD commends Sharon's deep commitment to NASTAD and people living with and at risk of HIV and hepatitis throughout her tenure.
2022 Partnership Award: Michigan Department of Health and Human Services
NASTAD honored the Michigan Department of Health and Human Services (MDHHS) with the 2022 Partnership Award for its We Treat Hep C Initiative. The We Treat Hep C Initiative's goal is to achieve HCV elimination in Michigan. The MDHHS partnered with AbbVie in order to remove barriers and make HCV treatment accessible and available to all Medicaid and Healthy Michigan Plan beneficiaries. NASTAD applauds Michigan's commitment to ending the viral hepatitis epidemic and providing opportunities for optimal health outcomes for vulnerable communities.
2022 Chair's Challenge Award: Tennessee Department of Health
NASTAD honored the Tennessee Department of Health with the 2022 NASTAD Chair's Challenge Award for its End The Syndemic – Many Voices, One Plan. The goal of Tennessee's End the Syndemic Plan is to address and eliminate the overlapping epidemics of HIV/AIDS, viral hepatitis, STIs, and substance use disorders. The integrated plan consists of prevention, care, and treatment strategies and incorporates input from community members and local stakeholders. NASTAD is pleased to recognize Tennessee's outstanding efforts and looks forwards to all that this plan will accomplish in the future.
Staff Service Awards
Along with member awards, NASTAD awarded staff with 5-Year, 10-Year, and 15-Year Service Awards. The 5-Year Service Awards were awarded to Jennifer Flannagan, Maya Hamilton, Laura Pegram, and Vrushabh Shah for their notable service to NASTAD for five years or more. In their respective roles, they have provided NASTAD with their support, expertise, and commitment. We are very appreciative of their hard work and dedication.
Isaiah Webster was recognized with the 10-Year Service Award for his service to NASTAD on the Prevention team, director of Capacity Building Assistance, and now senior director of Organizational Excellence. During his time at NASTAD, he has spearheaded numerous projects, programs, and meetings. Isaiah is appreciated for his leadership at NASTAD, as well as, being such a supportive and caring colleague.
Natalie Cramer was recognized with the 15-year Service Award for her 15 years of dedication and commitment to NASTAD. Natalie joined NASTAD as a senior manager on the Prevention team and is now Deputy Executive Director. She is appreciated and admired for her thoughtful wisdom and leadership. Her colleagues describe her work ethic and support to be inspiring and impactful.
Congratulations to all the award recipients! Your work and dedication to ending the epidemics is appreciated!