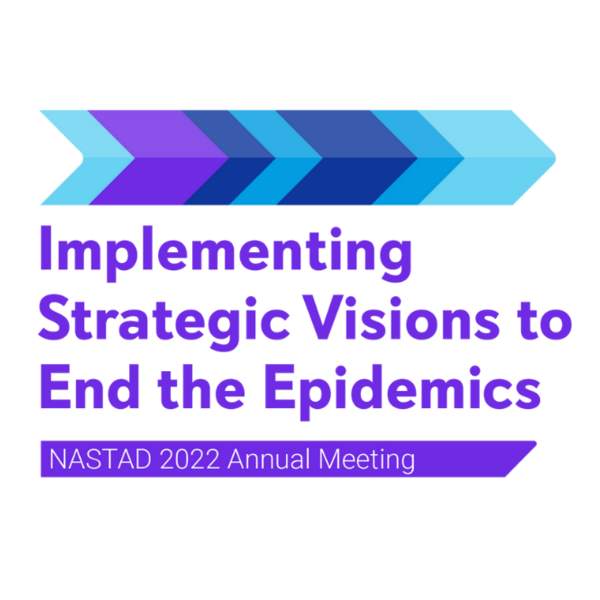 30 Years and Beyond: NASTAD's Past, Present, and Future
In May 1991, the New York State (NYS) AIDS Institute convened the "Toward a Unified Voice: The HIV/AIDS Federal Agenda" meeting, which consisted of eight high-impact states. After the meeting, the group began an outreach effort to ensure that all states and territories were represented in a steering committee of AIDS directors. This laid the foundation for the creation of an alliance of AIDS directors. In 1992, with the leadership of the Director of the NYS AIDS Institute, Dr. Nicholas A. Rango, the National Alliance of State and Territorial AIDS Directors (NASTAD) was established at the first annual meeting. Dr. Marie Kimball, Washington, was elected as NASTAD's first chair. NASTAD was born to be the collective voice of state health department AIDS directors in policy and advocacy in DC and with CDC, HRSA, etc. Julie Scofield became NASTAD's first executive director in February 1993, alongside the newly elected chair, John Auerbach, Massachusetts. Then, NASTAD's focus was equally divided between HIV/AIDS prevention and care. NASTAD quickly became instrumental in the creation and implementation of HIV prevention community planning in the 1990s. NASTAD's first major role as a technical assistance (TA) provider was in 1994 via the CDC's creation of a network of organizations to support HIV prevention community planning. NASTAD's anti-racism work also began in the 1990s. During that time, NASTAD created a workgroup that focused on addressing structural racism.
Since 1991, NASTAD has expanded its focus to include viral hepatitis and harm reduction; provided TA globally; and spearheaded countless initiatives, such as the Minority Leadership Program, The Racial Equity Collaborative for Drug User Health, and more. NASTAD's vision for the next 30 years is to build on the successes of the past and move forward with a new strategic vision and priorities. NASTAD's theme for the 2022 Annual Meeting is Implementing Strategic Visions to End the Epidemics. This theme highlights NASTAD's four strategic priorities which are: 1) Strengthen public health systems for HIV and hepatitis prevention, surveillance, and care; 2) Advance health and racial equity, and stigma elimination, focusing on disparately impacted communities; 3) Implement integrated approaches to address HIV, hepatitis, STIs, harm reduction, and the social determinants of health; and 4) Strengthen organizational excellence within NASTAD and its member jurisdictions. NASTAD will work toward these priorities by developing resources and opportunities that maximize data systems to advance public health efforts and protect those impacted by HIV, viral hepatitis, and related conditions; advocate for equitable funding for HIV and viral hepatitis prevention, care, and treatment programs and services; address racism as a public health crisis and remove racial disparities; prioritize harm reduction and trauma-informed care; encourage innovation; and ensure organizational structures, systems, policies, and processes are efficient and effective in order to achieve the priorities.
From 1991 to 2022, NASTAD has evolved into the organization it is today. NASTAD has achieved many milestones, however, there is still much work to do in order to achieve NASTAD's vision of a world committed to ending the HIV/AIDS, viral hepatitis, and intersecting epidemics.